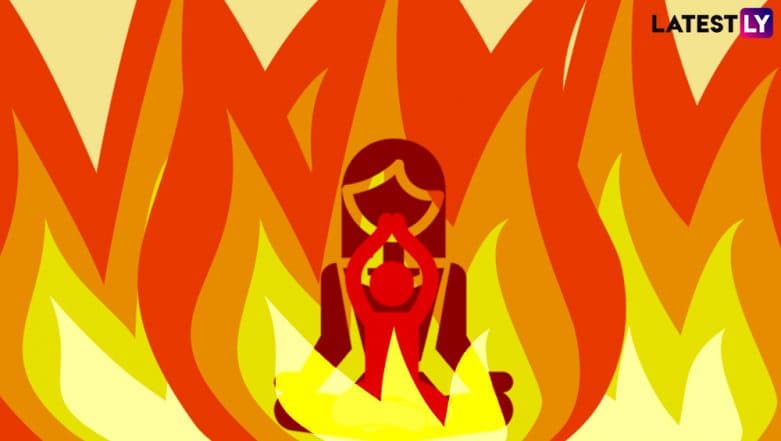 Holi is one of the most-awaited Hindu festivals of India. With the onset of spring, here we arrive on the main day of the festivity- Rangwali Holi. It's called the 'Festival of colours' since it's celebrated by smearing gulaal or coloured powder on each other. Holi is celebrated with a lot of pomp in the northern states of India on the full moon day (Purnima) of the Falgun month for two days. As per the Hindu calendar, Holi 2019 began on March 20 and stay for another day till March 21. The day symbolises the victory of good over evil and is celebrated mainly to mark the beginning of spring season. But this is not the only reason why Holi is celebrated. There are many interesting mythological stories related to Holi, which explain the origins of the festival. Let's explore a few of them.
Prahalad
The most well-known story of Holi is that of Prahlad, the son of the demon king Hiranyakashipu and the nephew of Holika. Hiranyakashipu longed to be immortal. After a long penance, he manipulated Lord Brahma into giving him a quasi-immortal status by asking for a unique boon. His ego knew no bounds once he was granted the boon by Lord Brahma and insisted everyone worshipped him like a god.
But his son Prahlad didn't give in to his whims, and continued worshipping Lord Vishnu, who was the only God in his eyes. His incessant chanting of Lord Vishnu's name only irked Hiranyakashipu further. So he conspired with his sister to kill the boy.
Holika donned a special cloak, which magically protected the wearer from fire. She then sat on a big pyre and invited Prahlad to sit on her lap, thinking that the fire will burn him. But unfortunately for Holika, the cloak slipped mysteriously and covered Prahlad instead. Hola Mohalla 2019: All About the Festival Celebrated After Holi that Showcases Military Skills of Sikh Warriors.
She was charred to death but Prahlad survived the fire. In the memory of this episode, Holika Dahan is celebrated in India where people light and gather around a huge pyre a night before Holi.
Krishna and Radha
Holi is celebrated with a lot of fervour in the northern states of India, especially around Mathura, where Krishna and his eternal consort Radha grew up. Krishna was prophesied to kill his evil uncle Kamsa. Putana, a demoness, disguised herself as a beautiful woman and visited Gokul under the behest of Kamsa. Her beautiful form mesmerised the village folks, who thought she was Goddess Lakshmi herself. Yashodha beguiled by Putana's beauty let the demoness cradle Krishna and even breastfeed him. Date, History, Significance, Celebrations, Sweets & Cuisine for Festival of Colours.
Unbeknownst to her, Putana had smeared the juice of a toxic fruit mandana on her breasts. But she was no match for the divine infant who sucked out her blood and prana through her breasts. The toxic blood of Putana, therefore, rendered Krishna's skin dark permanently. Send These Hilarious Images & WhatsApp Stickers to Spread Some Laughter During Festival of Colour.
When he grew up, he once started sulking, telling Yashodha whether Radha and the other gopis would like him for his dark skin. To alleviate his worries, Yashodha called Radha home and asked her to colour Krishna's face in any colour she wanted. The two frolicked with colours that day, and Holi is played in northern India to commemorate the event.
Kamadeva
Kamadeva the Hindu God of love also has a story centred on him. Shiva was once in a deep meditative state. Parvati, his wife, wanted to revive Shiva from his meditative state and bring him back to the present world. On the occasion of Vasant Panchami, she approached Kamadeva for help. He obliges her and shoots Shiva with flower arrows that are known to stir passions.
Shiva is enraged by Kamadeva's intrusion. Angry that his meditation is disrupted, Shiva opens his third eye and incinerates Kamadeva. Rati Devi, Kamadeva's wife, performs a penance, asking for Shiva mercy. After 40 days, Shiva is moved by Rati's devotion and returns her husband to her. So to celebrate this occasion, Holi is celebrated on the 40th day after Vasant Panchami.
Dhundhi
On Holi, it's a custom to shout insults and abuses, and play pranks on others. The ritual originated from the story of Dhundi, an ogress who preyed on children. According to legends, Dhundi could be outwitted only in one way. She was impervious to everything but abuses. So the children of the kingdom chased her away by hurling insults at her.