Assam has all geared up to celebrate the harvest festival of Magh Bihu, famously known as Bhogali Bihu and Maghar Domahi  (মাঘৰ দোমাহী). Where other parts of the country celebrates Makar Sankranti during this with different names and culture, Assam observes Magh Bihu 2019 marking the end of cold winters and welcomes the springtime. Just like people from other states, Assamese also look forward to exchanging wishes and greetings on their big festival. This is why we have got Happy Bhogali Bihu wishes in Assamese, Magh Bihu images, Bhogali Bihu image in HD, Bihu 2019 images and wallpapers in HD, Happy Magh Bihu wishes images, Magh Bihu WhatsApp Stickers, Magh Bihu GIF greeting images and more. Best part is that you can download them for free and share them with your friends, family, neighbours, relatives and colleagues. Happy Magh Bihu 2019 Wishes & Greetings in Assamese: WhatsApp Stickers, Photo Messages & Quotes to Share This Bhogali Bihu.
With high and mighty mountains and the mighty Brahmaputra River by its side, Assam is one of the most beautiful states of India. Bihu is the official state festival, which is celebrated by everyone irrespective of religion, caste and creed across Assam. Bihu is celebrated to observe the change of the seasons. There are three types of Bihu - Magh Bihu or Bhogali (celebrated in January), Rongali Bihu or Bohag Bihu (celebrated in April), Kati Bihu or Kongali Bihu (celebrated in October). Magh Bihu 2019 Date: Know Significance, Tradition and Celebrations Related to Assam's Harvest Festival. 
Magh Bihu marks the end of harvesting season in the month of 'Maagha.' But it is more popularly known as Bhogali Bihu as the festival witnesses a grand feast that lasts a week and in Assamese, 'bhog' word means food. As a part of community activity, a traditional sweet called pitha (rice-based fillet) is prepared. Magh Bihu or Bhogali Bihu commemorates the harvest season in the state that primarily into farming and agriculture. Grand celebrations and excitement for the festival is a way to thank the Mother Earth for providing them with everything.
On occasion of Magh or Bhogali Bihu, we bring to you a collection of Magh Bihu wishes, bhogali bihu images, Magh Bihu images, Magh Bihu photos, Bhogali Bihu image download, Magh Bihu 2019, Magh Bihu food images, Magh Bihu 2019 wishes, Magh Bihu 2019 image, Magh Bihu meji, Magh Bihu image HD, Magh Bihu image download, Magh Bihu pics, Bhogali Bihu image free download, Happy Bhogali Bihu wish images, Bhogali Bihu pitha image, Happy Bhogali Bihu image 2019 and more.
Happy Magh Bihu 2019 HD Images, Wallpapers and Messages
WhatsApp Message Reads: I wish your future brightens up with joy and happiness like the colours of love and success just like the vibrant festival of Bihu. Wish you a very Happy Magh Bihu 2019.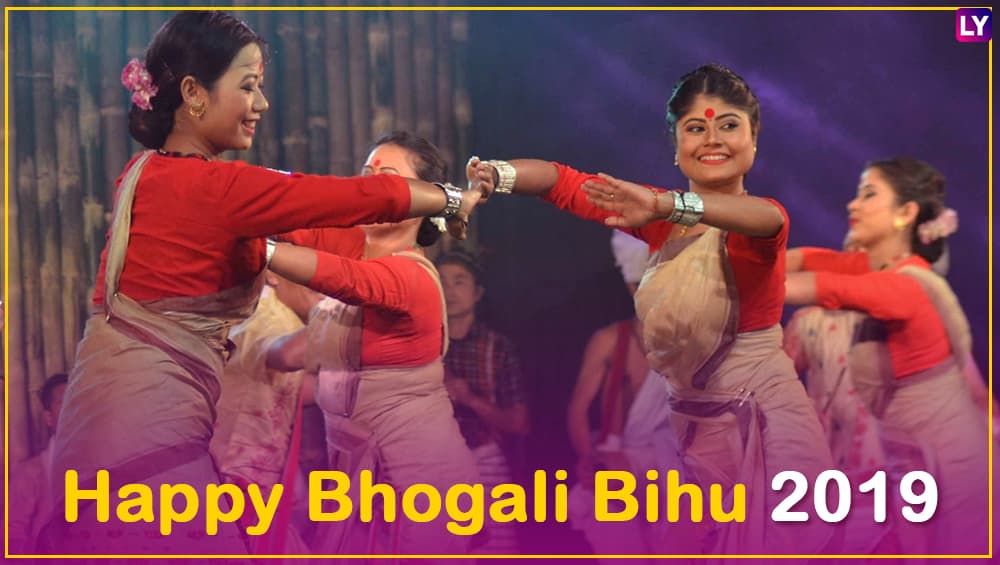 WhatsApp Message Reads: Another Magh Bihu, another Year and here you are waiting for a life that you have always imagined for! May your world fills with life and the surrounding gets surrounded with love! Wish you a Happy Bhogali Bihu 2019.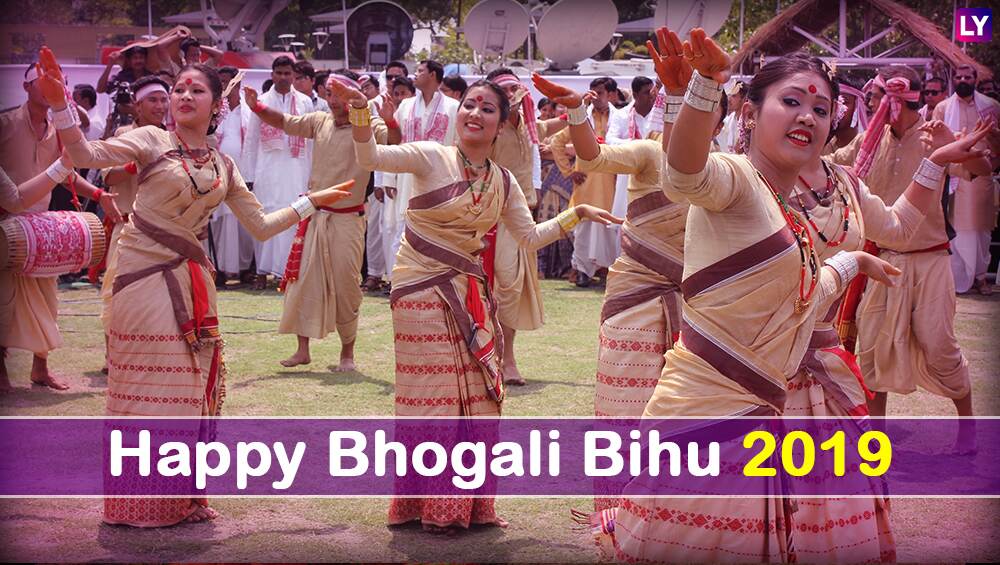 WhatsApp Message Reads: Let's strengthen your hopes on this Magh Bihu festival and make life full of life with an optimistic frame of mind. I wish all the very best for a brighter future than ever. Happy Bhogali Bihu 2019.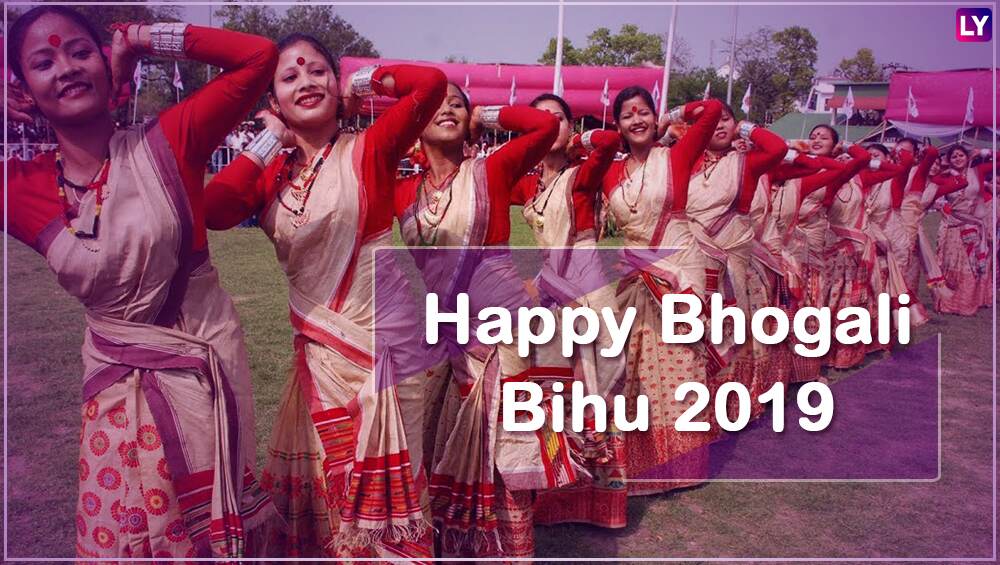 WhatsApp Message Reads: I wish this colourful festival brings with it the joy and love for you and fills your life with excitement and energy. I wish you grow with each of your aspiration that comes into your heart with the sunshine that comes with the festival. Happy Bhogali Bihu 2019.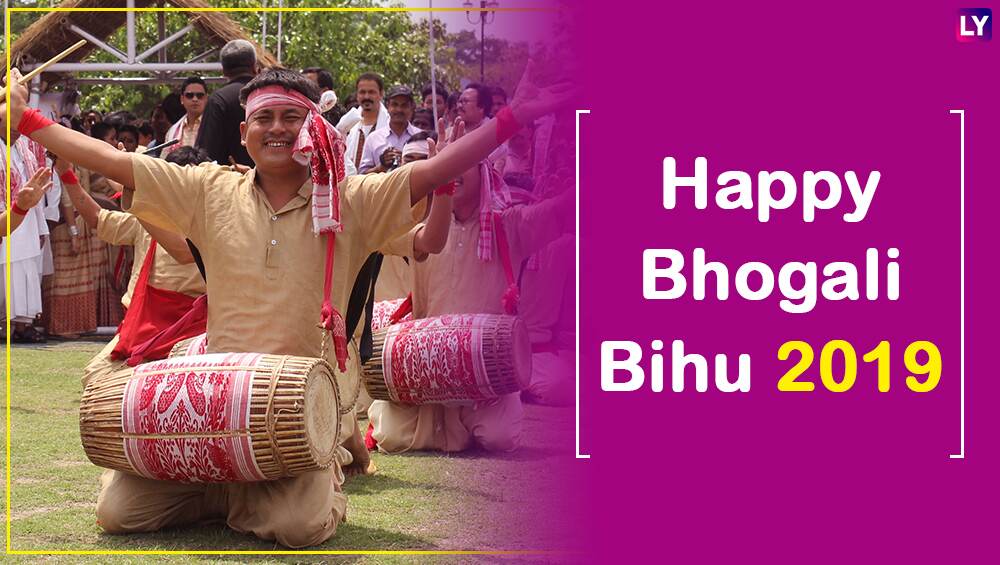 WhatsApp Message Reads: Enjoy the festive season! Sing and dance with fun. Wishing you happiness on this Bihu. Let this Bihu give you the strength to do all that you dreamed to do during last year but didn't dare to do.
Happy Magh Bihu 2019 GIF Images and Animated Stickers
WhatsApp Message Reads: Let us welcome this Bohag Bihu with great hope, eagerness and anticipation. Let us look forward to a plentiful year of joy, satisfaction, peace and prosperity.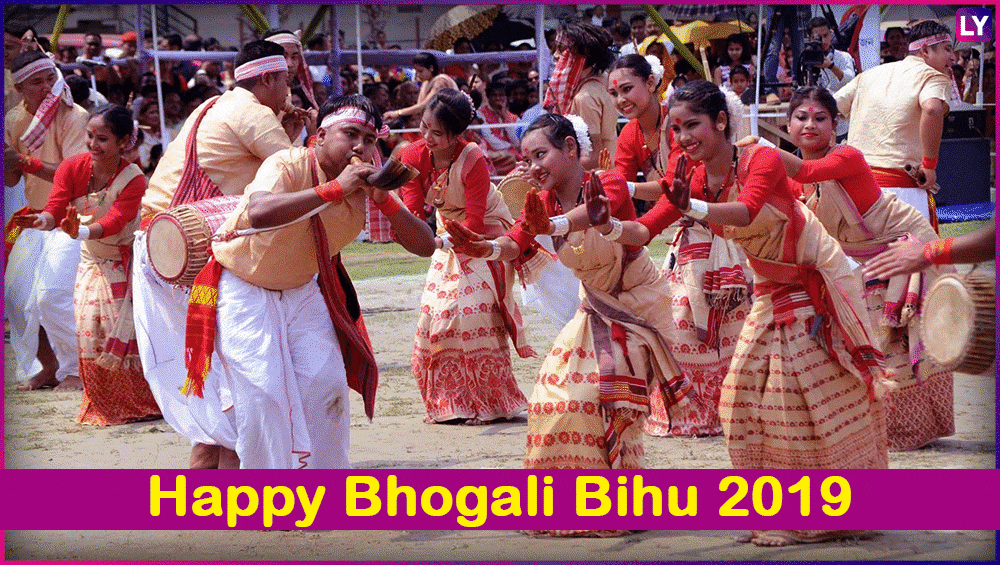 We wish you a long and fulfilling life! May you get love, prosperity, happiness and everything that you may have dreamt about! Wishing you and your family a delightful present from God on this Magh Bihu.
(The above story first appeared on LatestLY on Jan 15, 2019 09:31 AM IST. For more news and updates on politics, world, sports, entertainment and lifestyle, log on to our website latestly.com).