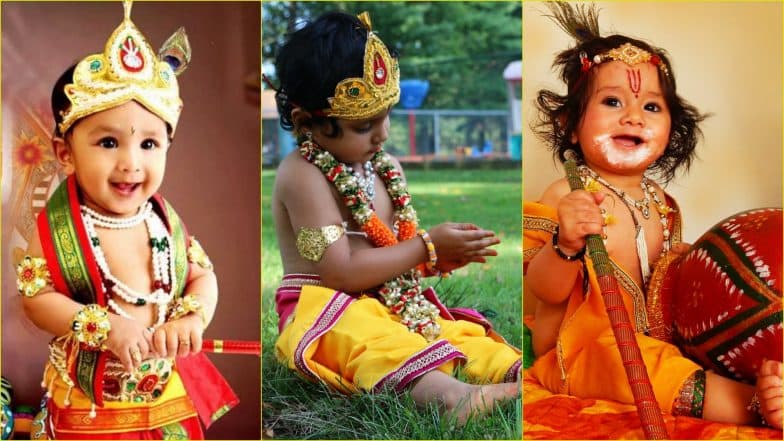 Janmashtami or Gokulashtami is the next big festival celebrated this month in India. While there has been some confusion over Krishna Janmashtami 2019 date about which you can learn more here. However, devotees will be celebrating the festival, marking Lord Krishna's birthday on August 23. Krishna, the eighth avatar of Lord Vishnu is one of the most revered deities in Hinduism across the globe. Among the many customs and traditions, an exciting tradition observed during Janmashtami is dressing up kids as Lord Krishna and Radha for cute fancy dress competitions held in kindergarten and primary schools. Little boys dressed up as Shri Krishna are probably the cutest part of the celebrations. Krishna Janmashtami 2019 Festival Date: Significance, Gokulashtami Puja Tithi and Celebrations Associated With Lord Krishna's Birthday.
Ahead of Hindu festival, parents would start searching for cute costume ideas. They can either be bought online or rented as well. Accessories such as mor pankh mukut (peacock feather crown) and bansuri (flute) are a must in a boy's Krishna costume. In this article, we will look at Janmashtami 2019 dresses for boys, various costume ideas that are beautiful as well as easily available. Get ready to turn your son into Bal Gopal! Janmashtami 2019: The Amazing Story of Lord Krishna's Birth.
1. Bright Satin Yellow or White Dhoti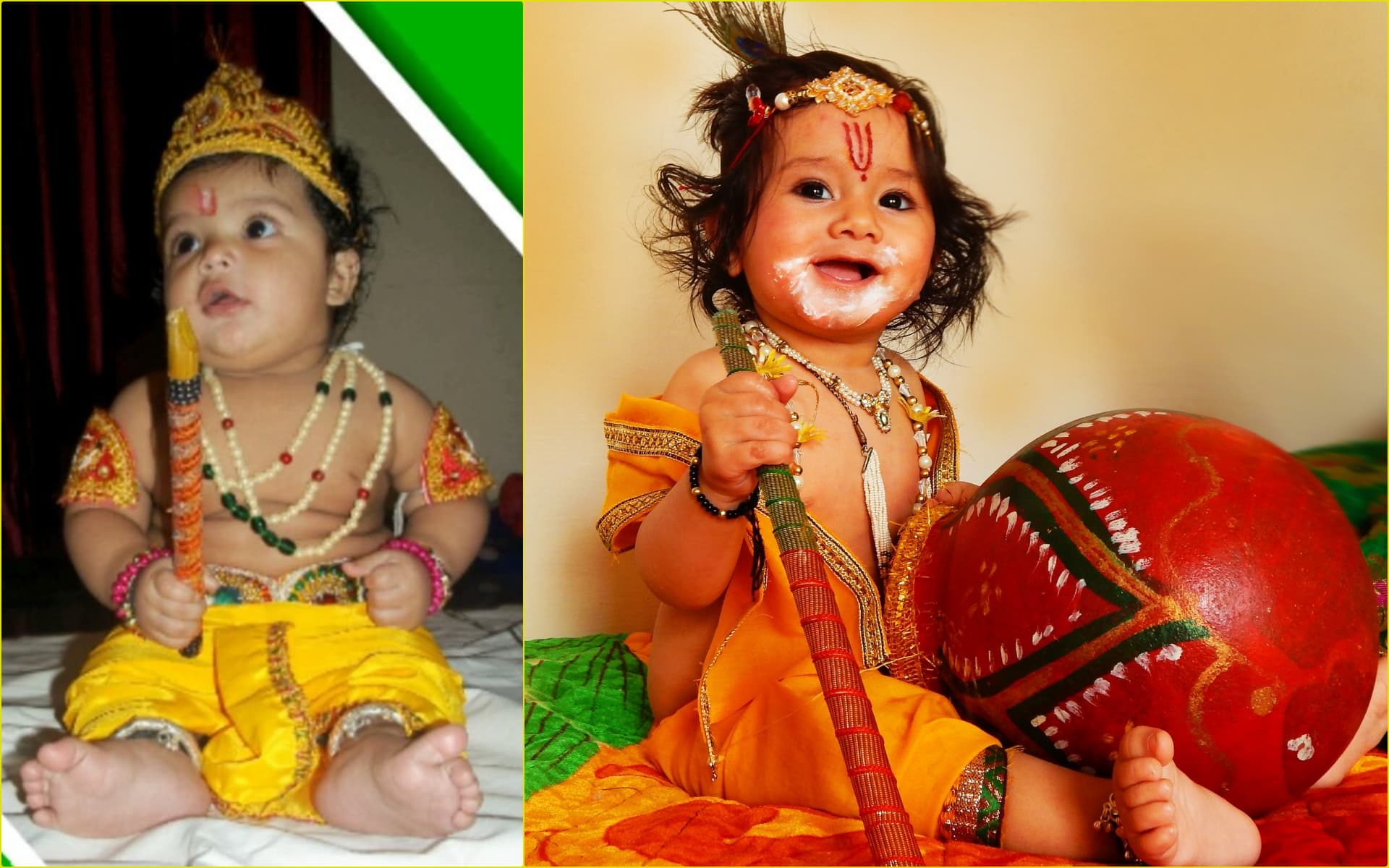 Dhoti in bright colours and fabric, preferably satin yellow or white with golden borders are best for the occasion. Dhoti is considered as one of the most sacred clothing pieces for men in Hinduism, and it would look wonderful when your baby boy dons it. You can skip pairing it with a kurta and stick to accessories and jewellery.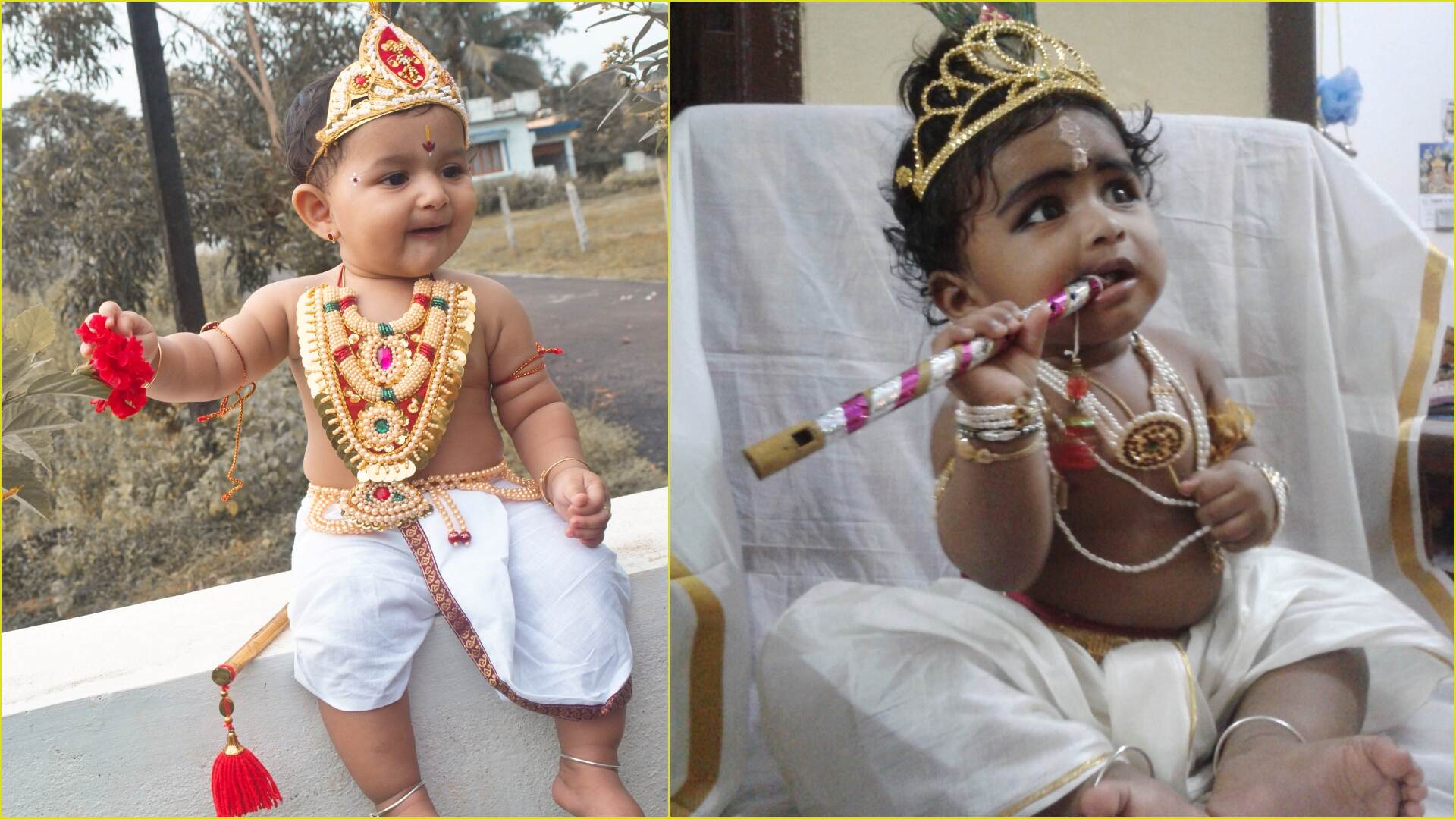 Here's a look at little toddlers dressed up in white dhoti for Krishna Janmashtami celebrations. While yellow remains the quintessential option, white also looks very pretty if worn with right accessories.
2. Stitched Dhoti-Kurta Set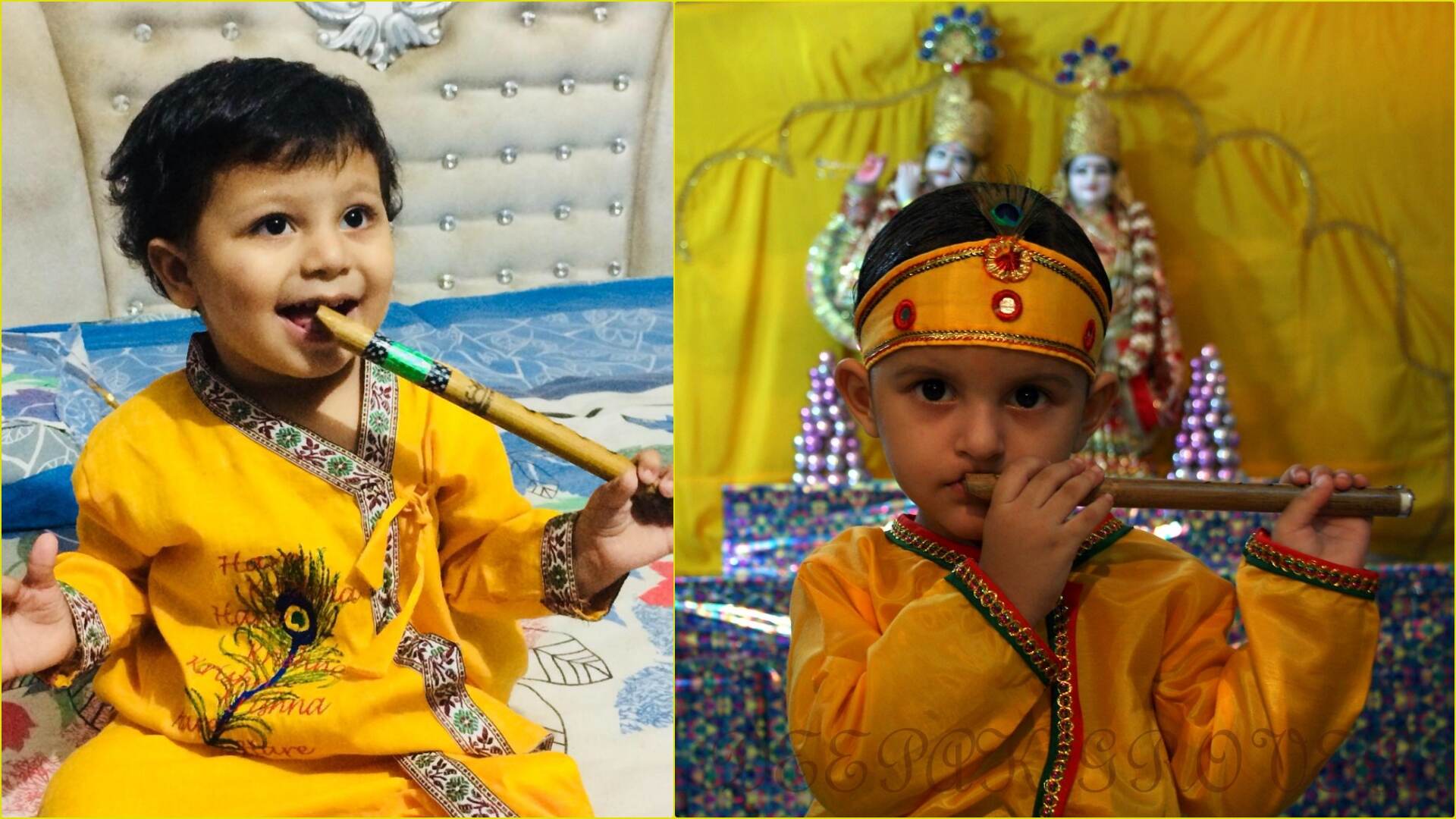 If your boy is not comfortable with the idea of wearing just dhoti, go for stitched dhoti-kurta set. They are easily available online. You can either buy it or rent it. You will mostly find it in yellow colour, but have options such as peacock feather printed set, "Hare Rama, Hare Krishna" printed, side tie-up kurtas, and more. You also get multi-coloured sleeveless jackets, which can go well with plain yellow dhotis.
3. Mor Pankh Mukut and Bansuri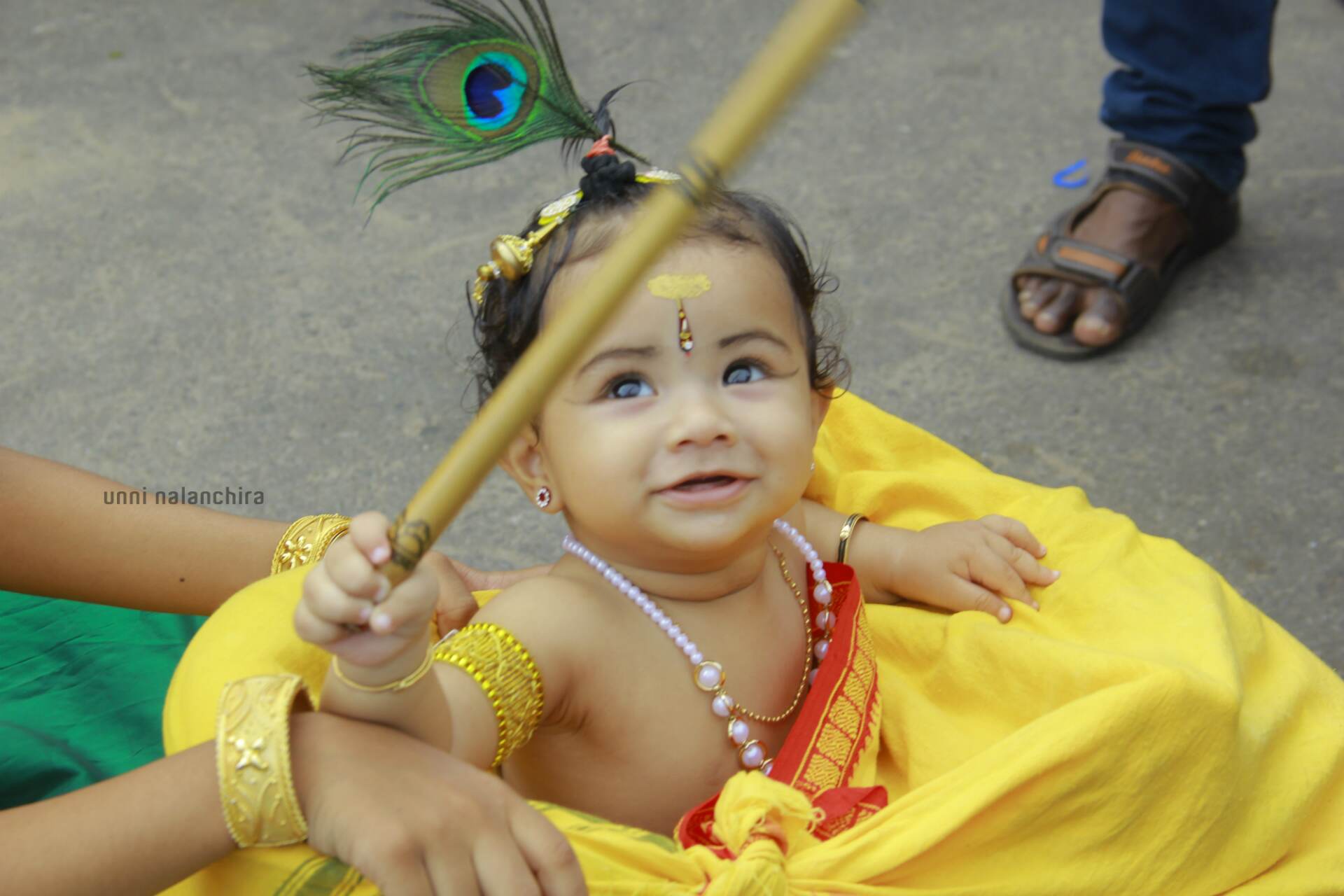 Accessories are the most important part of a Krishna costume. We all know how right accessories can elevate any basic outfit in seconds, and it is no different in this case. One must-have add-on is mor pankh (peacock feather), just like Lord Krishna wears in his crown all the time. Make sure your little one is wearing a crown with a peacock feather attached to it. And the second most important thing is a bansuri (flute). We all know how much Krishna loves playing his flute.
4. Lots of Pearl Jewellery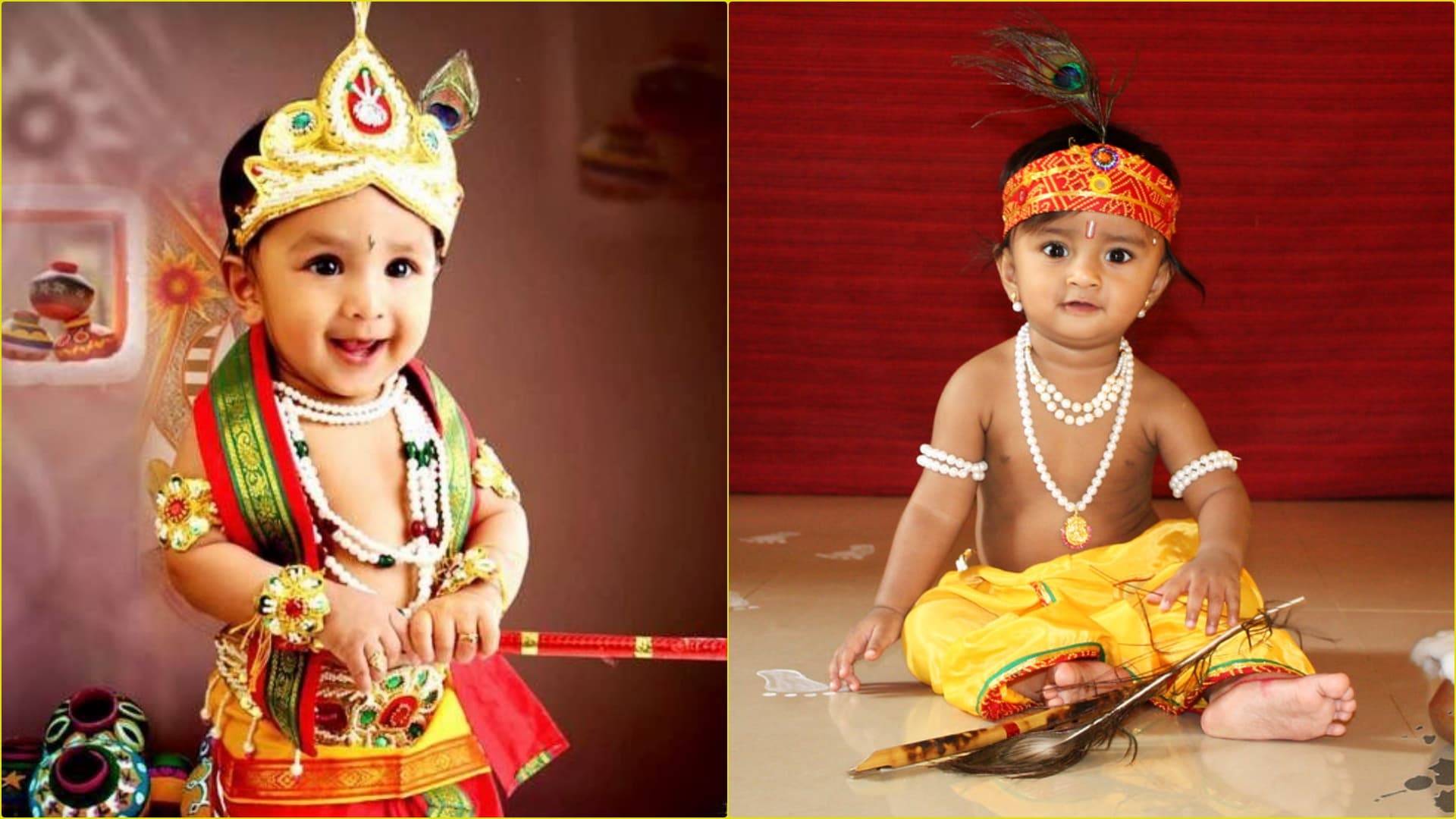 Images and idols have depicted Lord Krishna adorning a lot of ornaments. And this is exactly what we need next. Pearl costume jewellery pieces (go for imitation jewellery set) such as long pearl necklace, bajubandh, kamarbandh, earrings and kangans would go well with any outfits.
5. A Garland Made Up of Mogra or Jasmine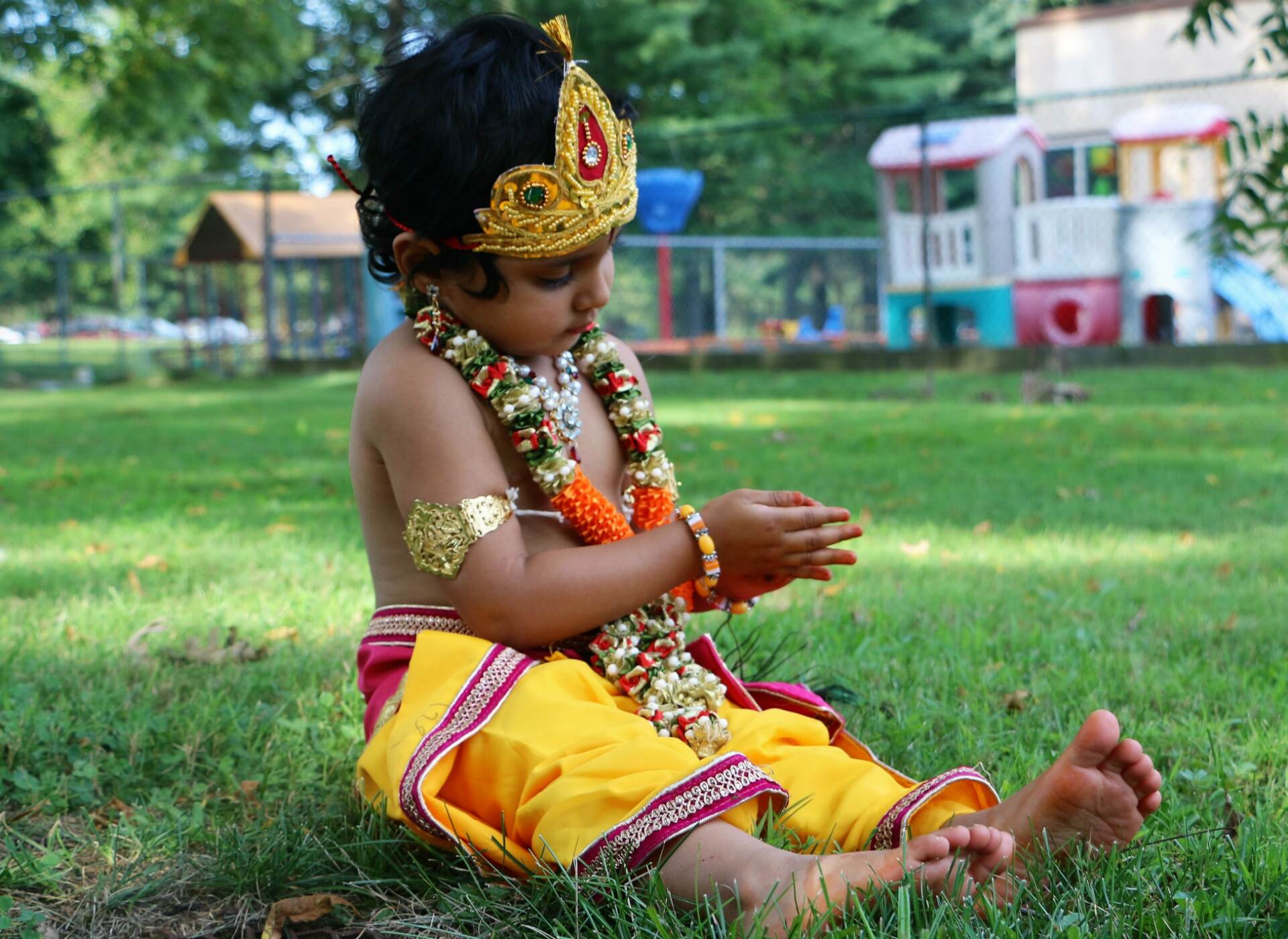 Sweet-smelling flowers such as mogra, jasmine, rajnigandha (tuberose) are favourites of Lord Krishna. You can make a garland of these flowers and put it around your boy's neck. Just make sure, he is not allergic to flowers.
6. Just a Little Bit of Makeup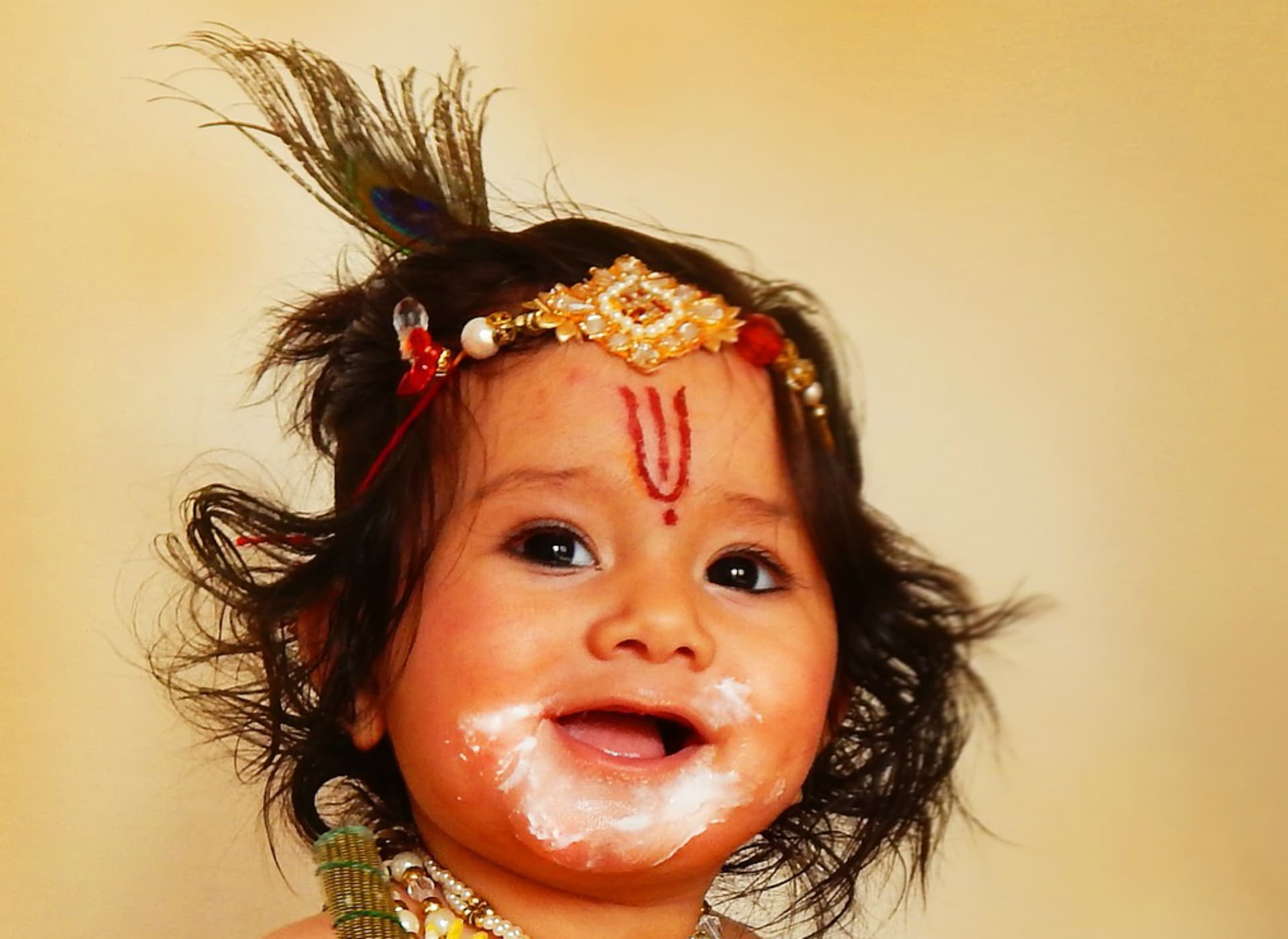 We have seen children getting their full-body painted blue, but they are done under the guidance of professionals and also with chemical-free colours. You need not go to such an extent. A little bit of makeup, and too only if your child is comfortable with it, should be fine. You can apply a bit of kajal, lip balm and red tika, and they are good to go.
According to the Hindu calendar, Lord Krishna was born on Ashtami or eighth day of Krishna Paksha of the month of Bhadrapad, corresponding to August-September in the Gregorian calendar. People celebrate his birth anniversary with a lot of fun and passion. Children especially enjoy the festivities as they get to participate in fun activities.