The autumn season comes to an end with Kojagiri Purnima which is also known as Sharad Purnima. In 2018, Sharad Purnima will be celebrated on October 23-24. On this auspicious day, people observe fast and perform Kojagiri Lakshmi Puja and keep all-night vigil to please the main deity of the puja ceremony. People wish each other and send greetings and messages over WhatsApp and Facebook. Sharad Purnima 2018 date falls on October 23, Tuesday. We bring to you an extensive collection of Sharad Purnima Radha Krishna images, Kojagiri Purnima images, Sharad Purnima wishes, Sharad Purnima images and wallpapers in HD. The messages, greetings, quotes, and images are available for free download and to wish a very Happy Sharad Purnima 2018 to your family and loved ones. Kojagari Lakshmi Puja 2018 Date: Kojagiri Moon Timing & Shubh Muhurat on Sharad Purnima, Bengali Lakshmi Puja Significance & Celebrations.
Sharad Purnima is a harvest festival celebrated on the full moon day of the Hindu lunar month of Ashvin (September to October corresponding to Gregorian Calendar). It marks the end of the monsoon season. Sharad Purnima is known by a number of names as per celebrations based on different traditions. It is called Kojagiri Purnima, Navanna Purnima, or Kaumudi Purnima. In eastern states of West Bengal, Odisha and Assam, people celebrate in the honour of Devi Lakshmi, the Goddess of Wealth.
The rest of the country celebrates it an honour of Lord Krishna, who is believed to the true incarnation of Lord Vishnu as he was born with 16 kalas or qualities. According to Hindu mythology, Krishna had performed Maha-Raas, the dance of divine love. During Sharad Purnima, the moon is believed to moon possess all those 16 qualities as mentioned - 1. Amrita 2. Maanda 3. Pusha 4. Pushti 5. Tushti 6. Rati 7. Dhriti 8. Shashani 9. Chandrika 10. Kaanti 11. Jyotsna 12. Shree 13. Priti 14. Angada 15. Poorna 16. Poornamrita. Sharad Purnima moon rays are believed to be dripping with nectar (Amrit), which is why people prepare kheer (rice pudding) and keep it under the open sky in an attempt to gain the nectar. Sharad Purnima 2018 Date: Know the Importance of Having Amrit Kheer, History & Auspicious Tithi Timings.
Indian festivals boast of interesting beliefs and significance, and Sharad Purnima too has a fair share of exciting tales. On this auspicious occasion, here are some colourful text messages and greetings, which you will love to send your family and friends. Take a look at Sharad Purnima wishes, best Whatsapp messages, status, images, Facebook cover photos, GIF images and so much more.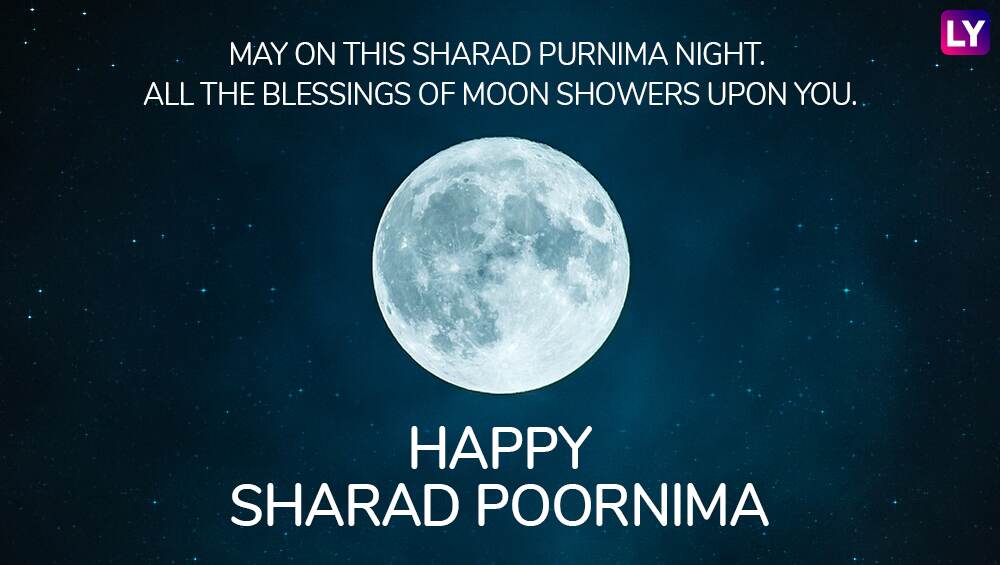 WhatsApp Message Reads: May On This Sharad Purnima Night. All The Blessings Of Moon Showers Upon You. Happy Sharad Purnima.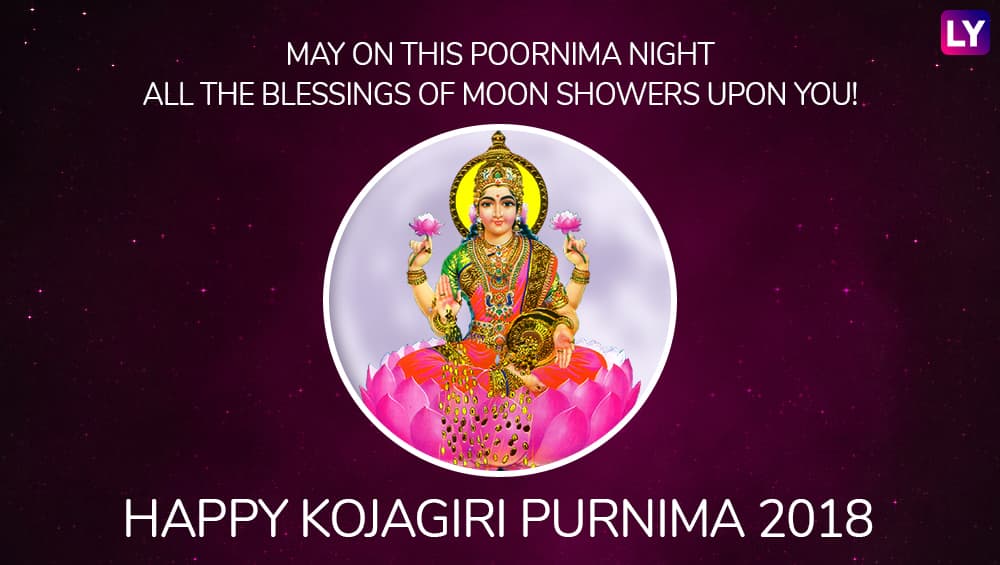 WhatsApp Message Reads: May On This Poornima Night, All The Blessings Of Moon Showers Upon You! Happy Kojagiri Purnima 2018.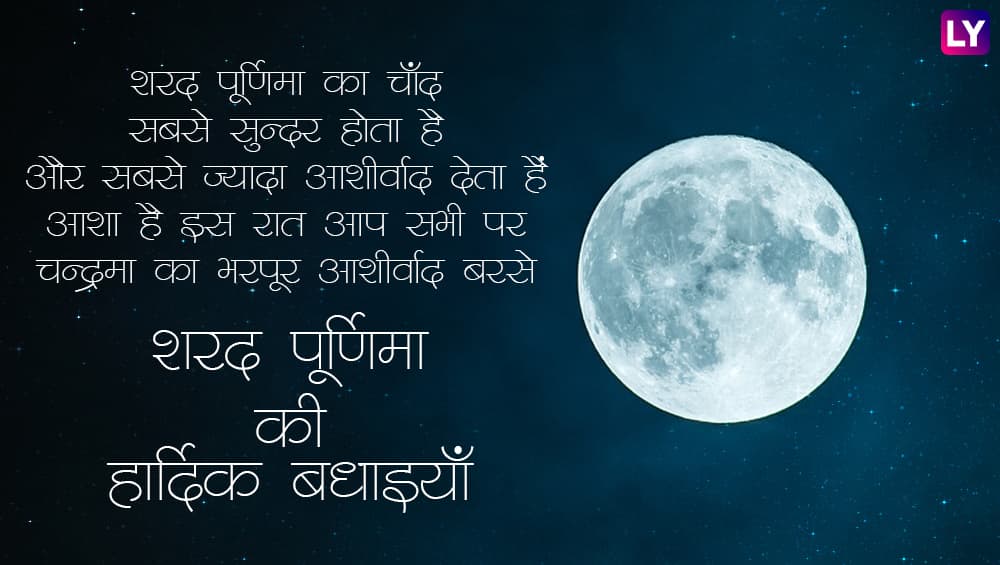 WhatsApp Message Reads:  शरद पूर्णिमा का चाँद सबसे सुन्दर होता है और सबसे ज्यादा आशीर्वाद देता हैं | आशा है इस रात आप सभी पर चन्द्रमा का भरपूर आशीर्वाद बरसे | शरद पूर्णिमा की हार्दिक बधाइयाँ||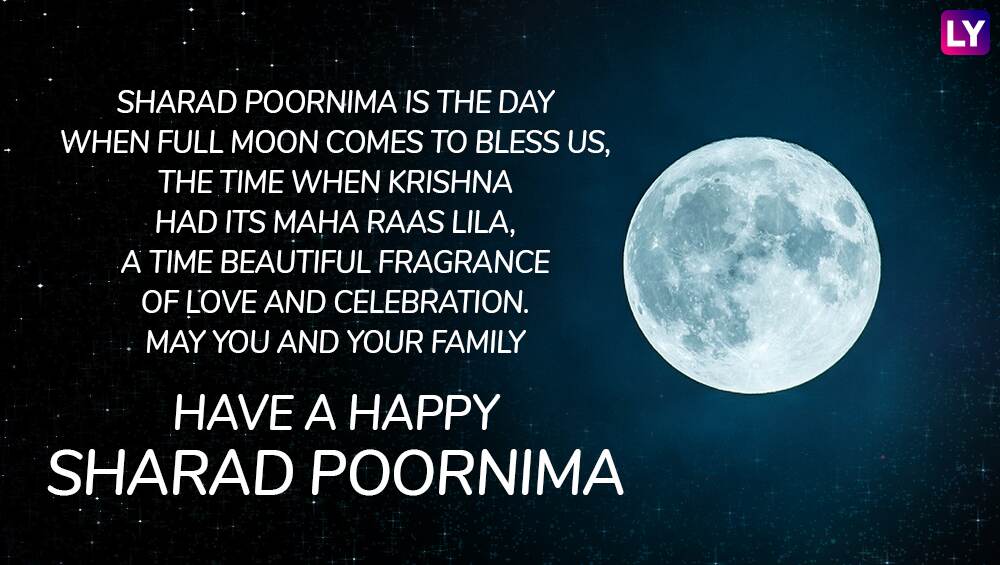 WhatsApp Message Reads:  Sharad Poornima Is The Day When Full Moon Comes To Bless Us, The Time When Krishna Had Its Maha Raas Lila, A Time Beautiful Fragrance Of Love And Celebration. May You And Your Family Have A Happy Sharad Purnima 2018.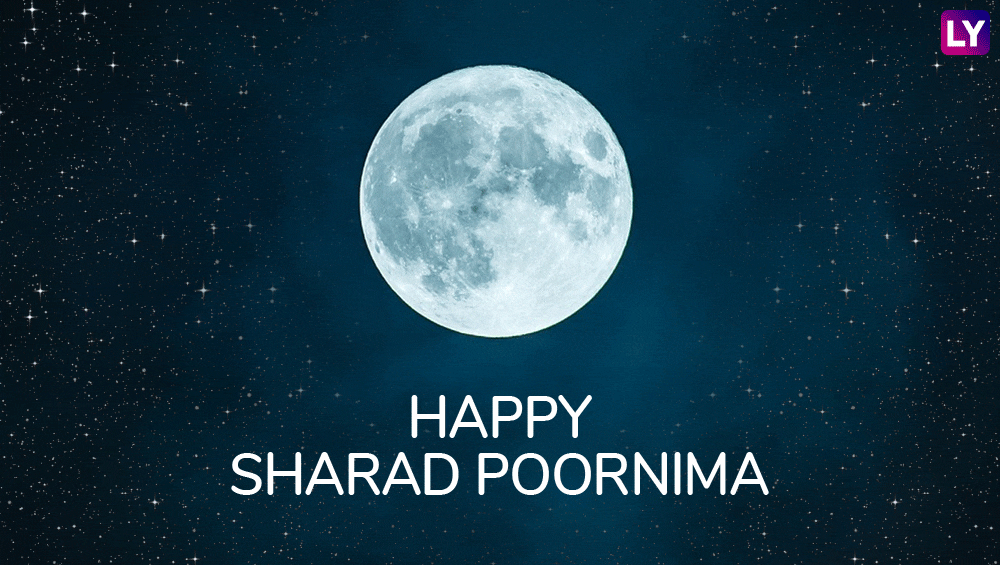 WhatsApp Message Reads: Sharad Purnima 2018 When Full Moon Comes to Bless Us, It Is Also the Time When Krishna Had Its Maha Raas Leela, a Time Beautiful Fragrance of Love and Celebration. Happy Sharad Poornima!
WhatsApp Message Reads: May Goddess Laxmi Come To Your House, And Ask You To Be Awake And Say "Kojagiri" And This Kojagiri Purnima And Onwards. You And Your Family Get More Prosperity, Peace And Wealth All By Virtue Of Maa Lakshmi. Happy Kojagari Lakshmi Puja 2018.
WhatsApp Message Reads: Happy Sharad Purnima! We Wish This Auspicious Festival Brings Happiness and Merriment to All of You, May Goddess Lakshmi Bless With Good Fortune and Happiness!
So that was our collection of messages and images on Sharad Purnima. After this, another major Hindu festival will be celebrated – Karwa Chauth or Karva Chauth. The popular one-day Hindu festival sees married women observe nirjala vrat for the wellbeing and long lives of their husbands. Unmarried girls also observe Karwa Chauth Vrat in order to seek desired partners. But before we celebrate Karwa Chauth on October 27, let us join in celebrations of Sharad Purnima 2018 on Tuesday! Happy Sharad Purnima/Kojagiri Purnima 2018.