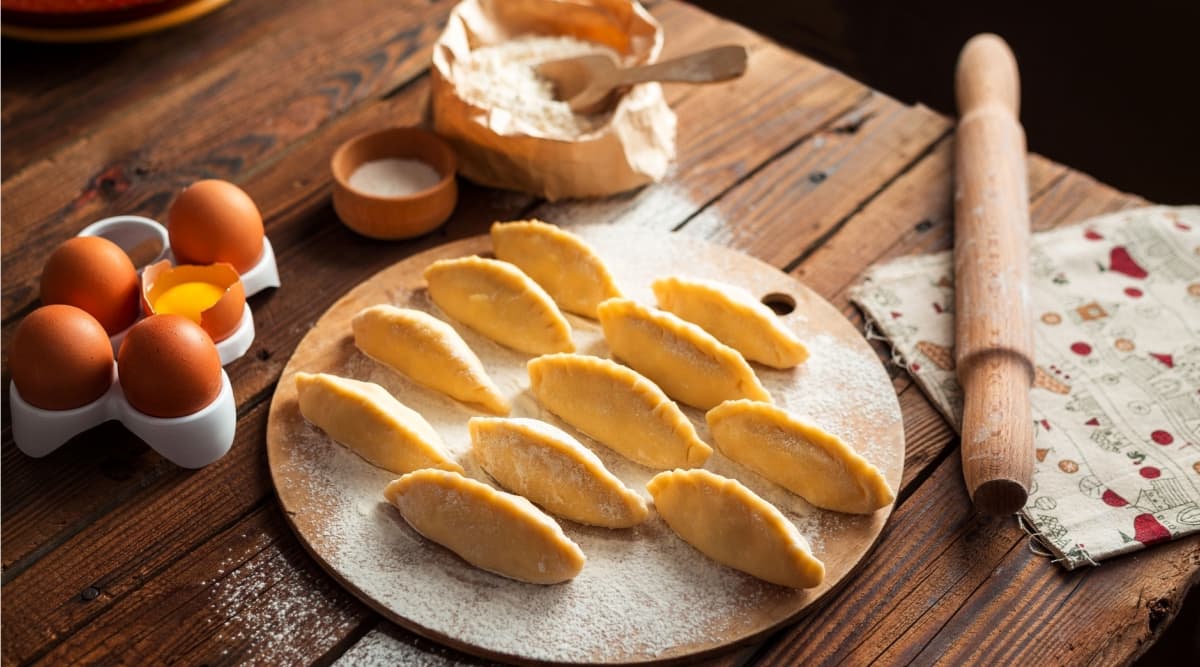 There are those New Year resolutions that are short-lived, and then there are resolutions that you will remember forever once you learn to put them in practice. This New Year, move over your regular weight loss resolutions and make some life-changing cooking resolutions that you can maintain for good. That idealistic weight loss diet might not last forever but learning how to make homemade versions of bakery staple or mastering the art of meal preparation will. Here's how you can get cracking.
1. Try Something New Every Week
One incredibly life-changing resolution you can make is to try something new every week. If you can't get hold of a recipe book, browse the net for some finger-licking pasta or mughlai recipes. You will not only find new favourites but also expand your horizons in the process.
2. Brew Your Coffee At Home
If you start making your coffee at home, you will save so much time and money that you probably spend at Starbucks. If you do not want to brew coffee in the stove, set up your coffee maker the night before to make things easier to accomplish.
3. Add a Secret Ingredient to Every Dish
Think beyond your asafoetida and your mango powder. There are so many sneaky ingredients you can add to your dish that can make a lot of difference. Think orange juice and cornstarch! Healthiest Oils for Cooking: 8 Best and Worst Oils According to Smoke Point
4. Stop Buying Tomato Ketchup
If you want to stay on top of your health, never buy jarred tomato ketchups again. Not only does the store-bought sauces contain unnecessary additives and ingredients, but they do not taste nearly as good as the homemade ones.
5. Cook Your Way through Your Favourite Recipe Book
If it is that Sanjeev Kapoor's recipe book, don't think twice to purchase that recipe book that you always had your eyes on. Then start cooking through it immediately so that the book does not sit on your shelf.
6. Master the Art of Meal Preparation
All the hype around the words 'meal prep' is warranted. Once you learn the art of meal preparation, you will have the best lunch and dinner schedule of your life. How to Make Your Child Have a Healthy Relationship With Food
7. Label and Date Your Spices
Your ground spices can only last three to four months, so all the spices you have stored for decades has lost its potency. The more comfortable thing to do is to date your spices, so you know when to toss them in the dustbin.
8. Keep Your Kitchen Clean
Whether you are OCD or believe in the concept of 'spark joy', keeping your kitchen clean will forever change the way you cook in it. If you never liked cooking as much, you will want to frequent your kitchen once you change the look and feel. Turmeric and Pepper: Why You Should Combine These Two Powerful Spices In Your Cooking
9. Prepare Your Favourite Fast Food Recipes At Home
Whether it is pani puri or McDonald's fries, we know that you want to learn what goes into your favourite fast food dish. Once you learn to make it at home, you will want to skip the food court or the drive-through forever.
10. Try Cooking an Ingredient You Hate
Maybe you genuinely hate bitter gourd or brinjal, or perhaps you never cooked that in a way that tastes good to you. Get out of your comfort zone and try a new recipe with your least favourite dish and who knows you might discover that you like it.
11. Store Greens Properly
You will never waste the kale or the spinach again if you store them in the right way. To prevent your greens from wilting, first, wash them thoroughly by submerging them in a bowl. Then transfer them in a container to keep them crisp and fresh all week. Healthy Eating Habits for Kids: Disney Launches Digital Channel 'Disney Eats' to Promote Nutritional Food Habits Among Children
12. Scramble Eggs like A Chef
With a few tricks up your sleeves, you can make the perfect scrambled eggs for a protein-rich breakfast. Scramble eggs in butter and instead of adding milk, add hot water to make it softer. To get the real kick, add some caramelised onions and don't stop gently scrapping and stirring eggs for more than a few seconds.
13. Stop Buying Mayonnaise
You may not know, but your mayonnaise contains mysterious preservatives and additives that may not be best for your health. If you love sandwiches for breakfast, ditch the mayo for some homemade butter. Or maybe you can whip your mayonnaise with some egg, dijon mustard, vinegar, salt and pepper.
14. Shop at a Local Farmer's Market
The produce at a farmer's market is any day better and fresher than what you will find at stores. Make this year the year that you cook with the freshest ingredients from the local market, and you will never go back to the store.
15. Refine Your Chopping Skills
Once you learn how to dice, mince and julienne like a pro, there is going to be a complete transformation in the way you cook. So bring out that chopping board. Are You Buying Fake Extra Virgin Olive Oil? Here's How to Know Whether the Oil Is Pure
16. Learn To Cook Your Native Dishes
Even if you do not have a trip planned to your native village, you should learn to cook as the locals do. Hint: Fresh, ingredients, good quality oil and simplicity are vital.
17. Learn How to Pack a Mason Jar
Whether it is your pickle or salad, mason jar can be an easy way to store and transport your condiments. The fundamental rule is to place the wet ingredients at the bottom and the dry ingredients at the top. Seal tightly and store in the fridge until it is ready to eat.
18. Bake Your Bread
You may never want to revisit the bakery store once you learn to bake bread at home. All you need is wheat flour, instant yeast, salt and butter for a lovingly, leavened rustic loaf.
19. Learn Shortcuts
There is no reason to spend hours in the kitchen just mincing and chopping that garlic. Buy peeled garlic from the market or use kitchen shears to snip your chicken directly into the pot.
20. Have Fun While Cooking
If you are preparing some pasta at home, make sure that you put on some light music to get all the feels right. Remember that when you are feeling the best, you are also cooking the best.
If you find cookbooks and YouTube recipes too fussy, ditch them. Don't let the complicated recipes intimidate you. Look for more straightforward methods that you will be able it whip in a jiffy.