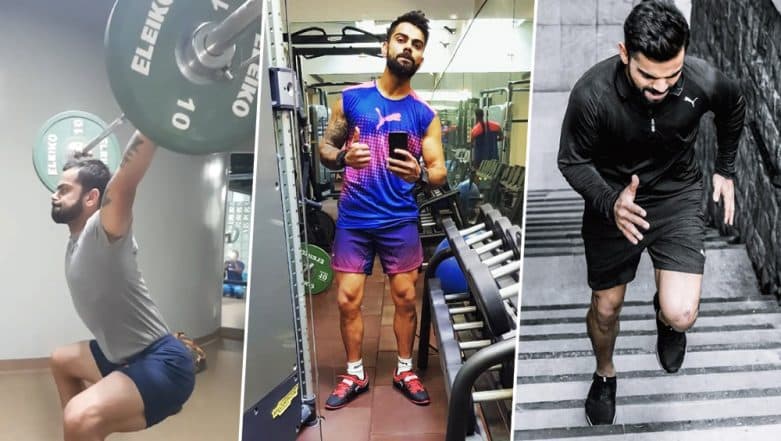 Indian Cricket team skipper Virat Kohli is considered to be the fittest cricketer. His fitness level is compared with renowned sportsmen like Cristiano Ronaldo and Rafael Nadal. When Virat Kohli made his debut in International Cricket on Aug 18, 2008, against Sri Lanka he was chubby and did not have an enhanced physique. Today he has completely transformed himself and fitness has become one of the main aspects of his life. Let us explore the workout and diet of Virat Kohli, which keeps him highly active and energetic. Anushka Sharma Spotted With Virat Kohli At Miami Airport As Team India Reach US for T20Is Against West Indies, See Photo.
Virat Kohli became the captain of Indian Cricket Team in the year 2017, when MS Dhoni stepped down as the skipper from limited overs. Virat Kohli is currently the No 1 ODI batsmen as per ICC ranking. Kohli is ranked as one of the world's most famous athletes by ESPN and one of the most valuable athlete brands by Forbes. During the recently concluded ICC Cricket World Cup, 2019 Kohli became the fastest batsman to score 11,000 runs in ODI cricket from 222 innings. Virat Kohli Shares a Video of Him Doing Powerlifting Exercises With the Caption 'Hard Work Has No Substitute' (Watch Video).
Virat Kohli's Workout
Virat Kohli is a batsman and a very good fielder. His running between the wickets is excellent. For these skills, Kohli spent hours in the gym and in nets to bring out his talent to perfection. The 30 years old Indian Cricket Team skipper Kohli trains for endurance, agility, strength, power and speed which covers all major components of fitness. He not only performs powerlifting exercises like deadlifts, squats or Olympic weightlifting workouts like the power clean, snatch. Kohli also trains his core by doing various forms of planks and also include strength and conditioning training in his workout routine.
Virat Kohli Loves to Do Powerlifting 
View this post on Instagram
Virat Kohli Doing Overhead Press in Squat Position 
View this post on Instagram
Power Clean is Virat's Favourite Exercise!
View this post on Instagram
Virat Kohli Does One Hand Push-Up
Virat Kohli Training His Core
View this post on Instagram
Virat Kohli Doing Cardio
Virat Kohli Doing Snatch 
Virat Kohli's Diet
As per the report from kreedon.com, Virat Kohli eats an omelette for breakfast made from three egg whites and one whole egg.  Along with this he also prefers some grilled bacon or smoked salmon. He also includes spinach, black peppers and cheese in his morning meal.
Virat Kohli Workout and Diet
In fruits, he prefers eating papaya and watermelon, as the latter is good to remove soreness. He also drinks green tea with lemon in the morning. For lunch, Virat likes to have grilled chicken, mashed potatoes, green vegetables, spinach and sometimes also adds red meat as per the requirement. Virat loves to eat only fish either grilled or boiled in his last meal of the day.
Virat Kohli has taught the world that there is no substitute for hard work and your effort always pay you in a good way. Kohli never misses his workout session and do whatever possible to maintain the tag of the fittest cricketer. He is definitely a role model for many youngsters in India.