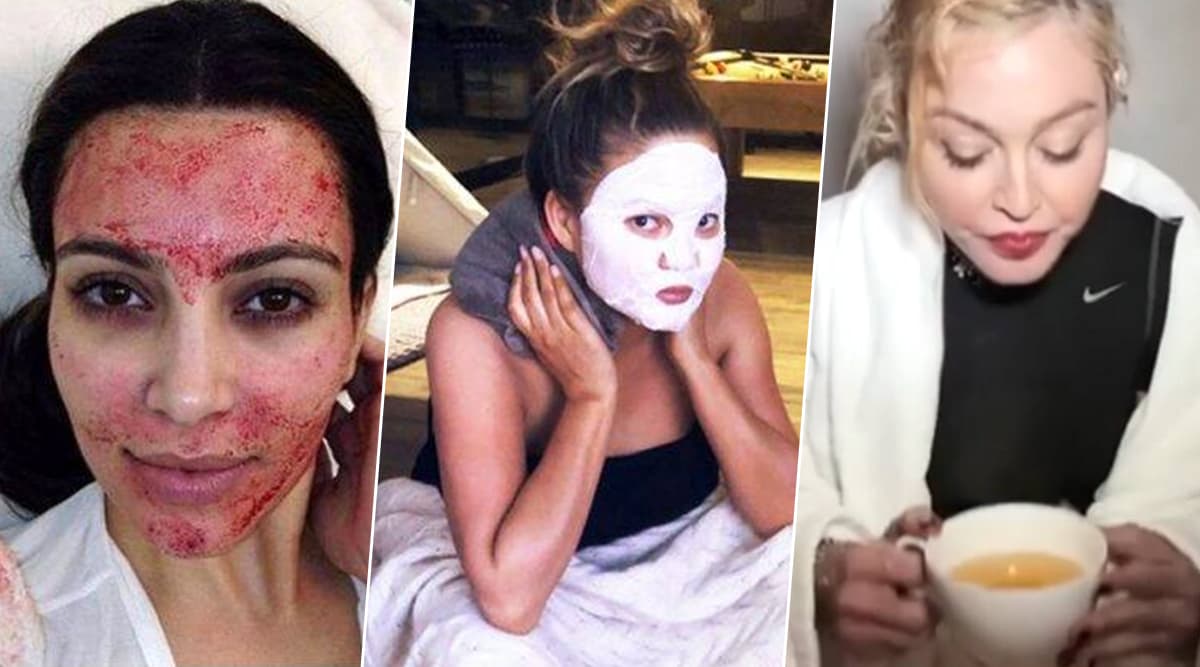 Celebrities have been known to use the weirdest of all beauty or health regimens very different from what we commoners use. Just recently, Madonna shared a video with her followers and it is certainly the strangest routine that has the internet baffled. In the video that is going viral, you can see, the famous 61-year-old singer take an ice bath at 3 AM before sipping her own pee from a cup, like it is green tea or something.  She claims that this has been her routine since forever and that she believes in its miraculous health benefits that have helped her heal her injury and maintain overall health.  This isn't the first time, though because Madonna has talked about her post-show routine earlier as well and spoken at lengths about the benefits of drinking her own pee. Madonna shared the video amidst her Madame X Tour and ever since the internet cannot handle it. Madonna Drinks Her Own Pee After a 3 AM Ice Bath to 'Heal' In A Viral Video! Does Urine Really Have Health Benefits?
Her video is still going viral and people are unable to wrap their heads around the remedy. However, this isn't the first time one of the celebrities have confessed such weird regimens that they advocate. Let's take a look at some of the strangest beauty and health regimens celebs have admitted to using in the past! From Semen to Bird Poop, Weird Skin Masks and Treatments That Are Sure to Gross You Out
Victoria Beckham's Bird Poop Facial
How can one forget the time Victoria Beckham's weirdest beauty secret was revealed? Applying bird poop on the face is what apparently makes Victoria Beckham look so flawless. Obviously, you don't straightaway apply bird poop on your face but, in fact, the faeces are dehydrated, sanitised and they turned into a powder before applying it on the face. Some people believe that bird droppings have anti-ageing benefits. Also known as Nightingale facials, this remedy basically is about using dehydrated bird poop powder turned into a paste and apply as face packs.
Hailey Baldwin's Blood Lotion
So apparently mixing your blood in the lotion that you would normally apply to your face may have the secret to beautiful skin. BUT it is not that simple as it sounds. Hailey Baldwin is said to have used a facial lotion that is concocted with her blood extracted from her arm. Reports have it that it is then put into a centrifuge to separate the plasma and white blood cells. The idea behind this method is using your own platelets to fight off signs of ageing.
Vampire Facial
Remember the time Kim K's blood-smeared face went viral? The fad in the beauty industry called the vampire facial is one of the bizarre beauty regimen known less controversially as plasma-rich protein facial. The use of blood in the procedure shocks people, at first. Although it is said to have benefits, experts have advised against it. It was said that the use of blood on the face could increase HIV risks. The procedure essentially uses platelet-rich plasma or PRP in your own blood to fight skin problems such as ageing.
Vaginal Steaming
Who can forget the controversial vaginal steaming popularised by Chrissy Teigen? A filterless Chrissy co-hosted NBC's New Year's Eve show and candidly mentioned her love for vaginal steaming to her fellow co-host Carson Dally. Vaginal steaming is a procedure that has gained the spotlight after that. Vaginal steaming aka V-steaming or yoni steaming is touted as a health treatment claims to detoxify the vagina. Women have to squat over steaming water containing healthy herbs such as rosemary, basil, wormwood, etc. to reap its benefits.
Well, looks like fighting against ageing isn't easy and definitely not for common people like us. Apart from these, we've even heard of semen facial, fire facial and donkey milk facial go viral. What do you think about trying out these bizarre beauty treatments?