Netflix's first original series in India Sacred Games has produced many gems, one of being Kubra Sait. Playing an unconventional role of a transgender bar dancer and cabaret singer, Kukoo turned the 34-year-old into an overnight star. To celebrate her new-found success, Kubra Sait headed off to a quick beach vacation in the Maldives, and the pictures will spark your wanderlust. The mini holiday gave Kubra a perfect opportunity to flaunt her sexy curves in tiny bikinis, from floral to fringe. In Sacred Games, viewers have been enchanted by Kukoo ka jadoo, but this seductive beach photo shoot will give you the real taste of Kubra Sait ka Jadoo! Missed Kubra Sait Nude Scene in 'Sacred Games'? Here Are Some of the Hottest Pics of Netflix Web Series Sexy Actress.
Kubra Sait's bold bikini photo shoot was carried out by a photographer, Anup J Kat at 1st December Films. With the gorgeous Sacred Games actress as his model, he had a fun time capturing some unforgettable moments on the island nation's beaches. As for Kubra, she enjoyed her shoot during her vacations to the fullest. The versatile actress traded in stylish gowns from Sacred Games for a couple of sexy bikinis – tiniest she could get her hands on.
In the first picture shared by Anup, Kubra is wearing a floral bikini as she relaxes on the beach in Male. With her hands spread out, while her legs touch the ocean, the girl looks thoroughly at peace. The photographed captioned this top view shot as, "Made a new friend in this one the very beautiful @kubrasait aka KUKU from the Netflix series called @sacredgames_tv. Mad mad show!! Shot this while we spend the evening at a deserted Island with @scuba_inn and @reef1884." The second shoot was done in a super skimpy mustard-coloured fringe bikini, and Kubra looked her stunner self.
Searching for Inner Peace? Head to a Sandy Beach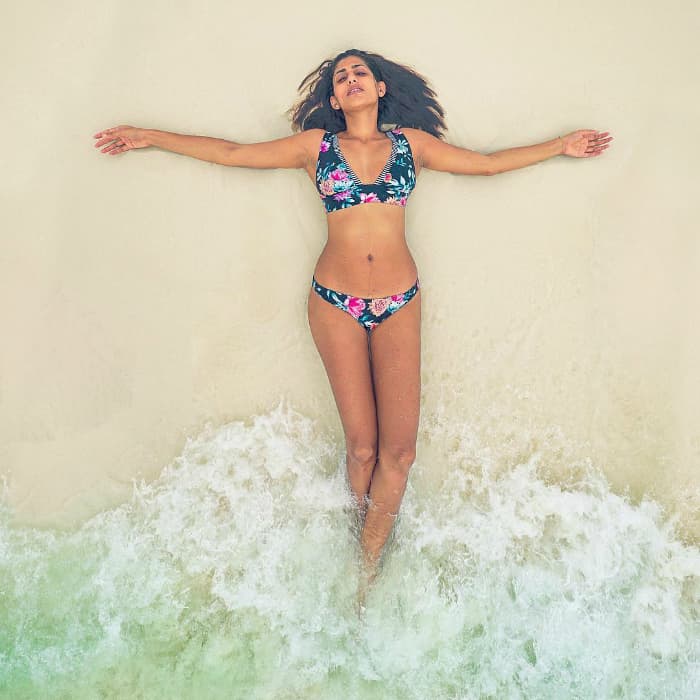 Strike A Pose!
Or, Just Break into a Little Happy Dance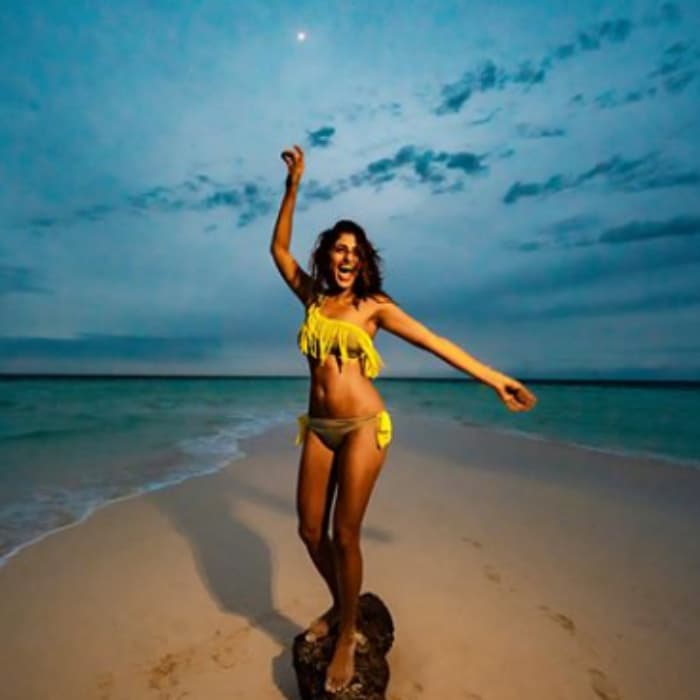 Kubra Ka Jadoo is Too Hot To Handle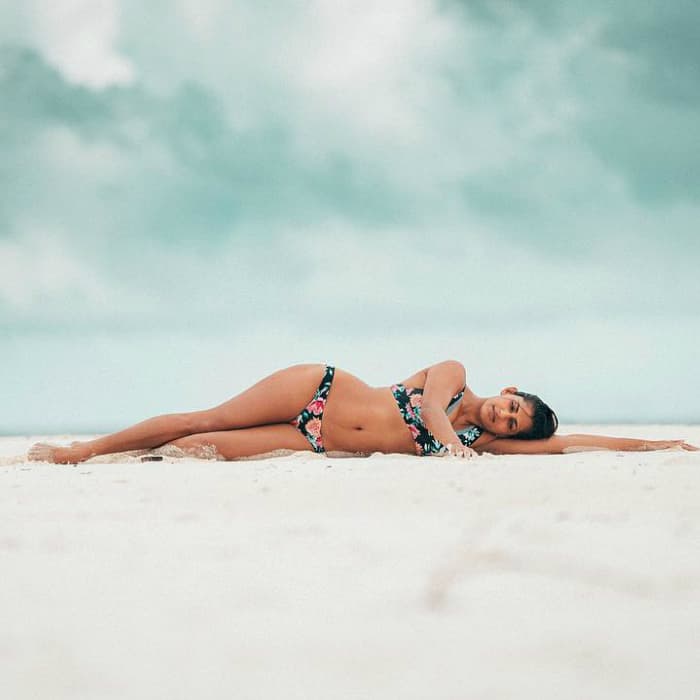 Apart from the glamorous photo shoots and fun behind-the-shoot moments, Kubra also had time to indulge in adventure sport like scuba diving at Omadhoo islands. Anup posted a video of the 'dive buddies' and a shark on the hunt! He writes, "WAIT FOR IT!! WAIT FOR IT !! .Shark on the hunt this is what the the morning dive at Omadhoo looked like. It sure was a surprise for myself and dive buddies."
They also explored the colourful ocean life, going deep down to the seabed. They had one awesome message for everyone, "COME FALL IN LOVE WITH THE OCEAN."
All of that looked so much fun, and how we wish to teleport ourselves to the island country. Kubra who made her Bollywood debut with Salman Khan's Ready, has finally arrived with Sacred Games. In an interview with Asian Times, she was asked about what made the makers consider her for Kukoo's role and of course, her comfort level in pulling off the character of a trans woman. Here's what Kubra replied:
"I was comfortable playing the role. I was comfortable embracing the character as it is. I was not uncomfortable with the anatomy of being a man and wanting to be a woman. I was not at any discomfort at all. Also, I was chosen to play because I am cuckoo (laughs). I am crazy. I enjoy crazy, I like pushing myself. So the easiest way to explain this is that I was scared to swim. I didn't know how to swim till I was 30. So my challenge was to learn how to swim at 30. Then I went to learn how to dive and sometime last year I clocked 33 meters. I have a fear of heights so I climbed a mountain – 6153 meters – in Leh. The peak is called Stok Kangri. I was the only person out of my 13-member group to climb it. My mum actually thinks I'm crazy, so what she actually means is I'm cuckoo, so it actually helped. I think this role was meant for me." Wow!