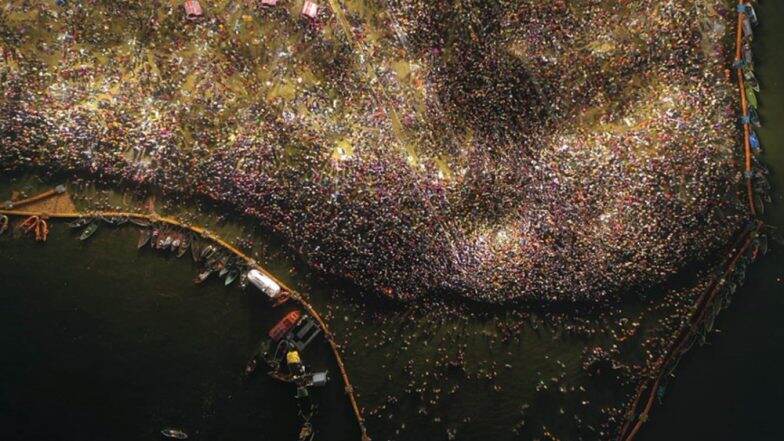 The Kumbh Mela 2019 is ongoing in Prayagraj and February 19 was one among the many auspicious days for the devotees that gather here. On the day of Maghi Purnima 2019, thousands of devotees visit the Sangam i.e the confluence of the holy rivers to take a dip in the holy waters. Bathing in the holy waters or the Shahi Snan on Maghi Purnima is said to be extremely fruitful and there's a belief that it will please Lord Vishnu who will grant the person's wishes. So on the occasion of Magha Purnima, devotees thronged the Sangam in thousands from early morning. Pictures from the day were released online which show how spectacular of a day at Kumbh it was. Kumbh Mela 2019: Thousands of Devotees Take Holy Dip on 'Maghi Purnima'.
The officials expected more than 5 crores devotees to be a part of this  Shahi Snan in Kumbh Mela on Tuesday. Elaborate security arrangements were also done for the same. The rush of people was seen from early morning despite the cold weather. The day of Magh Purnima is an important day for the devotees who observe a month-long Kalp Vaas. During the Kalpavas, these devotees observe complete non-violence and devotion and eat only once a day. Instagram Shares a Picture From Kumbh Mela 2019 For Its Weekly Feature and Its Spectacular.
Check Pictures From Kumbh Mela on Account of Magha Purnima 2019 
Prayagraj: #Visuals from #KumbhMela on the occasion of #MaghiPurnima pic.twitter.com/a8WRRGr7oT

— ANI UP (@ANINewsUP) February 19, 2019
These aerial pictures show the huge numbers in which the devotees gathered to be a part of the holy bath. In fact, every Shahi Snan days there is an amass of devotees that be a part of the ritual. The next Shahi Snan of Kumbh Mela will be on Maha Shivratri, March 4, the last day of the Ardh Kumbh Mela 2019.