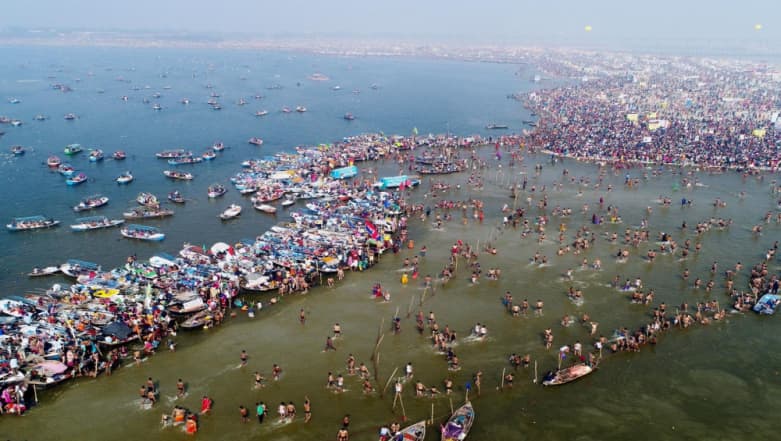 The biggest confluence in the name of faith, the Kumbh Mela 2019 is going on in Prayagraj. The sacred event, which takes place on a massive scale has people coming from all parts of the country, as well as international visitors. The traditional significance behind Kumbh Mela is a belief that taking bath in the holy waters of the river Ganga, Yamuna and Saraswati will erase a person of all their sins. The popularity of Kumbh Mela has travelled so much so that the number of tourists keeps on rising every year. There are saints, sadhus, Naga sadhus, godmen, who practice immense faith visiting the Kumbh Mela religiously every year. The vibe at the place is something that must be experienced. If you are among the ones who are planning to visit the Kumbh Mela this time, you need to keep some basic things in mind. Kumbh Mela 2019: Who Are The Naga Sadhus and Where Do They Come From?
Things to Keep in Mind While Visiting Kumbh Mela
Kumbh Mela is a place where you are going to be greeted with crowds at most places. So be extra careful about your belongings. Kumbh Mela 2019 Sets New Record, 2.25 Crore Devotees Attend First 'Shahi Snan' in Prayagraj.

There are many facilities here for safe lockers. Instead of carrying your expensive stuff with you, you can leave them in these lockers and enjoy the festival without worrying about your belongings.

Know the schedule of the important bathing dates of Kumbh, so that you do not miss out on the significant rituals. On the other hand, if you are among the ones who want to beat the crowd, then do not head to Kumbh Mela on these days.

Keep your phones charged because you are bound to be out for a long while. In case of any separation from the group, you need to have the battery on your phones to contact. So before you head out for the sangam, ensure that your phones are fully charged.

The essence of visiting the Kumbh, is to take a dip in the waters. Even though you may not want to initially, watching the crowd do it with all enthusiasm you might just want to step in the waters. So make sure you carry your own towels and an extra pair of clothes.

A lot of people who visit here carry cameras to get the best moments captured. But in any crowded place, you need to be careful about your equipment. Make sure you carry light and not too much of expensive pieces of equipment because you may not get a chance to always change your lens, cards or batteries in extremely crowded areas.A trip to Kumbh will not be like any other, where you can just afford to pack your bags and leave. You need to be extra careful since the venue is going to be crowded throughout. Do a bit of research about the temperatures of the place so that you can pack your clothes wisely. If you plan to visit Ardh Kumbh Mela 2019, we wish you all a happy and safe trip!