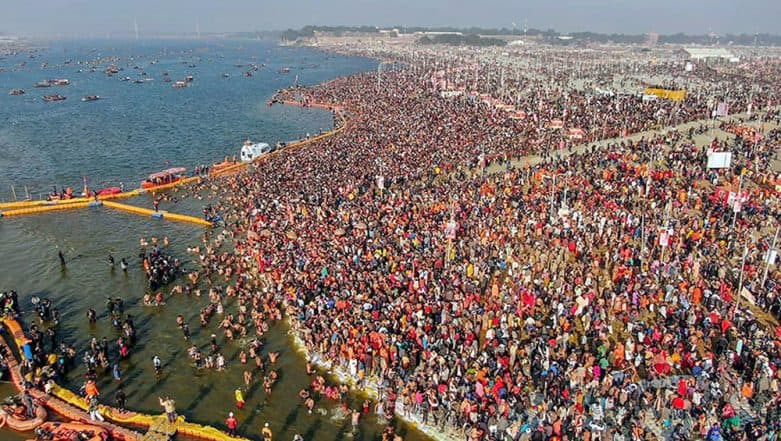 Lucknow, January 18: In the run-up to the mega religious event- the Kumbh Mela, as many as 2.25 crore devotees attended the first Shahi Snan (royal bath) of Kumbh in Prayagraj on Makar Sankranti on January 15. According to Uttar Pradesh Chief Minister Yogi Adityanath, about 2.25 crore people attended the first 'Shahi Snan' in Prayagraj which is a record. "I thank all the visitors, religious leaders, the common man and officials for the smooth conduct of the mega event," the CM said in a statement. Smriti Irani Takes Holy Dip in River Ganga During Shahi Snan at Kumbh Mela in Prayagraj; View Pic. 
The Chief Minister said that the state government was committed to providing best facilities in the ongoing ''Kumbh'' festivities. The 2019 Kumbh Mela commenced on January 15 on Makar Sankranti which was the first bathing day. Mahashivratri on March 4 will mark the last bathing day. Devotees took holy dips at the sacred confluence of the Ganga, the Yamuna and the mythical Saraswati. Kumbh Mela 2019 Opens: Devotees Take Holy Dip in Ganga and Yamuna on Occasion of Makar Sankranti.
An estimated 12 crore people are expected to attend Kumbh Mela this year over the next 50 days.  Kumbh Mela is celebrated four times over a course of 12 years. The state government has allocated a hefty amount of Rs 4,200 crore for the Kumbh Mela held in Allahabad while the previous state government had spent around Rs 1,300 crore for the Maha Kumbh this year, which was held in 2013. With this, the Kumbh Mela in 2019 has become the costliest pilgrimage till date. Meanwhile, the area of Kumbh Mela has also been doubled to 3,200 hectares as compared to 1,600 hectares in the previous ones.