Travelling far and wide is one desire everyone has deep down their heart. While some are lucky to fulfil it, others look forward to doing it one fine day. Thanks to travelling, be it for personal or business trips, tourism has bloomed into an integral sector worldwide. In fact, World Tourism Day is observed on September 27 by the United Nations World Tourism Organization (UNWTO) since 1980. The World Tourism Organization defines tourism that goes "beyond the common perception of tourism as being limited to holiday activity only", but as people " travelling to and staying in places outside their usual environment for not more than one consecutive year for leisure and not less than 24 hours, business and other purposes". The World Tourism Day 2018 theme is "Tourism and the Digital Transformation". To celebrate this international observance, here are few striking travel images in HD with quotes, best WhatsApp messages, Facebook status, GIFs to wish on World Tourism Day. World Tourism Day 2018: Know Date, Significance, Theme and Celebrations of the Day.
World Tourism Day is celebrated to spread awareness about the importance of tourism and how it impacts people economically, socially and culturally. The UN World Tourism Organization expects that tourism will continue to grow at an average of 3% annually until 2030. The stats should not be surprising as travelling is evolving from being a mere hobby to a full-fledged career for individuals. In this time and age of Instagram, people are exploring every nook and corner of the planet. You have your quintessential tourist destinations, and then you got your underexplored territories, which is attracting many travellers. On World Tourism Day 2018, Learn Some Tips to Travel on a Shoestring Budget in India.
On the occasion of World Tourism Day 2018, here are some of the most beautiful quotes by influential personalities on travel and tourism. These are for self-consumption as in to read, enjoy and get inspired. They also double up as cover photos on Facebook, display pictures on WhatsApp and then again, you can share it with your friends wishing them on World Tourism Day.
World Tourism Day Quote: A fulfilling and successful journey, begins with a great spirit of absolute determination. ― Wayne Chirisa.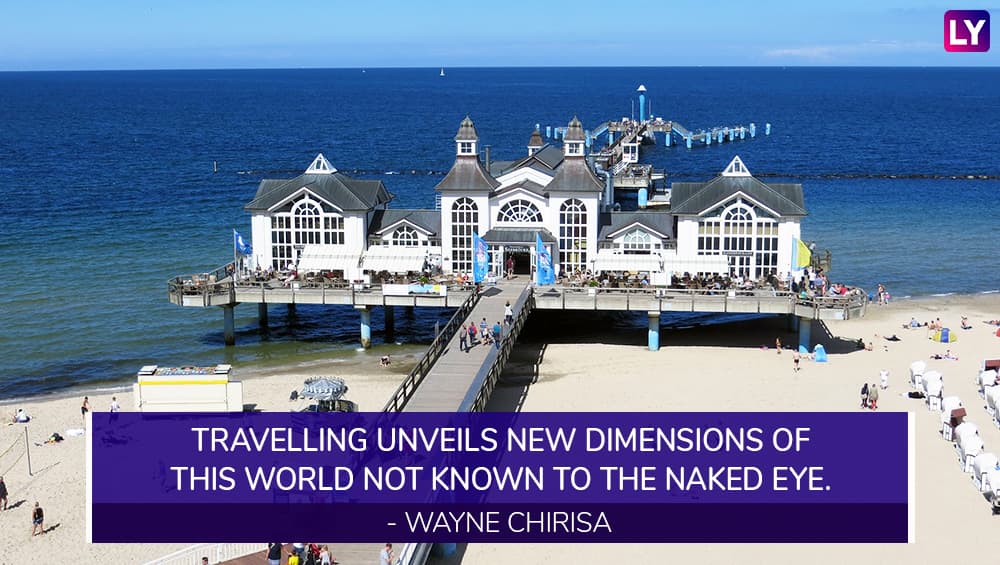 World Tourism Day Quote: Travelling unveils new dimensions of this world not known to the naked eye. ― Wayne Chirisa.
World Tourism Day GIF Image: Remember that happiness is a way of travel – not a destination. -Roy M. Goodman.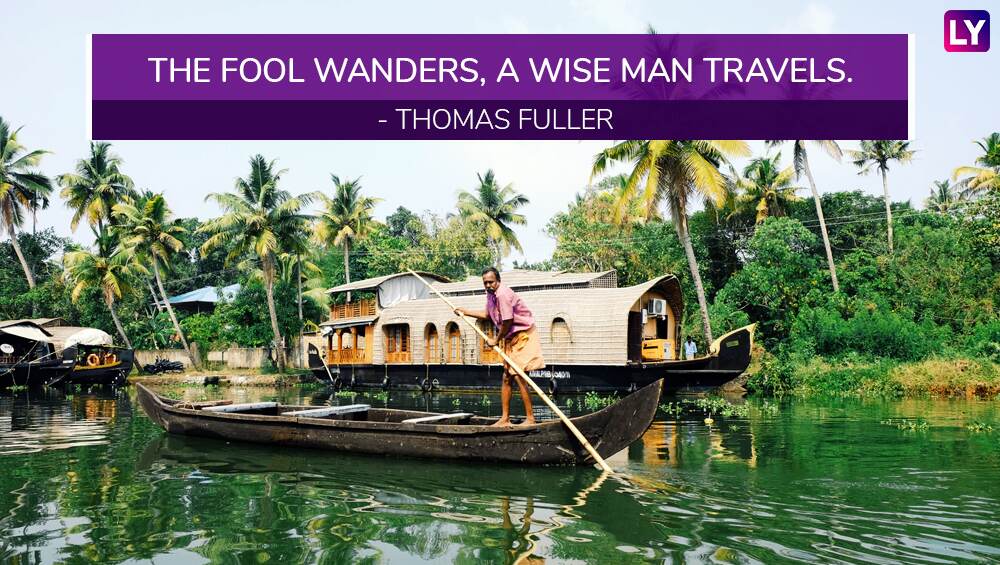 World Tourism Day Quote: The fool wanders, a wise man travels. - Thomas Fuller.
World Tourism Day GIF Image:  Wanderlust: n. a strong desire for or impulse to wander or travel and explore the world.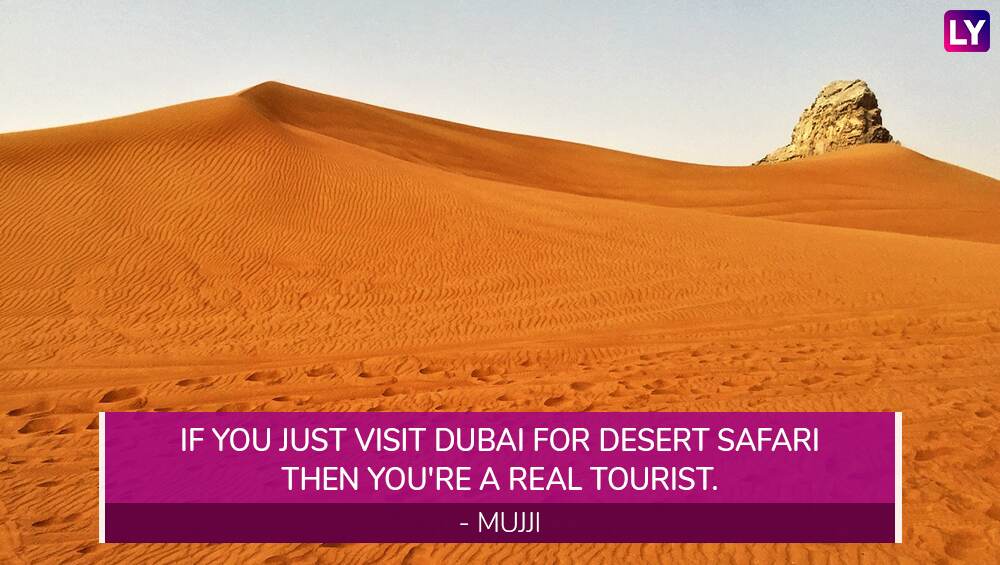 World Tourism Day Quote: If you just visit Dubai for Desert Safari then you're a real tourist. ― Mujji.
World Tourism Day GIF Image: I'm in love with cities I've never been to and people I've never met. – John Green.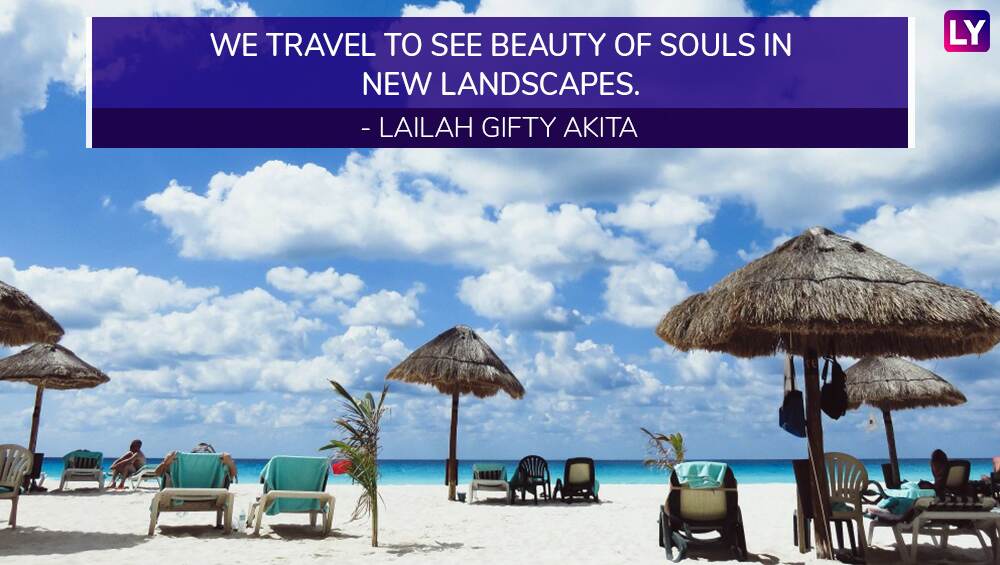 World Tourism Day Quote: We travel to see beauty of souls in new landscapes. ― Lailah Gifty Akita.
World Tourism Day Quote: Travel makes one modest. You see what a tiny place you occupy in the world. ― Gustave Flaubert
So these were some of the most gorgeous images with motivational quotes on travel. If these have inspired you one bit, go for that trip you had planned with your friends since forever. Stop procrastinating and postponing by citing responsibilities because work will never stop. Stop waiting for that one day to arrive for taking the much-needed break. Pack your bags and head off for the beautiful journey.