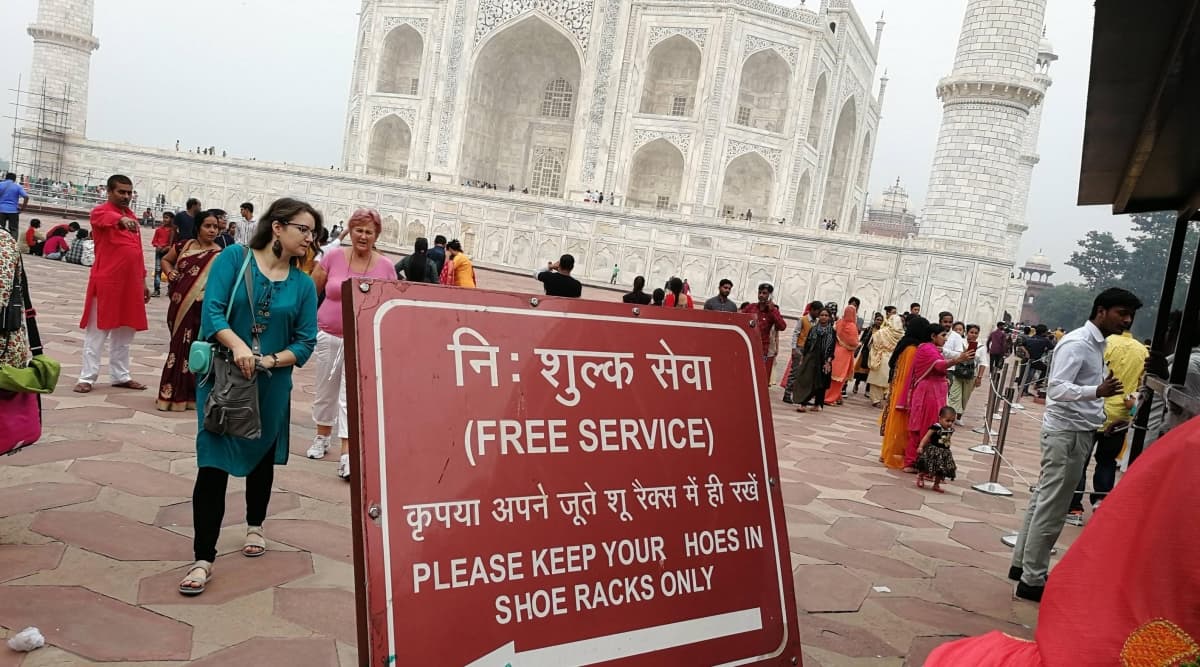 Typos are annoying and sometimes they can change the meaning of a sentence so much! For that matter, in any language, Grammer is important. A minor mistake of misplacing a comma can change the whole meaning. Recently, a signboard from Chennai International Airport which read "Eating Carpet Strictly Prohibited," went viral. It was a mistranslation which was supposed to mean one should not eat on the carpet. Although it is an old image, people on social media were amused. And now we have another such signboard from India's popular tourist destination Taj Mahal. A signboard directing people towards the shoe rack has a very important letter "S" missing from it, making it read something really hilarious.
At a time when the Airports Authority India had to respond to the viral image from Chennai Airport, we just cannot unsee this signboard from Taj Mahal. It is unclear it is recent or old, but the typo is just unmissable! The board reads, "Please keep your hoes in the shoe racks only." Well, well! The image was shared on Twitter and we won't be surprised if this one goes viral too. Penis-Shaped Taj Mahal Minarets Made by UK School Kid Make Twitter Pervs Giggle (View Viral Pic).
Check The Misspelt Shoe Rack Sing From Taj Mahal:
Sign Board as Taj Mahal entrance. pic.twitter.com/fIAe0cs07w

— Imtiaz Mahmood (@ImtiazMadmood) October 31, 2019
The white-marble mausoleum in Agra is one of the most beautiful monuments in not just in India but known across the world. A lot of tourists, foreigners included come here every single day. The signboard has a missing letter, which spells shoes as hoes! For those unaware, the word hoe is slang for a prostitute. And while we don't use it colloquially, it is a common term used abroad. So if this signboard is a recent one, it really needs urgent correction.