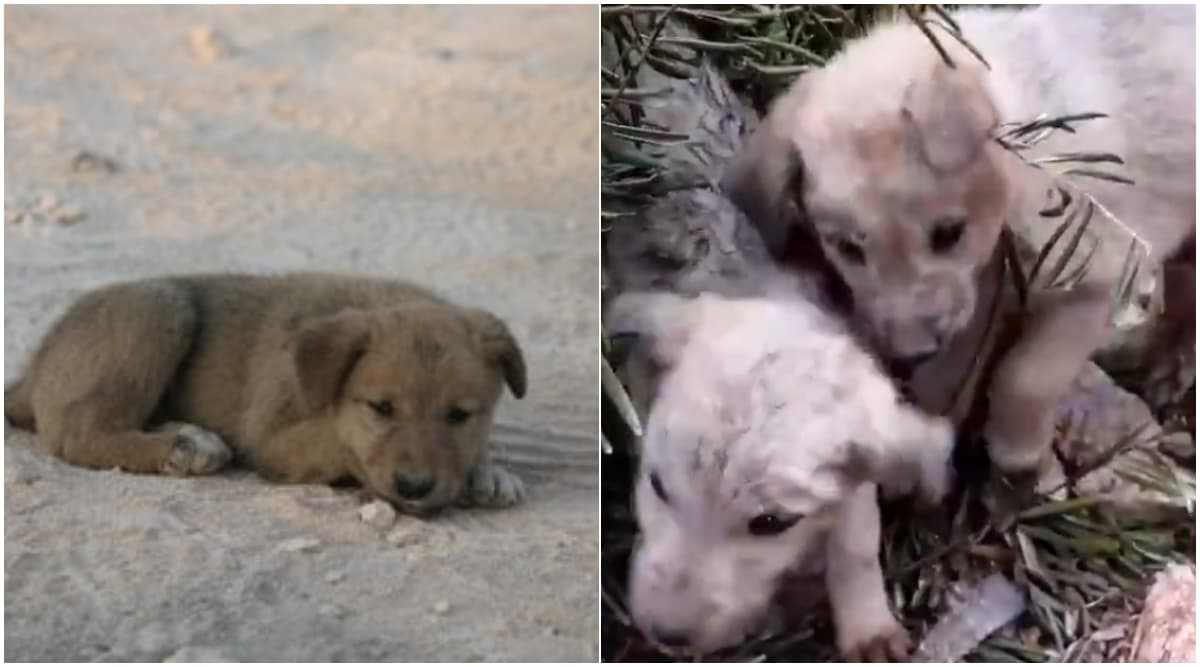 US special forces successfully carried out a raid in Syria to kill Abu Bakr Al-Baghdadi, the world's most dreaded terrorist and ISIS chief. Donald Trump also announced that the person in line to replace the slain leader was also terminated. While this is certainly good news in battling terror Trump gave due credits to the dog who did a great job and got wounded into the raid. And while everyone is praising this K9 dog, there is another heartwarming story of a pup that was rescued from the same spot. The pup's mother died in the raid and Fared Alhor, Syrian media activist posted about the rescue journey to the little one getting a forever home. This thread of puppy rescue is going viral and getting all the love on social media. Abu Bakr al-Baghdadi Killing: Donald Trump Shares Picture of Dog Injured in US Raid That Killed ISIS Chief.
Fared Alhor, a Syrian media activist and photographer shared details about the rescue of this pup. In the US raid, the puppies lost their mother and were left to fend for themselves. Alhor decided to give them a forever home and drove for four hours into the Barisha village. He also posted a video showing the little one kept in a box and later revealed its name too. The rescued pup is being called Bebo. He posted the updates in a Twitter thread and is being showered with all the love online. Abu Bakr Al-Baghdadi, Slain ISIS Chief, Buried at Sea Like Osama bin Laden by US Special Forces
Check Twitter Thread on Rescue of Puppy From US Raid on ISIS Chief:
This puppy remains alone after his mother died during a nightly U.S-led raid to kill the leader of ISIS in #Barisha village in Idlib.#Syria #idlib pic.twitter.com/AXuzIauUL9

— FARED_ALHOR (@FARED_ALHOR) October 28, 2019
Here's The Video of The Little Ones:
— FARED_ALHOR (@FARED_ALHOR) October 28, 2019
This thread is getting all the love and everyone is appreciating Fared's efforts to go and get the puppies and giving them a new home.
Good People In The World
Proof that one does not have to look very long to find good people in the world.

— The Lone Apple 🍎 (@The_Lone_Apple) October 29, 2019
Thank You For Kindness
Please take him home. Dogs are the best! And thank you for all your hard work. Stay safe.

— hope (@setiris) October 28, 2019
Blessings for Him!
Bless you, Fared, for rescuing this little dog.

— Keith Ingber (@keithgingber) October 29, 2019
And Respect
Immense respect for you 🙏🙏 ...stay safe stay strong !!!

— Tint O Glass (@BGarrk) October 29, 2019
It is indeed a beautiful story and in a time when we hear more of animal cruelty and ill-treatment meted out to them, Fareed serves an example of humanity exists. It is a heartwarming story and we hope the pups find a good life.