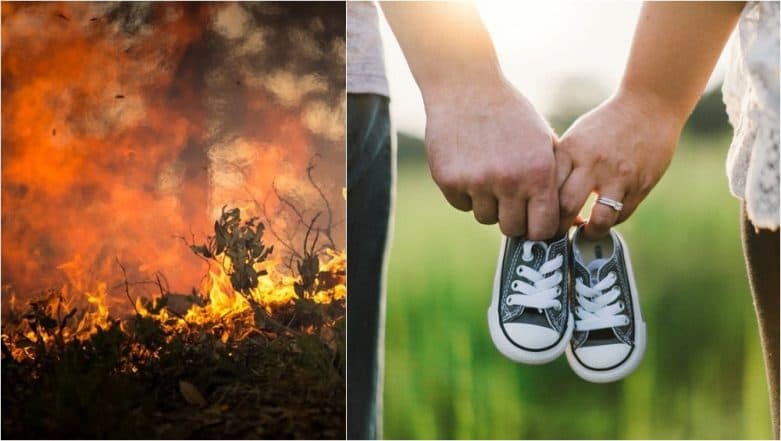 Gender reveal has almost given an important ceremony in the West. While most such events are cute and heartwarming, one of it resulted in a wildfire in the United States. 800 firefighters had to be ushered in to douse the fire. The wildfire in southern Arizona began when an off-duty U.S. Border Patrol agent shot at a target to reveal the baby's gender. The 2017 incident burned 73 square miles causing losses amounting upto USD 8 million.
Agent Dennis Dickey's fire hit the target and ignited nearby grass and trees. The flames spread so quickly that it raged along Arizona's Highway 83. Hundreds of people had to leave their homes as the fire posed a threat. Fortunately, there were no building collapse or injuries. Dry weather conditions added to the fire to spread inside Coronado National Forest. The region had been witnessing a period of lower-than-average rainfall and winds carried it even wider. Queensland Bushfires: Evacuations Ordered As Massive Blaze Intensifies Again.
Dickey told the judge that the fire 'was a complete accident'. The fire that happened in April 2017 but the US Forest Service has released a footage of the incident. The video shows a small puff of coloured smoke quickly igniting parched grass and spreads widely. California Wildfire: 5 Dead Bodies Found During Rescue Operations, Death Toll Now Reaches 76.
Here is the video of the fire:
The officer will have to appear in public service videos warning against attempting anything similar. There have been several incidents of fire in different countries recently. Earlier this week, bushfire gutted farmland in central Queensland, Australia. Devasting wildfires in California earlier this month killed around 87 people and left more than 1000 people missing.