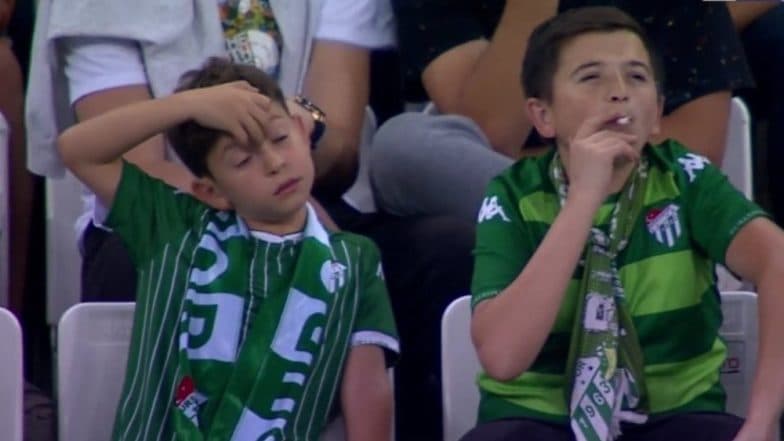 Fans of Turkish football were in for a shock when they saw a 'young boy' smoking inside the stadium during Fenerbahçe S.K. and Bursaspor match. Recently, a video of a 'kid' smoking during a charity football match to raise funds for leukaemia went viral. It sparked massive social media outrage as the 'young boy' happily took a drag on his cigarette. But it looks like all the hue and cry was for nothing as the little guy was not a minor but a 36-year-old!
A video from the match showed a 'kid' smoking a cigarette while sitting in the stands with other spectators. He is seen accompanied by another young boy. The two are sporting a green Bursaspor scarf. Netizens were left confused seeing one of the 'kids' smoke while the other looked unfazed. However, according to the Turkish media, the 'child' in the video is a 36-year-old man and the boy sitting beside him is his son. Yes, they're not buddies but father and son!
According to an Instagram post, the boy was revealed to be an adult and not a child. The local media found him to be a Bursaspor supporter who was in the stadium to watch the football game with his son.
Here's The Instagram Post Revealing The 'Child' To Be a 36-Year-Old
Here's The Video of 'Child' Smoking at Turkish Football Match That Angered Netizens
In Turkey, anyone caught smoking in a designated smoke-free area is fined 69 Turkish lira. It is not known if officials will follow up with the man and take action against him. All proceeds of the game go to cancer charities as well as organisations who support children with Down's Syndrome. Whatever be his age, smoking is still not justified and is among one of the major cancer-causing agents.