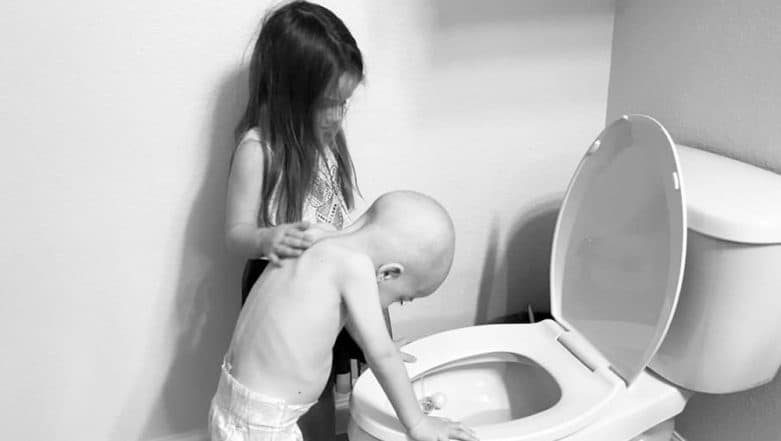 Heart-rending photos of a four-year-old cancer-stricken boy throwing up went viral after his mother shared it on social media. Kaitlin Burge from the United States who documents her son Beckett Strong's cancer story on Facebook, posted it showing how her son's leukaemia has impacted the whole family. She opened up about the effect of his illness on other members of the family, by posting a photo of him leaning over the toilet, about to throw up, as his supportive sister pats him on the back. Beckett was diagnosed with acute lymphoblastic leukaemia (ALL) in April 2018. Top Facts about Cancer in Children.
She shared the photo with the caption, "One thing they don't tell you about childhood cancer is that it affects the entire family. You always hear about the financial and medical struggles, but how often do you hear about the struggles families with other children face?" US Toddler Diagnosed with Ovarian Cancer; Parents Scramble to Raise Funds for Child.
Here is the Facebook Post:
ALL is the common form of leukaemia found in children. It affects immature forms of white blood cells, called lymphocytes that identifies and destroys foreign proteins in the body. According to Children's Hospital of Philadelphia (CHOP), in children suffering from ALL, the bone marrow makes too many immature lymphocytes which do not mature correctly and do not have the ability to fight infection. It accounts for about 30 percent of all pediatric cancer.
Anaemia, bleeding, bruising, bone and joint pain, fevers, infections, abdominal pain, difficulty in breathing are some of the common symptoms of the illness. Children have to go through chemotherapy, blood transfusion, antibiotics, radiation or blood, and marrow transplantation as a part of the treatment procedure. The post went viral collecting over 47,000 reactions and more than 30,000 shares. People sent supportive and motivating messages to the family empathising with them. Some sent photos of their own children suffering from a cancer diagnosis and illness and how their siblings were supportive enough.