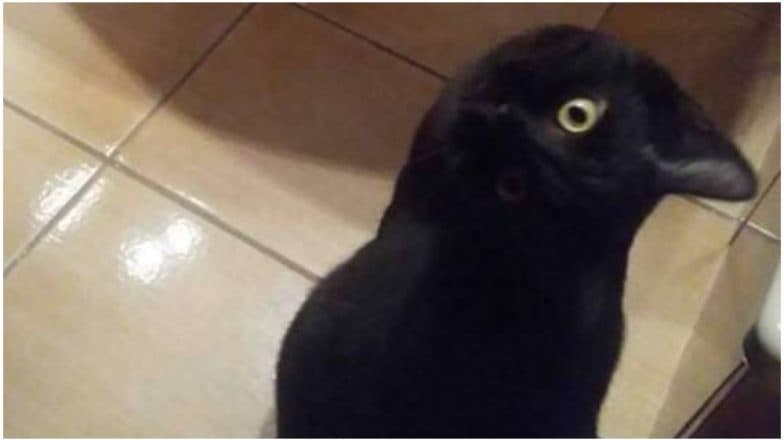 Photo illusions are quite common on social media these days. After the blue or white dress that divided the internet, social media has become a platform for optical illusions to go viral. And the latest to be added to the list is the photo of a cat or may be a crow. At the first look you may think it is a crow but on a closer examination, you are sure to feel it is a cat.
The photo was shared on Reddit by r/confusing_perspective and was reshared by u/dickfromaccounting who wrote, "This picture of a crow is interesting because it's actually a cat." The photo soon landed on Twitter with various reactions pouring in. And Twitter like always was quick to come up with funny jokes and hilarious memes about crows and cats. And cat GIFs which are a joke in itself was also widely shared on social media.
We wonder what the cat community has to say about this considering their enmity with birds is an age-old is quite popular. Viral Photo Shows Back or Neck of Person? Optical Illusion Confuses Social Media Users
Here is the photo that is going viral:
This picture of a crow is interesting because...it's actually a cat pic.twitter.com/dWqdnSL4KD

— Robert Maguire (@RobertMaguire_) October 28, 2018
The photo which was shared on Twitter initially by user Robert Maguire has more than 1,44,000 likes and over 49,800 retweets at the time of publishing the article. A Twitter user hilariously commented asking, "This your crat?" while another wrote, "I had to do a double take."
Twitterati also said how this photo has similarities to different pictures that went viral in the past.  Meanwhile many also said that it the photos tease your brain and it depends on what you see. Do you see a cat or a crow? Do let us know in the comments section below.