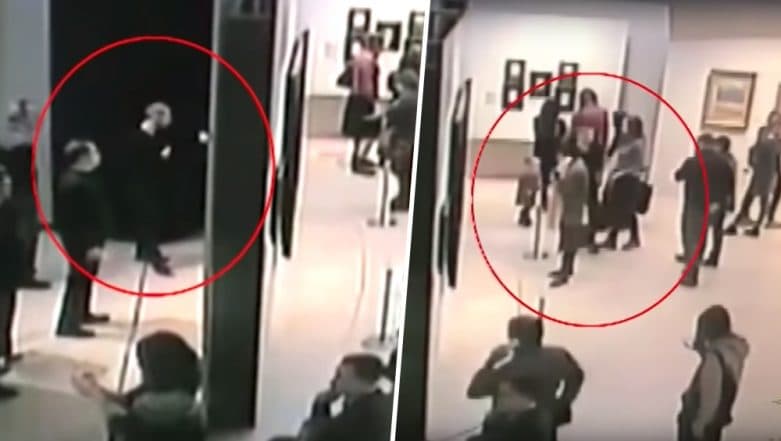 Theft cannot be this simple; this video will make you think of all those perfectly articulated museum robberies you have seen in movies. A painting worth USD one million was stolen from a Russian museum in broad daylight with so efficiency and people failed to see the theft being carried out in front of their eyes.
CCTV footage shows a man in jeans and a shirt taking a stole inside Moscow's Tretyakov Gallery among other visitors on Sunday evening. He then goes to one of artist Arkhip Kuindzhi's paintings and lifts it off the wall. As people look on, he walks out of the museum holding the painting in his right hand. None of the visitors reacted to it thinking that he was a gallery employee. Man's Hilarious Attempt to Rob Colorado Store As His Gun and Pants Drop Is Going Viral (Watch Video)
Only after several minutes, people realised that that painting was robbed and by the time, an alarm was raised, the man had left the area. Video of the incident has now gone viral on social media. The artwork was placed in the exhibition of landscapes held in Moscow. It was the painting of 'Ai-Petri Crimea', a mountain peak in the peninsula of Crimea. Russian Thief Painted His Face in Green to Disguise His Identity! Watch Hilarious Video.
Watch the video below:
In the past too, artworks have been stolen from the Russian museum. Russian police said the 31-year-old suspect had been arrested. Cops said that the artwork is undamaged and will soon return to the gallery. Following the incident, the gallery authorities have decided to increase security inside the museum. Nizam Museum Theft! As Rs 50 Crore Worth of Artefacts Stolen From Hyderabad We Take a Look at 6 Famous Museums Heists.
All pictures at the gallery would now be fitted with sensors and alarms. Reportedly, the man had plans to sell the painting from 1908. On being question by police, the man said that he couldn't remember where he had been on Sunday afternoon. He denied all charges initially only to later reveal that the painting was hidden at a building site.