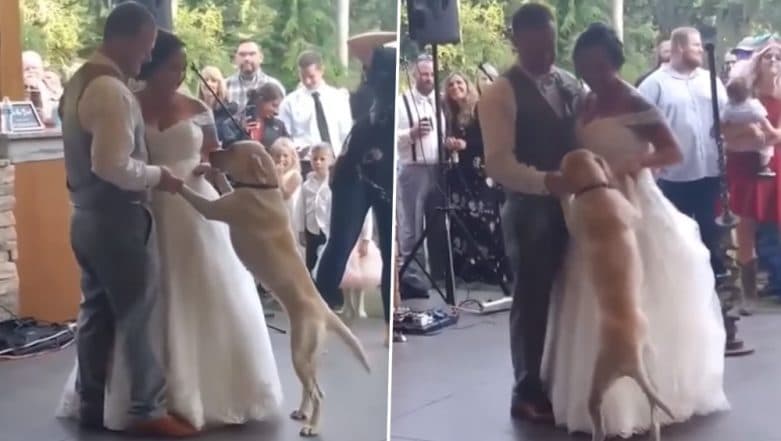 A beautiful video of a dog joining the first dance of a couple at their wedding has gone viral on social media. The clip shows the bride and bridegroom dancing, as guests watch on. Seth Funden and Nicole tied the knot at a wedding ceremony in Washington earlier this month in which Eva, their dog was part. While Eva quietly watched her humans getting married all the while, she wanted to shake the leg at the wedding. Bride Dances With Her Dying Father on Her Wedding Day, The Viral Video Will Make You Cry.
And no sooner the couple started dancing, the dog came to them and wanted to be a part of it. They couple can be seen petting the dog, but all Eva wanted to do was to dance with them. The canine stands on its hind legs and lets each of them hold the front legs. The trio then proceeds to dance together, like a happy family. As the video went viral, social media users couldn't stop shedding happy tears. The beautiful video has clearly melted many hearts on the internet. The dog's gesture shows the love and cares the family gives it.
Watch The Video Below:
None of the guests at the wedding was surprised to see Eva at the ceremony as they knew she was quite dear to the family. However, none of them thought the dog would want to join the couple in dancing. An American bride had made headlines in June when she danced with her dog at her wedding. Video of her twirling and jumping alongside had gone viral on social media.