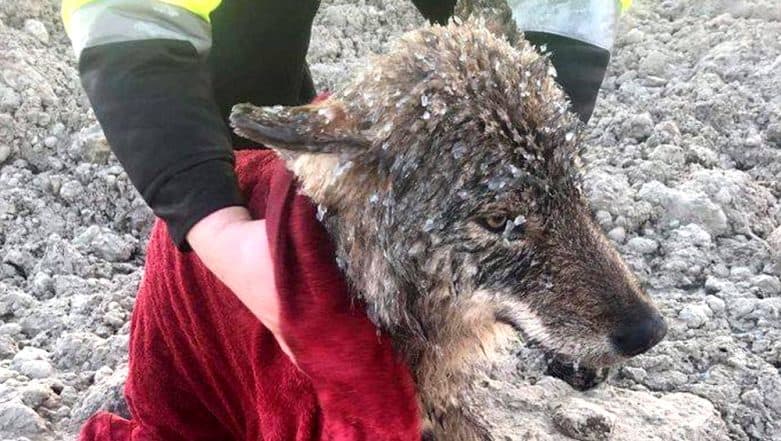 A group of kind-hearted Estonians rescued an animal from ice cold water. The construction workers thought they had actually saved a dog but were shocked to realise it was a wolf. They were working at the Sindi dam on the frozen Parnu River in southwestern Estonia when they spotted an animal trying to swim amidst ice. The workers approached the animal and saw that it was covered in snow. They wrapped it in a blanket and took it to a clinic or medical care thinking it to be a dog.
Later, it was a hunter who told them it was not a dog but a one-year-old wolf. They were also told that it was suffering from shock and hypothermia. The workers were utterly shocked to discover that they were taking care of a wild animal until then. The wolf recovered a day later and was released back into the wild. It was also even a GPS collar. Man Developed Customised Drone to Rescue Puppy From a Drain in Lucknow, Watch Video.
Check out pictures of the wolf mistake for a dog below:
The Estonian Union for the Protection of Animals (EUPA) posted photos of the canine on Facebook saying that the animal was "very exhausted, hypothermic and frozen" when it was brought to the clinic. One of the wolf's rescuers, Rando Kartsepp, told the Estonian newspaper Postimees that it was quiet all through the journey towards the hospital.
EUPA veterinarians who suspected that it was not a dog consulted a local hunter who confirmed it was a wolf. Estonia has approximately 200 wolves. The EUPA said they took care of the medical expenses. They added saying, "We thank the heart of the young men who went to help the wild animal and saved him."