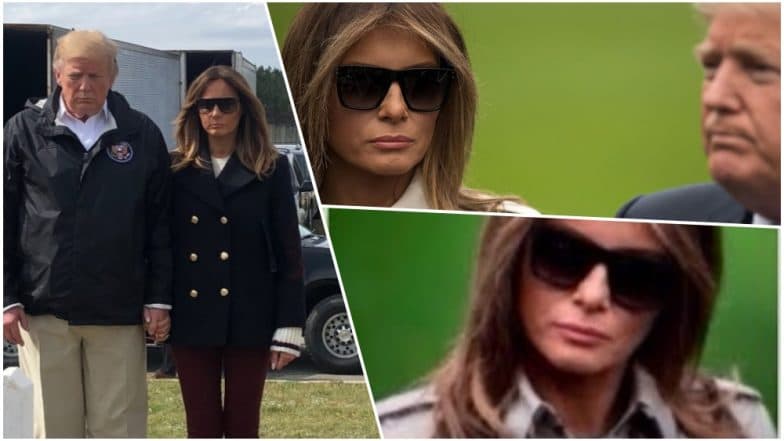 "Wait, is that really Melania Trump?" the internet did a double take as they saw a video of the FLOTUS with husband US President Donald Trump and son Barron. The first family of the United States was visiting Lee County, Alabama to assess the damage caused by a recent tornado. In the video, Melania Trump didn't quite look like herself, causing people to raise doubts whether it was really her in the video. Pretty soon, #FakeMelania hashtags started going up, which essentially hinted that the first lady may have a decoy. But this is not the first instance of the "Fake Melania" conspiracy theories. Back in 2017, there were similar concerns of the first lady having a body double. Twitterati Compare Melania Trump to Movie Characters for Her Outfit During Egypt Tour and the Results Are Hilarious!
What's the Fake Melania theory? Watch video:
To be fair to the theories, the "Melania" in question did look a lot different from the first lady we are used to seeing. But in all fairness, it could just be the lighting or the angle. But Twitter is somewhat convinced that it could be a decoy, and others are just having some good old fashioned fun. Here are some hilarious tweets.
Who is this, really?
Seriously... who the fuck is this??? It's clearly not Melania.#FakeMelania pic.twitter.com/y1Ua6pvaVb

— 𝙇𝙚𝙤𝙣𝙞𝙙𝙖𝙨 (@FightDaPower) March 9, 2019
Quite likely
I guarantee, if there is a #FakeMelania clone, it's actually Melania who hired her and Trump hasn't realized yet....

— Becks (@BeckyEcki) March 10, 2019
Look closely
#FakeMelania completely different posture, body mass, neck line and gesture. I'm no conspiracy theorist but this is not Melania Trump

— Camsandthecity (@camsandthecity) March 10, 2019
Lol, Ok now we are reaaaallly suspicious
This one, only this one! #FakeMelania pic.twitter.com/NqsNqRBuwG

— Alicia Redd (@AliciaRedd2) March 10, 2019
Is Steven Tyler Melania Trump?
"That dude looks like First Lady..." #FakeMelania pic.twitter.com/nKllD2lotB

— Joanne Edgerton (@Test1Joe) March 10, 2019
LOL
Melania confronting Trump about #FakeMelania. pic.twitter.com/9JJ5nEaRdP

— John Wilkes Kissing Booth (@teelteen) March 10, 2019
Melania Trump's real feelings about Fake Melania theories:
Fam...this is mad cringy (if that's a word) #FakeMelania pic.twitter.com/KfaBsJYtMq

— Eman Musik (@Eman_Musik) March 10, 2019
Pretty much speaks for all of us:
Me trying to ignore the #FakeMelania conspiracy theory: pic.twitter.com/RIzvD5rWt3

— Mr Green (@MrGreenzzzz) March 10, 2019
Fake or not, Melania Trump does look a lot different from usual appearances. For one, her mouth looks a lot different. Some have also pointed out that the FLOTUS from the video looks quite similar to the first lady's bodyguard. One Twitter user even pointed out that the two have identical rings worn on the same finger of the same hand. Bette Midler Shares Old Semi-Nude Pic of Melania Trump, Slammed by Twitterati.
The bodyguard theory
This proves it... #FakeMelania pic.twitter.com/m8rPEs1yeP

— Schadenfreude Sally (@ResistMeena) March 9, 2019
Notice the ring?
Did anyone from the press or public actually hear Melania speak during that trip to Alabama? I must say, Melania's secret service agent looks a lot like her, particularly with sun glasses on. But even if she had the same heal height, she'd be a bit shorter. #FakeMelania pic.twitter.com/lewaUPwy0T

— Cornelia (@PaladinCornelia) March 9, 2019
World leaders use body doubles or political decoys in case there's a threat to their lives. The decoys are trained to look, act and speak like the person and sometimes undergo cosmetic surgeries to ensure perfect resemblance. Some famous politicians with body doubles include Hitler, Himmler, Stalin, Saddam Hussein, Boris Yeltsin and Winston Churchill.