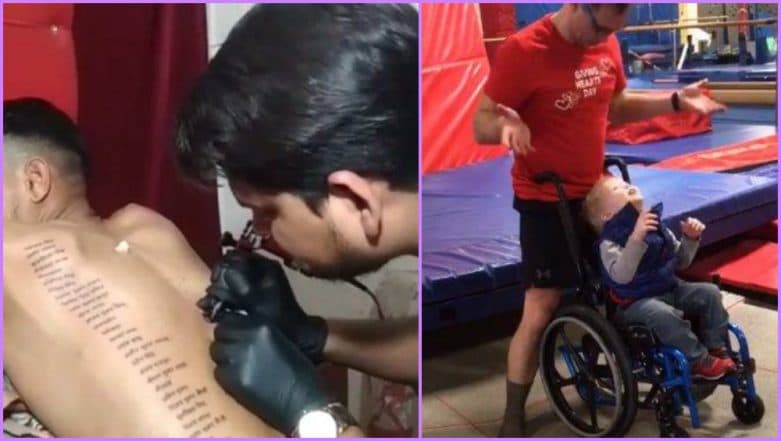 Time again, to witness the videos that were everywhere on social media this week for various reasons. In the hectic of times when everything around you is too sad to ignore, we have the internet sharing some delight. Not every time though! Every minute millions of videos are shared on Facebook and Twitter daily, while a few go viral capturing the netizens for long hours. Putting up the trend, this week too, many clips were appearing on social media platforms. Be it the wheelchair-bound 4-year-old jumping on a Trampoline or the Bikaner Man tribute to the tragic Pulwama terror attack Jawans; we have picked up the top seven viral videos of the week, that gave the netizens all sorts of feels.
The week begins with short clips and memes going effectively viral. Social media is being used in the right manner these days, sharing possible social messages that everyone should know. It is not always as serious as it sounds. Without any further delay, look at the top seven videos that went viral this week.
Wheelchair-Bound 4-Year-Old Jumping on a Trampoline
Apart from being nasty, there are these small and heartwarming videos that make all of us regain faith in humanity. This video of the 4-year-old little boy on wheelchair jumping on a trampoline is precisely what you need on any rough day. The little boy enjoying his time on the trampoline was captured in North Dakota. Netizens could not stop but laud the teacher's amazing effort to keep the kid's smile constant.
Son Sitting on Tyre Attached as Trolley to His Father's Car
This was not fun. We still could not figure out, why any such stunt would make sense to a father. A car was being driven with a young boy 'skiing' closely behind sitting on a tyre attached as a trolley. The viral video might look harmless; it involves high risk. With the help of Chinese social media Weibo, the police could trace and initiate an investigation against it. It is sternly advised never to follow any such similar stunts.
Bikaner Man's Tribute to the Pulwama Terror Attack Jawans
14th February 2019 shook India after a convoy of vehicles carrying security personnel on the Jammu Srinagar National Highway was attacked by a vehicle-borne suicide bomber at Lethpora area near Pulwama district. The attack resulted in 40 deaths of the Central Reserve Police Force (CRPF) personnel and the attacker. The entire nation is still mourning. Candle-lit march was initiated in several areas across the country, honouring those who lost their lives. One such was this brave man from Bikaner, Gopal Sharan who tattooed names of 71 soldiers on his body along with the Indian national flag. The names include the martyred jawans in the Pulwama terror attack.
England Zoo Let Passengers Play 'Tug of War' With Wild Tiger and Lion
Dartmoor Zoo in England has this strangest experience for the visitors, 'Human vs Beast Challenge. Not just children as young as eight years old, elders too can participate in a game of tug of war. But it has not been taken well by the internet. After the zoo posted a video of the exercise, netizens quickly slammed the authorities for inviting visitors to participate in such an act. While some activists argued that the wildlife should be left in the wild, others called it a money-making scheme to lure more people.
Woman Sneaks Through Luggage X-Ray Machine
The boredom at the airport could lead to many things, but no one had really imagined sneaking through a luggage X-Ray machine to kill time. When her parents and security officers were not paying attention, this little girl at an airport in China, decided to bend down on all fours to enter the X-Ray machine.
Aggressive Broadacres Socialite Harasses a Family
This woman created a ruckus for no reason. This couple in Houston, were all excited for a photoshoot with their 11-month-old child for her first birthday. But they quickly became a target for this rich woman. Though, the couple reported to file a police complaint against the lady; the photoshoot was ruined.
Bill Gates Explaining the Effects of Climate Change
Microsoft co-founder Bill Gates explained amazingly well to the causes of climate change with the help of toys. Soon as the video was uploaded on YouTube, it circulated widely on all the social media platforms. Once again, the well-regarded philanthropist impressed the internet for his skill addressing yet another important issue that the world is facing today.
These were the top seven videos that appeared everywhere on social media. The number of increasing views on the clips speak it all. If you were too busy to witness what all happened this week, the list above is sure to make you aware, the moments that you missed. We hope for some more amazing and informative clips to be shared on social media in the coming week.