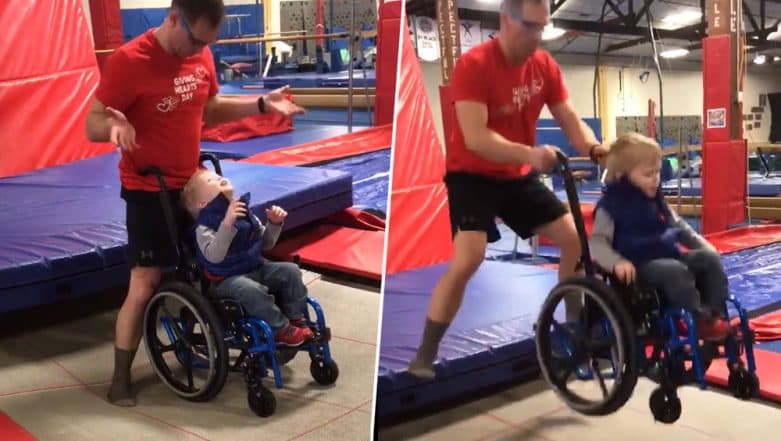 In a world that keeps throwing challenges at you, its the small things in life that make you regain faith in yourself and your capabilities. Just like this latest video that is going viral and for all the right reasons. A video of a little boy on wheelchair jumping on a trampoline is exactly what will make your day today. It will fill you with all the power you need. Heart-winning video of a North Dakota 4-year-old boy in wheelchair bouncing on a trampoline is inspiring the internet and HOW! Viral Video of Dad Dragging Daughter through Washington Dulles Airport is 'Relatable' Say Parents on the Internet.
Wyatt has spina bifida and was at TNT Kids Fitness in Fargo, North Dakota, and a video of him posted on the TNT Kid's Fitness & Gymnastics' page of has gone viral with about 91,504 Shares and 5.7M Views that is only increasing every second. The caption of the viral video held an inspiring message as well. It read: "Who says that you can't jump on a trampoline when you're in a wheelchair? Not TNT! Wyatt keeps saying 'FASTER'!!"
Take a look at the video of little Wyatt jumping on a Trampoline:
This happened at the gym's 'Giving Hearts Day' which was a 24-hour charitable event in Minnesota and North Dakota in which donations are allocated to local charities. "And for a moment I'm sure this child felt no different than any other child," a comment read on the video. Another comment said, "This is greatness! I have a 7 year old - same size same style manual chair. Almost tempted to fly her out there from texas JUST to jump with this teacher!!!!"