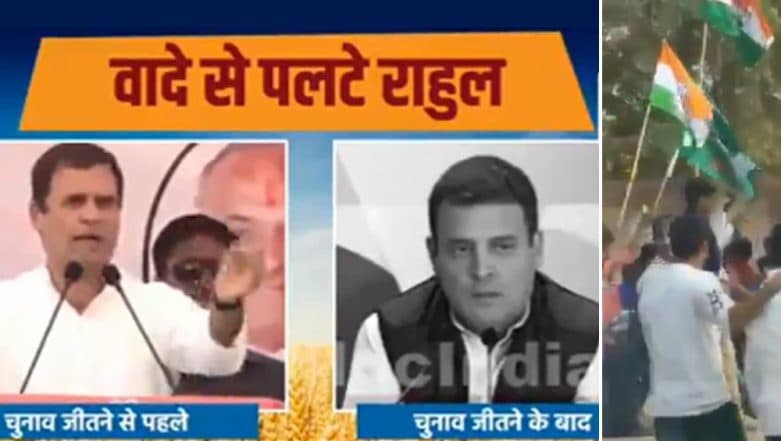 The Congress party has taken a significant lead in three states of Rajasthan, Madhya Pradesh and Chhattisgarh in the assembly elections 2018. It is a happy moment for the political party which has defeated its strong contender BJP in their ruling state Rajasthan after 15 years. Party members and workers were in a celebratory mood over the victory. The social media also saw congratulatory messages and posts about Congress' win but along with that, there were fake videos looming on WhatsApp, Facebook and Twitter. One of the videos being shared online saw a group of people hurling the Pakistan flag and celebrating in a rally as a mark of celebration. Another video shows Rahul Gandhi saying waiving of farmers' loan is not a solution, contradicting his earlier statement in Madhya Pradesh rally. But both these videos are fake and have been spread to create more political tensions, ahead of Congress' win. Rajasthan Votes Out BJP, Congress Yet to Choose Between Sachin Pilot and Ashok Gehlot For Next Chief Minister's Post.
A video showing a rally in which people are dancing and hurling a flag is shared on Facebook and asks people to rethink their decisions about whom to vote for. It is instigating the Hindu community by portraying another in a bad light. The video has received more than 6 lakh views but let us tell you it is a fake video. The flag seen in the video is not Pakistan's national flag but another green symbolic flag of the community. WhatsApp Fake News: Narendra Modi Government to Give Away Free Cycles Under Pradhan Mantri Cycle Yojana 2018 on 15th August? Read Hoax Message. 
Check The Fake Video Being Circulated About Congress Party Celebrating With Pakistan's National Flag
Alert 🚫🔊

This video 📽️ circulating on #socialmedia claims that there is a Pakistan flag being waved in a victory procession of @INCIndia.

This is false and we request people not to get trapped by this ❌. We are trying to trace the mischief-maker.#FakeNews @SMHoaxSlayer pic.twitter.com/WDnABuJx2M

— Rajasthan Police (@PoliceRajasthan) December 12, 2018
Another video that is also being shared shows a collage of two speeches of Rahul Gandhi in which he contradicts his claim about waiving farmers' loans. It tries to say that the Congress President has turned back on his words from MP rally, after winning in the state assembly elections. But this video is also a doctored one made with a clipping from another video. WhatsApp Fights Fake News: Facebook Owned Messenger App Launches Video Ad Campaign 'Share Joy, Not Rumours'.
Check The Fake Video of Rahul Gandhi Claiming His Changed Stance on Farmers' Loans
Pappu before MP election vs Pappu after MP election. pic.twitter.com/NLxj605TVQ

— Vivekk Ah' Nun (@Oyevivekk) December 12, 2018
The second video is made from Gandhi's speech after his party's victory, doctored to fuel certain opposition agendas. The video has been shared by several pages online commenting on Congress leader changing his statements within 10 days. If you too have seen or received these videos on social media sites or WhatsApp, do not fall prey to them and do not forward them further. These are fake and doctored videos spread to create more political tensions.