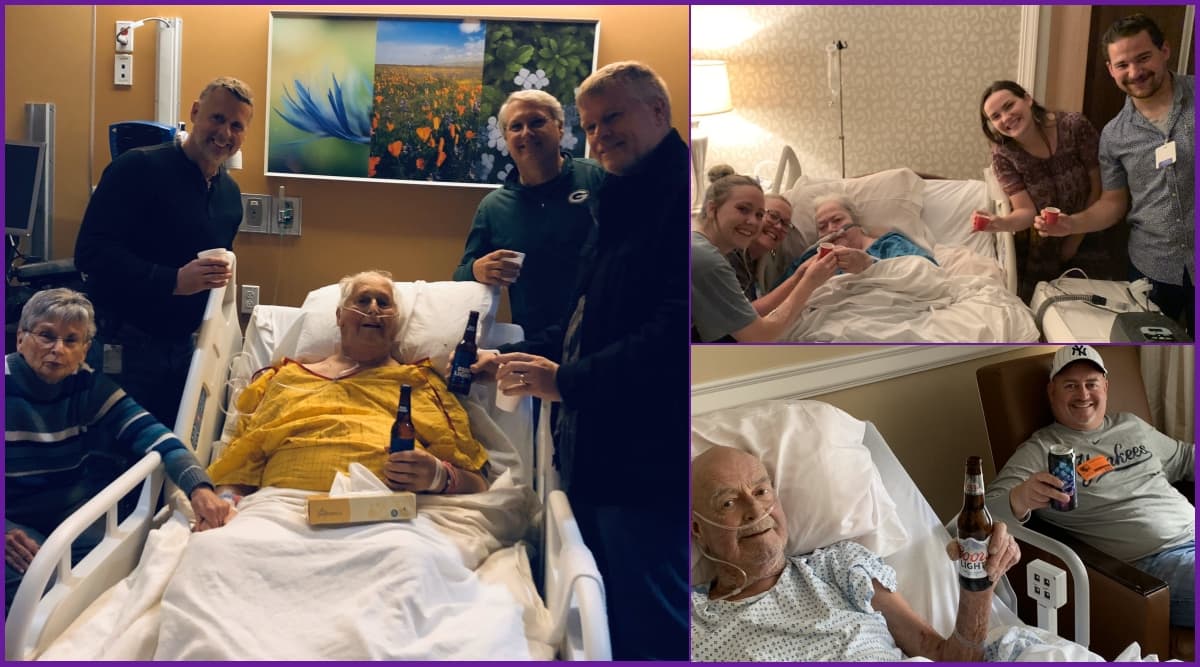 An ailing person nearing his/her death would have so many last wishes to fulfil. But an 87-year-old grandfather cheered on to life until his last breath! Norbert Schemm from Wisconsin, USA spent his last moments with his family, smiling and bonding over a beer! The family picture was shared by his grandson Adam Schemm on Twitter and it went viral on social media. People were left teary-eyed seeing the happy picture and it also prompted a lot of other netizens to share similar stories of their close ones during their last moments. 84-Year-Old Japanese Grandpa Is Instagram's New Favourite Model, Thanks to His Grandson; Check His Stylish Pics.
Adam Schemm shared the family picture on Twitter last week and it has got over 3 lakh plus likes and 32,000 retweets. The picture shows the entire family standing the ailing grandfather. All of them are seen holding glasses with a beer bottle in grandfather's hand. With happy smiles on all of them, including the 87-year-old man, the picture conveys so much positivity and will also make you feel good instantly. Sadly, this was just the day before he passed away and it brings in mixed emotions. Never Underestimate Your Grandfather! Kid Learns Who Is the Boss in This Epic Basketball Move (Watch Viral Video).
Here's a Picture of Grandfather Enjoying Last Beer With Family:
My grandfather passed away today.

Last night all he wanted to do was to have one last beer with his sons. pic.twitter.com/6FnCGtG9zW

— Adam Schemm (@AdamSchemm) November 21, 2019
Leaving In Tears!
😭😭😭😭😭 pic.twitter.com/qt0ceyn7aA

— Sweet T aka Sweetness (@SweetTCovers12) November 22, 2019
Deep Condolences for the Family
Adam, please accept my deepest condolences at this difficult time. May his memory be a blessing

— Evan Siegfried (@evansiegfried) November 22, 2019
That's a Life Well Lived!
Siri, show me "a life well-lived" in one picture

— Dañiel Simpson (@DSimpson88) November 21, 2019
So Touching
Love this. Truly touching. So sorry for your loss

— Frank (@Kosher_Frank) November 21, 2019
The grandpa died of the fourth stage of colon cancer and according to Adam he somehow knew it would be his final days. "We took the picture Tuesday night and then he died from stage four colon cancer on Wednesday. My dad told us that grandpa had wanted a beer and now when I look at that picture, it gives me solace," he told in a BBC report. The picture was taken on Tuesday night. This tweet eventually became a thread where other netizens also shared their similar experiences with their closed ones. Check some of the beautiful replies.
Doing Same With Grandpa
I don't know you... but I felt this. Days before my grandpa passed he let my dad and I know he wanted a cigar and a beer. We made it happen. I'm so sorry for your loss. Your grandpas smile is one for the books! pic.twitter.com/HDv3y2kLeA

— Ben Riggs (@RenBiggs) November 21, 2019
Grandma and Shots of Bailey
My grandmom did the same thing but with shots of Bailey's 😭💓 pic.twitter.com/LjSg757YIn

— gnocchi plate (@brussproutsrock) November 21, 2019
Cheering Together
Right there with you! pic.twitter.com/6vPvK9IWtn

— Stacey Troy (@megastacey) November 27, 2019
Many others recounted similar instances when they spent their last moments with their loved ones, cheering to the best life. It is really nice to see people filled with happiness and positivity, smiling as they enjoy the sips of their favourite drinks in their final moments.