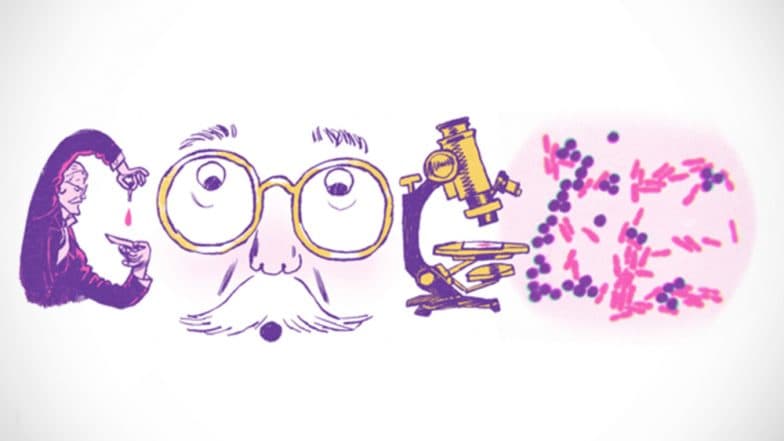 It is the 166th birth anniversary of the Danish scientist and microbiologist, Hans Christian Gram. He was noted for his development of the Gram stain. In this significant occasion, search giant, Google has created a stunning animated doodle, dedicated to Gram and his discovery. Danish guest artist Mikkel Sommer creates the doodle. It shows Google spelt in letters illustrated as Gram is carrying out his experiment, his amazing round glasses, a microscope and bacteria. The amazing creation is going to stay for the entire day today, September 13, honouring Gram's creation and contribution to the field of microbiology. Dr Ruth Pfau's Google Doodle: Pakistan's 'Mother Teresa' Honoured With a Beautiful Doodle on Her 90th Birth Anniversary. 
Born on September 13, 1853, Gram earned his MD from the University of Copenhagen in 1878. He was working as a resident physician in the city's municipal hospital. Gram travelled around Europe and expanded his expertise in bacteriology and pharmacology. It was while working in the Berlin laboratory of microbiologist Karl Friedlander that he developed the "Gram Stain." Named after the Danish scientist himself, it is a scientific method to identify and characterise bacteria. The Gram stain method consists of treating a smear of bacteria with a violet dye, then rising it with iodine solution and organic solvent.
Gram in his publication remarked, "I have therefore published the method, although I am aware that as yet it is very defective and imperfect; but it is hoped that also in the hands of other investigators it will turn out to be useful." Gram was appointed as a professor of medicine in 1900 at the University of Copenhagen. As a professor, he published four volumes of clinical lectures, which were widely used in Denmark. His contribution to the field of Science will always be remembered.