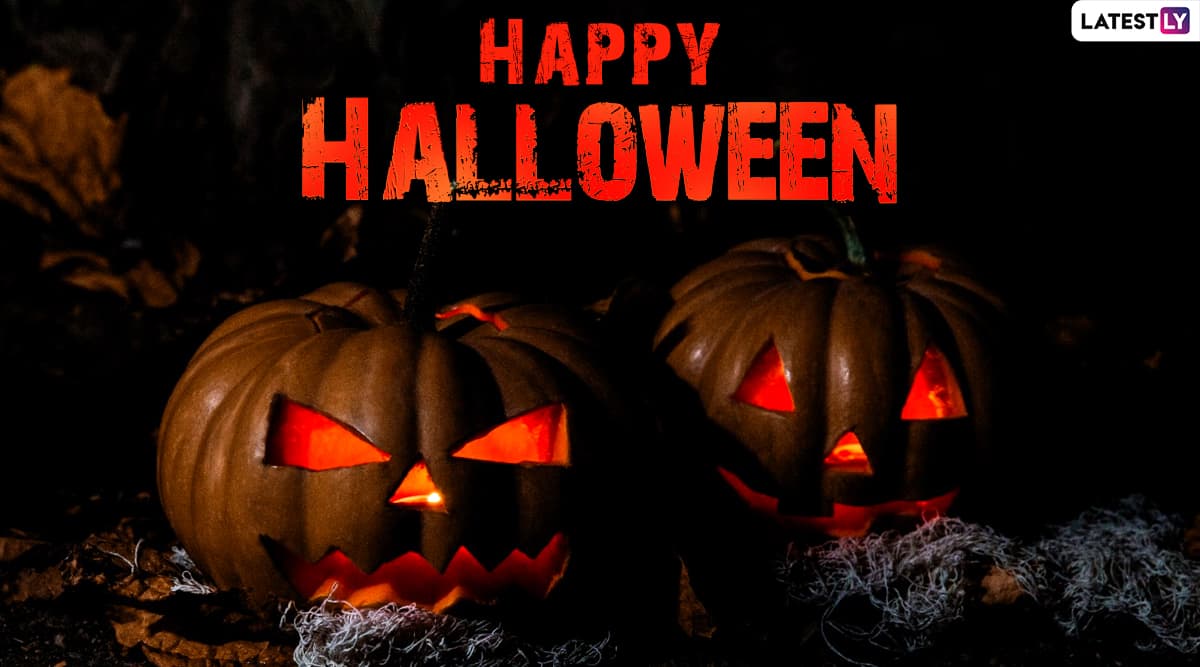 Halloween 2019 has officially begun. Yes, the most-awaited and highly anticipated festival of the year is finally here, and the excitement has just unfolded. People took to Twitter, welcoming the spookiest festival with eerie pictures and videos. Ghosts, witches, ghouls and goblins, costumes, decorations and everything spooky is what describes Halloween. And the viral tweets rightly explains why. As of now, netizens are only sharing Happy Halloween greetings with images and clips showing how they are going to mark the festival has surfaced online. There will undoubtedly be more! Halloween 2019 Spooky Messages: Short One and Two-Liner Horror Stories, Images and Quotes to Send Your Friends and Creep Them Out. 
Every year, on October 31, people across the world celebrate Halloween. Trick or treating and costumes and themed parties have taken over the traditional way of celebrating the spooky festival. In addition, the advent of social media too played a significant role, upholding the modern way of celebration. Sharing posts and pictures on Instagram, Twitter and Facebook is now a part of Halloween observations. Honestly, we do not mind that! In fact, we are thankful enough to the netizens that people across the world could see the craze after Halloween by only scrolling social media. Let us see, how Twitterati has welcomed this year's Halloween festivity. Spooky Words That Will Scare the Bejesus Out of Your Friends While You Send Them Greetings Through Facebook, WhatsApp and Instagram. 
Twitterati Kick-Starts Halloween:
Beware, for today is the day that the creatures of the underworld emerge from their lairs beneath the accursed decking...#HappyHalloween pic.twitter.com/t2mqYJtAcv

— Dick King-Smith HQ (@DickKingSmith) October 31, 2019
Trick or Treats?
#HappyHalloween everyone!! 👻 pic.twitter.com/Qit7qqKt0s

— Simona 🐾 (@simoeffe80) October 31, 2019
Oh Hell!
I've been waiting ALL month to post this.. #HappyHalloween

🎃💀👻🦇🕸🕷pic.twitter.com/euBhpSZOH0

— 🌌⋆💜𝑫𝒂𝒓𝒍𝒊𝒏𝒈 𝑵𝒊𝒌𝒌𝒊💜⋆🌌 (@Miss_Lady_Diva2) October 31, 2019
This is the Best So Far!
20 Weeks🧡 #HappyHalloween 🎃 pic.twitter.com/nqHfbFhYZN

— ᴇʟɪᴍᴀʀɪᴇᴇ :) (@__elimarie1) October 31, 2019
Remember This Sinister-Looking Doll:
#FelizHalloween #halloween2019 #HappyHalloween@djdanimoreno @cristinabosca

Hola a todos! 😈😈 pic.twitter.com/szXq0TK1Sc

— Josu (@JosuEvolutionFM) October 31, 2019
Despite its dark and morbid traditions, Halloween is a favourite time of the year. Nothing can be socially acceptable for adults to play dress-up, and kids go door to door to collect free candy. The spook-o-meter is up for the season, and it is time for you to show everyone your best haunted themed party and prove that you really love Halloween. As of Twitter is a concern, we would love to see more pictures and videos on how the spook fest is celebrated across the globe. And we are sure that is set to happen soon on the social media platform!