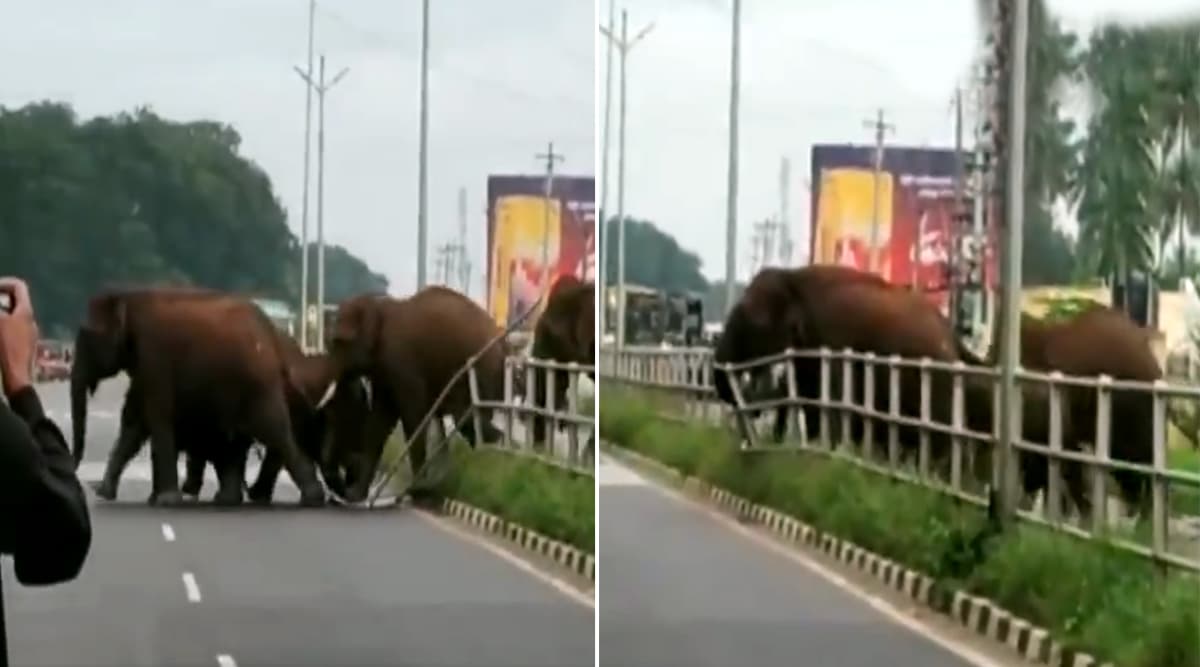 A herd of wild elephants were captured crossing the national highway at Narasimhanaickenpalayam in Coimbatore district, Tamil Nadu. The clip has been widely shared on social media and WhatsApp. In the video, the herd of at least six elephants can be seen including two calves, while they cross the main road. While doing so, they even broke the centre median erected on the highway. No report of people getting injured was stated. They crossed the road successfully and went to the forest. Although with the clip going viral, citizens in the area were panic and approached the forest department officials who assured that the herd was being closely watched. Lazy Elephant Blocks Traffic by Sleeping in the Middle of Road in Thailand, Watch Video of Jumbo Taking Nap!
According to the forest officers, the herd of elephants came out of the forest near the Bannari Amman Temple in the area at the early hours of December 3, 2019, noted TOI. They again crossed the road at 8:30 am the same day. Periyanaickenpalayam forest ranger, Suresh was quoted in the same report, "We later found the herd, made it again cross the road back at 8:30 am, move towards Thekkupalayam and then re-enter the forest near the same temple. The elephants are now inside the forest and we have a team of anti-poaching watchers and guards monitoring them." How Humans Cross The Road Vs How Elephants Cross The Road! These Videos Show We Have a Lot to Learn From Jumbos. 
Watch the Video Here:
#WATCH Tamil Nadu: A herd of elephants cross the National Highway at Narasimhanaickenpalayam in Coimbatore district, breaking the centre median at the road. (03.12.2019) pic.twitter.com/pnsPREam5J

— ANI (@ANI) December 3, 2019
This not the first time when elephants were seen wandering at the highways and main roads in Coimbatore. The District forest officer, D Venkatesh reported that these were migratory elephants and they often keep moving locations during this time of the year, depending on the weather. Their focus is to ensure that the animals do not leave the forest or raid crops in the area.