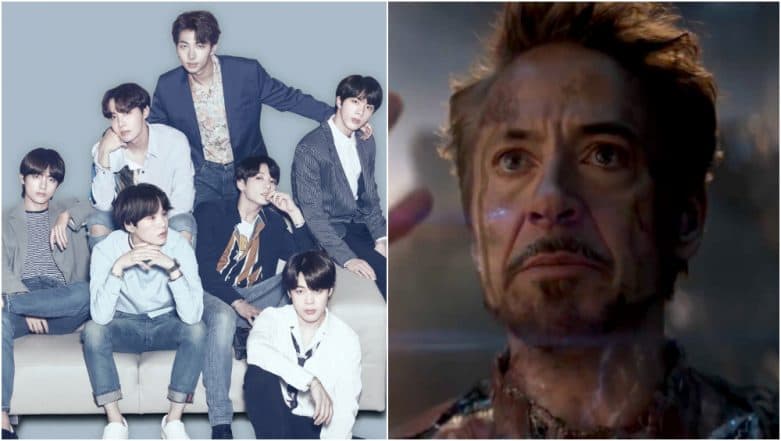 It has been an emotional year for Marvel fans given that they had to bid adieu to one of their most loved characters, Tony Stark aka Iron-Man with Avengers: Endgame. Months after the film's release, fans are still coping with the superheroes absence from the MCU and one of his signature phrases from the film, 'I love You 3000' now holds a sentimental place in their hearts. Recently K-pop band BTS member Jin used the phrase during his Wembley concert and their fans who call themselves BTS Amry was quick to share the video and now K-Pop fans all over have got it trending it again as though taking ownership over it. This irked Marvel fans and now Twitter is divided over this. International Day of Friendship 2019: UNICEF Releases Heartwarming Video on Spreading Kindness Featuring Korean Band BTS.
The line is first said when Tony is putting his daughter Morgan to bed after he figures out time travel. The same statement then it takes on a much more emotional meaning during the climax as after Tony's death, his hologram says "I love you 3000" back to Morgan. Is Taron Egerton Playing Wolverine in the Marvel Cinematic Universe? Here's What the Kingsman Star Has to Say!
Now Marvel fans are asking BTS fans to stop changing the meaning of this emotional phrase and linking it to the K-Pop band. Here are some of the reactions on Twitter.
#Tweet1:
Tony looking down from heaven realising all the kpop fans are stealing one of his iconic lines #iloveyou3000 pic.twitter.com/4AvHFJIGQu

— I'm basically spider-man saw ffh X3 (@nanotechpeter) August 7, 2019
#Tweet2:
I SWEAR TO GOD IF MARVEL DONT ALREADY OWN THE RIGHTS TO #ILoveYou3000 THEY BETTER COPYRIGHT THAT SHIT RIGHT NOW BECAUSE THE KPOPPIES CANT HAVE THIS pic.twitter.com/IwxoNjq9pP

— lydian't (@lNFlNlTYSTONER) August 7, 2019
#Tweet3:
All of the k-pop related stuff is blocking out the questions that marvel stans have for the russo brothers. So maybe use something like #iloveyou3000jin so that the #iloveyou3000 doesn't get cluttered and people can actually ask questions related to the topic

— Hannah Montana (@SolarBlueJay) August 7, 2019
#Tweet4:
See this why i hate hate kpop stans, not BTS just the stans. Using a phrase that's meant for Tony and then claiming it as you're own because you want to get popular on twitter.

Fuck off

— Still Pete (@pete83924236) August 7, 2019
#Tweet5:
imagine being so obsessed with a boy band thousands of miles away and using #iloveyou3000 to congratulate them when y'all know that it belongs to the most iconic person in cinema history🤷🏻‍♀️ but that's none of my business

thank you, next bitch pic.twitter.com/Ae5LlHyB9N

— megan (@stevesbastard) August 7, 2019
#Tweeet6:
Sees #iloveyou3000 trending and gets all excited for Avengers: Endgame content/discussion only to find out some stupid kpop losers are trying to hijack it for their own. Not on my watch. That's property of Tony Stark. #GTFOH pic.twitter.com/PIpNOIbc2q

— Tom Hyde (@tomh1138) August 7, 2019
One of the Twitter users even tried to calm Marvel fans down saying that Jin only used the phrase for his army and has often claimed to be a Marvel fan. She further stated that BTS music video 'Epiphany' recently reached 50 million views, and fans were just celebrating by making reference to the Marvel quote.