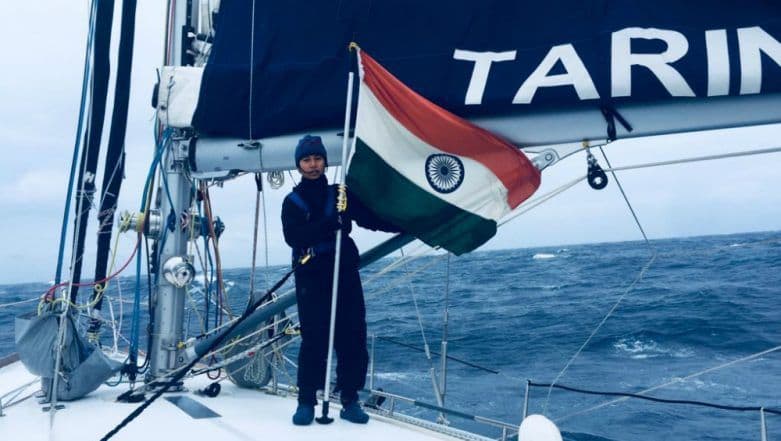 Cape Horn in South America is often stated as the 'end of the world' due to its rough weather and waves so high that they appear to be approaching the edge of the earth. Battling against all odds at the Southern end of the Tierra del Fuego archipelago, a team of six determined Indian women of INSV Tarini led by Lieutenant Commander Vartika Joshi braved their way past it to make the country proud. The all-female sailors' crew of Indian navy, famously called Team Tarini are on their 200-day round-the-world voyage that began in September 2017 from Goa, India. After crossing the stop at the Cape Horn, the proud team hoisted the Indian national flag much to the joy of fellow countryman who cheered their latest achievement on the social media.
Courage and determination do not differentiate between genders. This belief was further cemented on January 19 after six-lady officers battled their way past the angry tides of the Cape Horn. These women who are on a mission called Navika Sagar Parikrama will now have to cross the Drake Passage, a deadlier sea crossing between the Cape Horn and the South Shetland Islands of Antarctica. However, as of now, the Indian Navy along with 1.3 billion citizens are in awe of their latest accomplishment.
Prime Minister Narendra Modi also took to Twitter and congratulated the girls for their impressive work. He writes, "Wonderful news! Delighted that INSV Tarini has rounded Cape Horn in the last few hours. We are extremely proud of their accomplishments."
Wonderful news! Delighted that INSV Tarini has rounded Cape Horn in the last few hours. We are extremely proud of their accomplishments. pic.twitter.com/edmCvfecDN

— Narendra Modi (@narendramodi) January 19, 2018
Cape Horn is a nightmare for sailors as thousands of ships crashed and lost lives on their journey between Europe and Asia. Hence, it was a moment of huge pride and respect for Vartika's team who not only crossed the dangerous hurdle but hoisted the tri-colour in the sky. The pictures and videos of the crew around the southernmost tip of South America are bound to bring a big smile on your face.
Jhanda Uncha Rahe Hamara
Uchchal Jal Di Taranga. Every expedition has a moment its fans wait for. As #NavikaSagarParikrama rounded the Everest of the oceans #CapeHorn today, our beloved #Tiranga was unfurled. No doubt #INSVTarini danced with joy too. Thank you, you give hope to every daughter of India. pic.twitter.com/GPzkR0hGZh

— Lynn de Souza (@lynndesouza) January 19, 2018
A Moment of Pride for All of Us
#NavikaSagarParikrama #INSVTarini rounded the #CapeHorn few hours ago, akin to scaling the #MtEverest in Mountaineering, hoisted tricolour on the mast of as per traditions pic.twitter.com/3TwvdxxMKn

— Neeraj Rajput (@neeraj_rajput) January 19, 2018
Happy Tears Rolling Down Our Cheeks
In one of the toughest feats of sailing, the 6 member all woman Navy crew of the tiny sail boat Tarini have successful crossed the roughest stretch of water in the planet, the Drake passage, as they rounded Cape Horn off South America in their quest to circumnavigate the globe. pic.twitter.com/7zuOxfpRBe

— Vishnu Som (@VishnuNDTV) January 19, 2018
About INSV Tarini
INSV Tarini is the second sailboat of Indian Navy after 2009-commissioned INSV Mhadei. Aquarius Shipyard Private Limited-constructed Tarini is a cruising 17-metre sloop that was put in order on February 18, 2017, to the Indian Navy. The sailing vessel is named after Tara Tarini Shakti Peetha, Odisha, which worships the Mother Goddess and manifestations of Adi Shakti (divine feminine power). The keel (structural element resembling a fin in a boat and ship) of INSV Tarini was laid down by former Defence Minister Manohar Parrikar in 2016.
About 'Navika Sagar Parikrama' Mission
Navika Sagar Parikrama expedition is the first-ever attempt by an all-woman Indian crew to circumnavigate the globe. The five members of Vartika Joshi-led team are - Lieutenant Commanders Pratibha Jamwal and P Swathi, and Lieutenants S Vijaya Devi, B Aishwarya and Payal Gupta. The gutsy ladies were flagged off for the adventurous mission on September 10, 2017, from Goa. The first-ever global journey is expected to be finished by March 2018. What makes the Odyssey sailing so thrilling is there will be only four port calls – Fremantle, a port city in Western Australia; Lyttelton, a port town in the South Island, New Zealand; Port Stanley, capital of the Falkland Islands and Cape Town, South Africa.