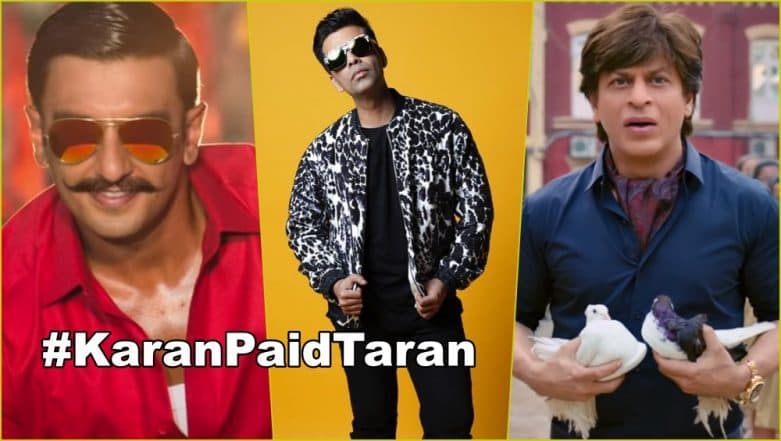 Karan Johar is a multi-faceted personality in the Indian film industry. He is a filmmaker, producer, chat show host, actor, choreographer, radio jockey and fashion inspiration. Yes, also a gossip monger among his friends. But Twitterati seems to be highly miffed with the much-talented Karan Johar in the wake of Simmba vs Zero at the box office. A hashtag #KaranPaidTaran is trending on Twitter since Shah Rukh Khan's Zero released on December 21 and it picked up the pace with Ranveer Singh-starrer Simmba's release on December 28. Netizens are accusing Karan who happens to be the producer of Simmba of paying movie critic Taran Adarsh to sabotage SRK's latest film. Interestingly, Karan happens to be King Khan's best friend forever. Simmba Movie Review: Ranveer Singh Roars In This Weak Singham Clone That Trivialises a Serious Crime.
It is not unusual for big movies to tank at the box office. However, fans feel Zero directed by Aanand L. Rai was sabotaged, which eventually led to its downfall. Even before the release of the film, fake reviews started emerging on the social media. Once the film eventually released on Friday, it received polarising reviews. On the one hand, National Award-winning film critic Baradwaj Rangan hailed Zero, reviewers such as Taran Adarsh trashed the film. Mind you, Taran Adarsh is that reviewer who has given four-star ratings to Himesh Reshammiya-starrer duds like Aap Kaa Surroor and Karzzzz! #PaidCriticTaranAdarsh Trends on Twitter As 'Zero' Fans Give Positive Reviews and Trolls Movie Critic for Giving Poor Ratings to SRK Film.
Now, one cannot question an individual opinion, but when netizens saw Taran Adarsh shaking a leg with Karan Johar and Ranveer Singh on the release day of Simmba, they found it to be too fishy. Later, Taran Adarsh praised Simmba and gave it a four-star rating. Fans cannot digest the fact that Rohit Shetty's formula no-brainer masala film got better reviews than Zero, which boasted of fresh content, powerful performances and sound direction. Check out the tweets posted by netizens slamming Karan Johar and Taran Adarsh. They have not spared Rohit Shetty for his predictable plot and mindless direction. #PaidCriticTaranAdarsh Trends Again on Twitter, After Video of Him Hugging Ranveer Singh, Karan Johar Post Simmba Screening Goes Viral!
Watch Video of Karan Johar and Ranveer Singh Dancing With Critic Taran Adarsh Ahead of Simmba's Release
Known critic @taran_adarsh sir watched film #Simmba with Ranveer Singh, Sonu Sood, Rohit Shetty etc and loved it. Hence gave 4* rating! pic.twitter.com/yV0ZOdH2xD

— KRK (@kamaalrkhan) December 28, 2018
Twitterati is Seething With Anger
Social Media Sab Jaanti Hai..#Zero #Simmba #Gayjo @karanjohar teri maa ka bhosda madarchod...#Karma bc #Karma pic.twitter.com/zrOKrV1L9o

— Syed Umar (@syedumar866) December 29, 2018
Karan Paid Taran to Badmouth Zero?
Two Dallas of Bollywood @taran_adaarsh n @karanjohar #KaranPaidTaran #PaidCriticTaranAdarsh https://t.co/wJZ2duf8TU

— Huzaifa Ali (@Huzaifa25716815) December 27, 2018
Netizens Are in No Mood to Forgive Rohit Shetty for Shoddy Simmba
#Simmba = Singham + Rowdy Rathore + policegiri+Theri.

Ranveer singh was too good in #padmavat, here it's totally opposite.

Indian Audience literally Will love- this CopyPasteStuff than Unique stuff.#SIMMBAReview#KaranPaidTaran #PaidCriticTaranAdarsh pic.twitter.com/bVdNiSqD35

— I_m_wsm (@Imwsm1) December 29, 2018
Is There Any Room for Originality? Rohit Shetty Be Like - NOPE
Album copied ✔️

Looks copied ✔️

Action Scene's copied ✔️

Cameo in imp scene✔️

Cameo in climax ✔️

& Now just after this screening Taran gave 4 star to Simmba 👇 pic.twitter.com/ev14vqZRMX

— Abhi! (@abhiraj1717) December 28, 2018
This is Epic!!
When you search "@taran_adarsh " on google... pic.twitter.com/t0XLqZi7h6

— Suraj Mulay (@Raeesjada) December 28, 2018
Taran Adarsh Seems to be a Huge Fan of Karan Johar Movies
Taran Adarsh & His Love Towards Karan Johar Movies:

Simmba: 4 Stars

2.0: 5 Stars

Bombay Velvet: 3.5 Stars

ADHM: 3.5-4 Stars#KaranPaidTaran

— Es Ar Ke❤️⭐ (@Insane_Suraj) December 27, 2018
Meanwhile, People After Watching Simmba Be Like
Watched #Simmba #SimmbaReview

Me and my friends Searching for Ranveer singh pic.twitter.com/qrTe16Cqg0

— Chaman (@Harman2k90) December 27, 2018
Ranveer Singh Tumse Na Ho Paega
Simmba is a crap movie and Ranveer acting is pathetic. He is suitable only for SLB movie..a disaster movie to end the year. Rating - 🌟 (1/5) #SIMMBAReview #SIMMBA pic.twitter.com/cILKugTy88

— Partha Sarathi Giri (@SarathiGiri) December 27, 2018
You can read what LatestLY movie reviewer, Sreeju Sudhakaran has to say about both Zero and Simmba. Beginning with SRK film, he writes, "Zero has both the strengths and the issues to be a movie that will invoke a mixed response from the viewers. It is flawed, but Zero sails through its weaknesses thanks to Aanand L Rai's direction and the excellent performances from Shah Rukh Khan, Katrina Kaif and Anushka Sharma." Zero Movie Review: Shah Rukh Khan's Infectious Charm, Anushka Sharma's Brilliant Act and Katrina Kaif's Stunning Performance Win You Over!
Watch Video of Zero Movie Review: A Charming But Flawed Film
About Simmba, Sreeju writes, "At the beginning of a song sequence, Karan Johar pops up out of nowhere and sighs about getting another remix. And immediately, the "Aankh Marey" song begins and we feel like the makers are poking fun at the audience being fed the same stuff again and again. Simmba is exactly that!"
Watch Video of Simmba Movie Review: Ranveer Singh Roars In This Weak Singham Clone That Trivialises a Serious Crime
When it comes to professional aspirations, Karan Johar does not let friendships or personal equations hamper his ambitions. Remember, how the cool motormouth of Bollywood fought with his bestie and actress Kajol in 2016 when his film, Ae Dil Hai Mushkil clashed with Shivaay starring Kajol's husband and actor, Ajay Devgn. Maybe this is why, fans are confident Karan to have again backstabbed his friend, this time none other than Shah Rukh Khan! But we do not want to believe all these conjectures, right KJo!