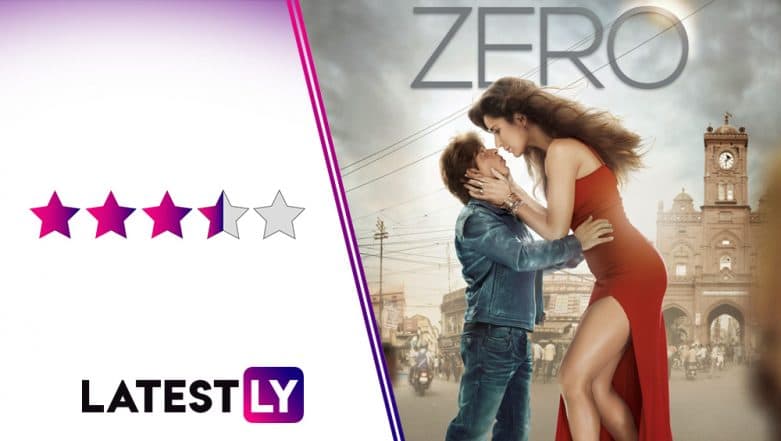 Can Zero bring back Shah Rukh Khan's good fortune when it comes to box office? That's one question that bothered me right till the moment the film began. It was further emphasised by the appearance of the affable superstar before the screening of our show, to request us not to post any spoilers on social media while watching (we critics are meddlesome creatures, aren't we?). Considering his last few movies have disappointed me, I really had low hopes from this one. After the screening was over, the box office was the last thing in mind. I was more than overwhelmed by this man's passion and dedication to make a completely unrealistic movie feel so heartfelt and touching. Zero is a movie that may not appeal to those looking to nitpick but if you are the ones who just want to get drenched in the emotions, this one will click with you. Zero Advance Booking: Shah Rukh Khan Starrer Witnesses Good Response.
Being vertically challenged is not exactly the low point of being Bauua Singh (Shah Rukh Khan) from Meerut. He is a 38 -year old wastrel who splurges his father's (Tigmanshu Dhulia) money on his friends and his lifestyle. He knows he is a kamina and he has no qualms about it. One day his past comes back to trouble him in form of Afia (Anushka Sharma), a cerebral palsy suffering scientist, with whom he had spent an intimate night. Both their families agree to get them married. But Bauua wants something else - Babita Kumari (Katrina Kaif), a popular actress who is a train-wreck in real life. A random kiss in the middle of the night leaves him more besotted with her. So much that he runs away from his own wedding.
Before I get down to the review, I have to express my intrigue over the title. 'Zero' stands for a lot of things in the film. There is a scene about Zero gravity and zero is also the last number spoken before the launch of a shuttle. Zero is also how low a character can fall down to and Zero is also the beginning point for redemption. There is a wonderful sequence in the second half when a crest-fallen Bauua Singh, after learning a piece of shocking news, runs through New York and loses his possessions in the process one by one. At one point, he is nearly naked and then he runs back and collects back all he had lost. This one sequence defines the movie's essence. It is about a very flawed character's fall to his lowest point and then slowly rise back to redeem himself for his love. Zero: 'Yogi Adityanath', 'Osama Bin Laden', 'Kim Jong-un', 'Manmohan Singh' Have Reviewed Shah Rukh Khan's Film and, of Course, They Are All Fake! Read Tweets.
Zero is funnily both conventional and yet very unconventional. Its basic premise is something we have seen in a couple of SRK movies and even director Aanand L Rai's own films like Tanu Weds Manu and Raanjhanaa. Dear Mr Rai, how many times will you have your characters turn back from their marriages? Zero does it twice BTW. The premise is nonsensical, if you think of it. The movie has a lot of illogical elements that may annoy those looking for a sense of realism.
And yet that fantastical quality is a reason why there is a surreal charm about Zero. This is a movie where a guy impresses a space research scientist by making stars shoot out in the sky with his fingers. This is a movie where a girl uses zero gravity to show a guy his aukaat. And this is also a movie where a man decides to go where no man has gone just so that he can show his love he is no more a Zero. If you don't question the logic behind this stuff, and instead, go with where those scenes or where the characters go, you will love Zero.
All the three lead characters are flawed in their own ways, Bauua Singh more than others. He is selfish and self-centred; someone who looks for greener pastures. We don't know what made him be so, and the movie never gets into his psyche. There is a scene when his father tells Bauua's future father-in-law about making a show out of his stunted son-in-law, which hints at psychological abuse. But Bauua is not a bad guy. He makes his biggest mistake because he is never asked about his decision by his loved ones and that even his future wife thinks that he should consider himself lucky that he is getting married. And even when he is in the company of his object of obsession, he knows his heart is not in the right place.
Katrina's Babita Kumari is another fascinating character. Her proper intro scene shows how damaged she is and she cares no effs about it. She knows her offscreen antics are entertaining for the paparazzi and she wants to give them their money's worth. Despite the limited screentime, this is the most layered character Katrina Kaif has done in her career.
Like its characters, the movie is super flawed. The first half is hilariously entertaining, courtesy some sparkling dialogues from Himanshu Rai, and the romantic subplot between Bauua and Afia. However, the second half is slow and needs trimming. The lag is also felt because these portions are comparatively serious (another Rai trope).
I am also not in favour of the star cameos that happen post-interval, including the Salman Khan song. They feel added for the sake of it and not as smoothly inserted as SRK did in Om Shanti Om. Though, it does give us our final big-screen glimpse of the late Sridevi, may her soul rest in peace! Some of the dialogues that poke fun at the differently abled may also not go down well with some section of the audiences.
Yet, what makes Zero so watchable is Aanand L Rai's direction which makes sure that even if you are put off by the absurdity of a scene, you can't take your eyes off the screen. Watch out for the scene where Babita pushes Bauua out of her building. At first, it feels Bauua acting randomly and making a scene for the sake of it. It's only towards the end that we find out why this is happening and we end up appreciate Rai for not clarifying the intention at the start itself.
The scenes at the space research center, again illogical if you think of it, is watchable because Rai extracts fine performances from his actors in these scenes and adds some terrific moments in there. The VFX, especially in making Shah Rukh Khan vertically challenged and also the scenes of the shuttle launch, are terrific, and yet the movie doesn't make a big fuss out of it. The narrative treats these scenes in the scheme of things.
Out of all the songs in the film, "Mera Naam Tu" leaves you with the most impact, both with its picturisation and the music. The cinematography by Manu Anand helps in making Zero charming.
The Performances
There is no movie in recent times that has challenged Shah Rukh Khan as an actor so much as in Zero, and I am not even talking about him playing a dwarf. He gets to play a flawed character with enough layers, shuffles himself between a roguish charmer and a not-so-hopeless romantic, so successful at that. In every scene, we can see how invested the actor is in to make sure that Bauua entertains and enthrals and he sure does. Also, Zero is just another movie that shows no one can romance like SRK.
Anushka Sharma is just terrific! Playing a character suffering from cerebral palsy is not an easy task, as you have to make sure it doesn't come out comical. This is easily the most difficult role she has done, but Anushka makes it look like a walk in the park. Afia should put the stakes higher for her in the Best Actress category next year!
Katrina Kaif is a revelation! Come on, girl, where have you been hiding that actress in yourself all these years? From the first scene itself, she rules the screen as the damaged movie queen seeking love from the one she knows would fail her. Like I mentioned earlier, this is the most nuanced character she has played in her career and she acts it out well!
Mohammed Zeeshan Ayyub as Bauua's one-eyed friend has the best comical lines and is a treat to watch. Tigmanshu Dhulia and Sheeba Chaddha are good as Bauua's parents. Abhay Deol as Babita's ex is wasted, while R Madhavan is good.
Watch The Trailer of Zero here -
Yay!
- The performances
- Rai's direction
- The VFX
- The dialogues
Nay!
- The plot has illogical elements
- The second half needs trimming
- The cameos feel unnecessary
Final Thoughts
Zero has both the strengths and the issues to be a movie that will invoke a mixed response from the viewers. It is flawed, but Zero sails through thanks to Aanand L Rai's direction and the excellent performances from Shah Rukh Khan, Katrina Kaif and Anushka Sharma.