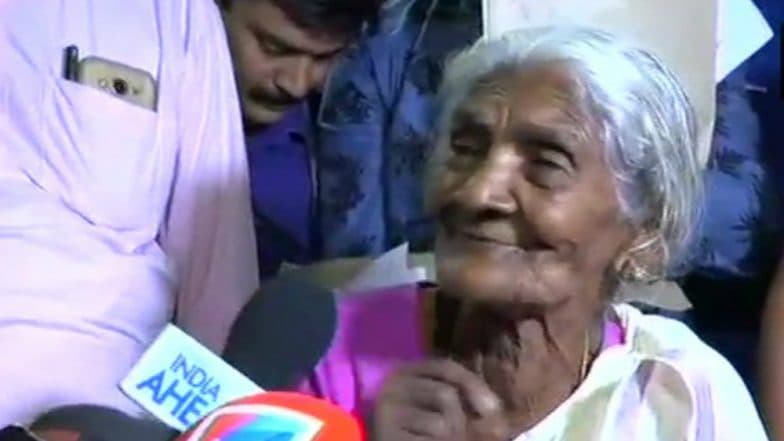 Karthyayani Amma is once again in the headlines now. Being the oldest person to ever enrol in the Kerala Literacy Mission's Aksharalaksham scheme, the 96-year-old has surpassed with flying colours scoring 98 per cent. He achievement is remarkable! From getting inspired by her 60-year-old daughter, Amma plans to continue with her study as long as she is alive. The oldest student that we have known, Amma's determination has set an example. By the way, she also helped other examinees by allowing them to cheat from her! Yes, on her success, she has been giving interviews to various media outlets. 96-Year-Old Karthyayani Amma Tops Kerala's Literacy Exam! Sets Record With 98% Marks. 
On asked, if she copied during the exam, Karthyayani Amma told ANI, "I did not copy from anyone, rather I let others copy from me. I told them what to write." Her keenness has impressed all the readers. People are eager to know what is on Amma's study plans next. Age is Just a Number! Meet 96-year-old Student From Kerala Who is Not Too Old to Study. 
Karthyayani Amma did not copy during the exam. 
I did not copy from anyone, rather I let others copy from me. I told them what to write : 96 year old Karthiyani Amma of Alappuzha who scored 98/100 marks in 'Aksharalaksham' literacy program of Kerala State Literacy Mission pic.twitter.com/NeUmcpsIsY

— ANI (@ANI) November 1, 2018
After scoring 98 out of 100 mars, Amma was invited to receive a merit certificate from the Chief Minister of the State, Pinarayi Vijayan at the CM's Conference Hall. She topped among 43,300 students who appeared in this year's literacy exam at Kerala. About 42,933 candidates cleared the exam among the total number taking the state closer to its aim of 100 per cent literacy. Karthyayani Amma is a resident of Cheppad, Haripad in Alappuzha district. She is now eligible to write the equivalent of the fourth standard exam to be held next year.