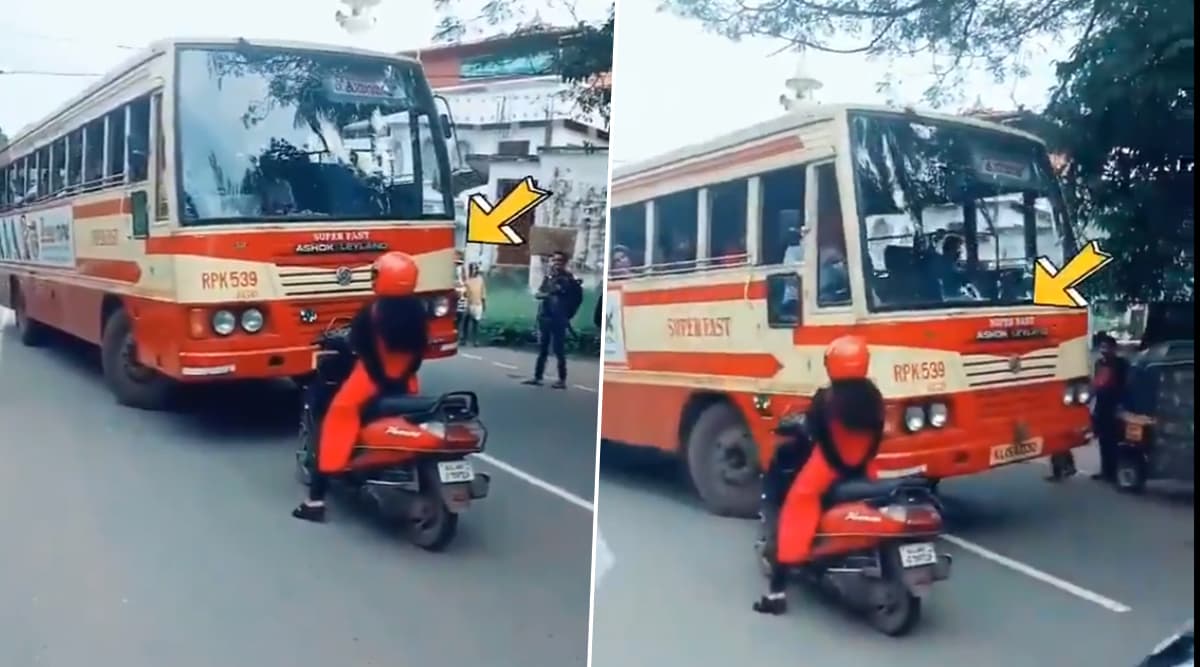 Kochi, September 26: A Kerala woman's video blocking the path of a bus which was driving in the wrong lane is going viral on social media. Netizens called the woman's gesture an act of bravery. The identity of the lady was not immediately known. It appears that a passerby captured the incident and shared the video on social media. Ghost Caught on CCTV Camera? Video of Wheelchair Moving On Its Own in Chandigarh Hospital Is Freaking People Out on the Internet! (Watch Viral Video).
The video shows a woman in red on her scooter blocking the path of a bus which is driving in the wrong lane. She refused to move even though the huge vehicle was standing in front of her. Finally, the bus driver takes the right lane. Since the video went viral, people have been praising the woman for teaching the erring driver a lesson. Kerala Woman Turns Husband's Passport Into Phone Directory and Grocery List, Funny Video Goes Viral.
Kerala Woman Blocks Path of Bus Driver Who Comes in Wrong Lane:
When you are RIGHT it gives you a very different kind of MIGHT. See Joe a lady rider down South doesn't budge an inch to give in to an erring Bus Driver. Kudos to her. @TheBikerni @IndiaWima @UrvashiPatole @utterflea @anandmahindra @mishramugdha #GirlPower #BikerLife #BikerGirl pic.twitter.com/3RkkUr4XdG

— TheGhostRider31 (@TheGhostRider31) September 25, 2019
"Brave girl. Very good. KSRTC never obeys traffic rules (sic)," a person wrote on Facebook. "Good job, after all they behave as if the road belongs to their family (sic)," another commented. Though the video was uploaded on Thursday, Latestly couldn't verify when the incident happened.