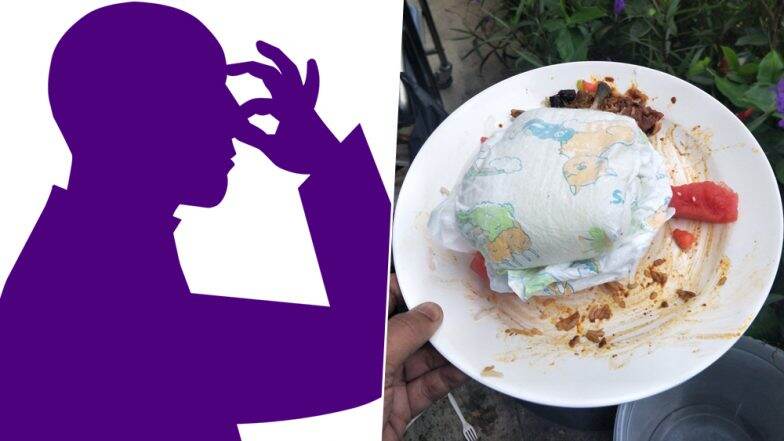 Wedding ceremonies are exciting, and most attendees come with their best foot forward. But a Malaysian couple took things a bit too far and grossed out people on social media. A couple attending a wedding with their baby left a used diaper on the plate after eating food! The gross picture soon made it to social media and netizens got down to teaching them some basic etiquettes. While most wedding pics comprise pretty pictures of the bride, groom and family, this picture made the internet fume. Kissing Menu! Couple Slammed For Keeping List of 'Things to Do' For Wedding Guests to See The Bride and Groom Kiss.
Twitter user @Faqihh_94 was attending a wedding ceremony, which had the nightmarish guests in attendance! He put up a picture on Twitter, which shows a diaper placed on the food plate, kept with an intention for the waiter to dispose it off. The user captioned the picture, "The stupidest wedding guest in Malaysia." Netizens agreed. Bride's Drunk Best Friend Flashes 'Boobs and Bum' at The Wedding Reception Leaving Guests Shocked and Disgusted.
Check Viral Pic of Diaper in Wedding Plate:
Tetamu majlis kahwin paling bodo dalam malaysia. pic.twitter.com/ATCz4Darlo

— Faqihuddin (@Faqihh_94) August 31, 2019
The picture has got over 7,000 retweets and 2,000 likes. People on the internet got to school these guys a little about their manners and etiquette.
Far From a Burger
At first, I thought it was burger. But then nvm.

— عين ليي (@Ainlees) September 2, 2019
McPooPoo
McPooPoo is more accurate i guess 😂

— ZulfanRahman (@Mdzlfn) September 3, 2019
Worse Kind
Worse level of people without common sense

— NrhdyhMhmed (@CikManisDonut) September 3, 2019
Some others commented on the sheer stupidity if these parents who did not even think of their actions. Someone else said that "people are getting weird nowadays." Some people even gave an option of carrying portable diapers to them. Well, it is indeed a disgusting thought and the user also mentioned that even if the venue was an airconditioned hall, it did not smell. Ugh, did people really ask for this information?