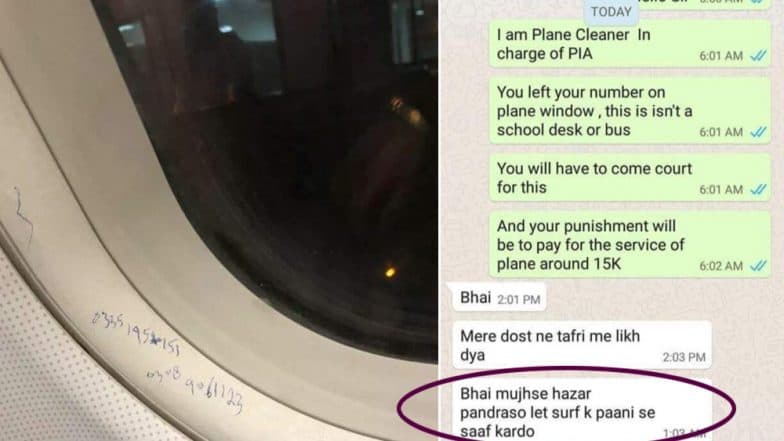 Vandalising a public property is a serious issue and there need to be stringent actions against such cases. Many times we come across random phone numbers being scribbled on places, monuments, structures or even in trains and buses. But someone went ahead and wrote their number on the window seat of a Pakistan International Airlines flight. What followed? Well, the cleaner of the window got in touch with the person and asked to pay a fine. On being asked to pay a fine of Rs 15,000 the person on the other end offered to buy packets of Surf Excel detergent worth Rs 1000- 1500. The funny conversation was shared on Twitter and the tweet is now going viral. Type 'I am Marrying' and Let Your Keyboard Reveal is The Latest Twitter Trend and Autocorrect Answers Are Hilarious (Check Funny Tweets).
The Plane Cleaner of PIA (Pakistan International Airlines) decided to contact the person who left their phone number on the window pane. He mentioned that the vandaliser would have to come to court for his actions and pay a fine amounting to Rs 15000. The person on the other end realised his mistake (or maybe not!) He said that a friend of his had written the name just out of fun. The funnier part is when he tried to convince the cleaner to settle the issue in a few packets of Surf Excel. The conversation exchange is going viral on Twitter. #JackHacked! Netizens Make Funny Memes and Jokes After Twitter CEO's Account Was Hacked.
Check the Funny Tweet Here:
1000 - 1500 leke surf ke pani se saaf krwado.

Haad ho gi yaar 😂😂@Official_PIA pic.twitter.com/0lCYIaN2VY

— Avi@trix (@FlyersBlueFlame) September 4, 2019
Daag Ache Hai?
Surf excel daag achhe hai 😂👏

— pardeep 🇮🇳 (@_____paro) September 4, 2019
Probably the guy did get scared of paying the fine and heading to the court. Although we do not know what followed in the conversation later, it would get funnier, no doubt. But the fun aside, there seriously needs to be stricter fines and actions against such people who damage public properties, by scribbling their names and numbers everywhere.