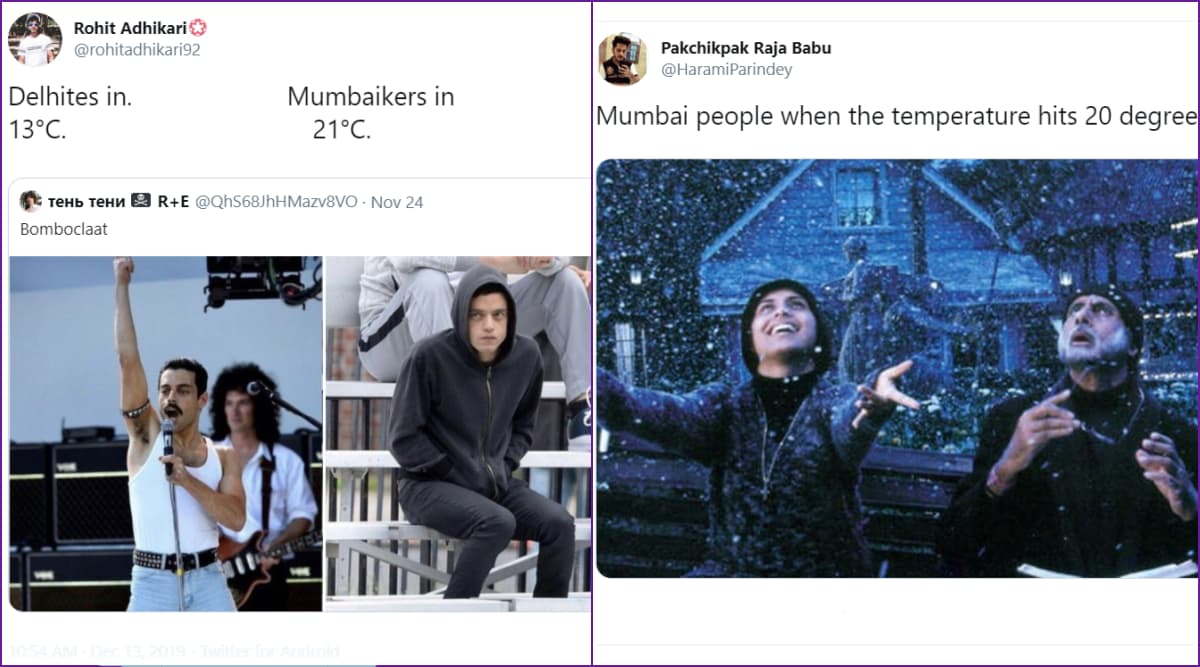 Mumbaikars, are you feeling the chill of the season? As the city temperatures are dropping a bit under 20 degrees, citizens are excited to welcome the winter season. This year the climate all over the country has been unpredictable, with the monsoons extending and unseasonal rains in many parts later on. While North India is blanketed with snow and the heavy rains only adding to the chill, Mumbaikars every year eagerly await the winters, which are quiet a rare here. As the temperatures are lowering to a few degrees than usual, people have started giving out their reactions on social media. So the lack of winters in Mumbai is always a joke online. Funny memes and jokes on Mumbai winters have thus started surfacing on social media. Winter 2019: Snow Covers Hills Overlooking Manali as Himachal Pradesh Witnesses Season's Lowest Temperature (See Pictures).
The city of Mumbai sees a lot of humidity being close to the sea. So while the summers here are too hot, the months of winters are just pleasant. Compared to other parts of the state of Maharashtra which experiences temperatures as low as 10 degrees or below, Mumbai does not see that less of a dip. So for a Mumbaikar, even a slight dip in temperatures is a respite. On Friday, Mumbai and its suburbs, recorded 19.5 degrees Celsius as a result of the winds blowing from the North. But it was a good enough reason for the citizens to say the winters are here. While many shared the happiness on social media, funny memes and jokes about winter in Mumbai also started trending online. Winter Memes and Jokes: From 'No Bathing' to 'Winter Fashion' LOL to These Funny Memes As the Weather Turns Chilly.
Check Funny Memes on Mumbai Winters:
Signs of Winter
Signs of Winter in Mumbai

When your Phone don't unlock through your fingerprint scanner.

— Sanket Mahadik (@sanks_rocks) December 14, 2019
Mumbai Vs Delhi Jokes Begin as Well
Delhites in. Mumbaikers in

13°C. 21°C. https://t.co/rz8FALAle1

— Rohit Adhikari💮 (@rohitadhikari92) December 13, 2019
Bladder Issues
You know it's winter and you have to pee a lot.

Bladder issues. #MumbaiWinter #Cold #PeePee pic.twitter.com/bq9Rb14ixS

— Master of Disguise (@Hardik_Gada) December 13, 2019
Mumbaikars Right Now?
Mumbai people when the temperature hits 20 degrees. pic.twitter.com/16XmCesPZL

— Pakchikpak Raja Babu (@HaramiParindey) December 13, 2019
Temperature drops to 20 C

Mumbai people : pic.twitter.com/MVSpY1rRJE

— Aaditya Kulshreshth (@mirchikullu) December 13, 2019
Uh Oh
Temperature drops to 20° in Mumbai

How it actually is v How they feel pic.twitter.com/bmntCmSE4P

— Gaurav Kaushik (@impromptbakchod) December 13, 2019
Sweater Weather!
View this post on Instagram
Well, if you are a Mumbaikar then we know you have related to each and every joke. But why not, the city really does experience the less of winters so while its there, let the people get their sweaters out. Or may be just enjoy the chill. The cold really does not last long. Wish you have happy chilly days ahead!