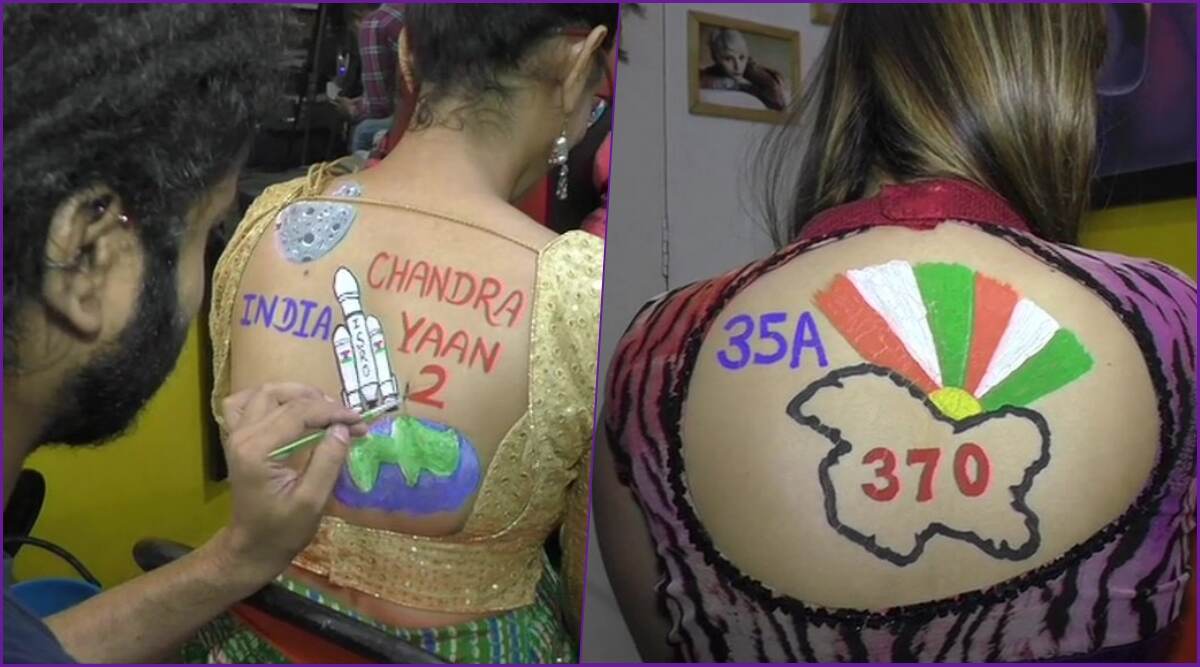 As the festival of Navratri begins today, many people are geared up to be a part of Garba Dandiya celebrations. During nine days of Navratri, several events are held across the states for the traditional song and dance routine. And for these celebrations, women dress up, get special tattoos made to look their best. The tattoo trends also keep changing each year. This year, the Modi-Trump meeting, Chandrayaan 2 and Article 370 have been topics of interest among tattoos! Pictures of women in Surat flaunting these tattoos have been shared on Twitter. Navratri Makeup Hacks: How to Keep Your Makeup in Place All Night and Enjoy Garba With Your Friends.
The topics of highlight this year or rather in the last few months are scrapping of Article 370 in Jammu and Kashmir, India's mission to the moon Chandrayaan 2 and the recently held meeting between Indian PM Narendra Modi and US President Donald Trump. All of these have painted as beautiful tattoos by women for the Dandiya Raas in Surat. As pictures of these innovative tattoos were shared online, netizens were also amazed at the creativity. One of the tattoos also gives a message of following traffic rules. Navaratri 2018 Hairstyle Tutorial Videos: Easy Hairdos for Navratri That Will Glam up Your Garba/Dandiya Night!
Watch Pics of Innovative Tattoos by Women in Surat:
Surat(Gujarat): Women pose with body paint tattoos during preparations for #Navratri and Raas Garba, yesterday pic.twitter.com/VeUnWQjjF5

— ANI (@ANI) September 29, 2019
Here's a Tattoo of PM Modi and Trump Meet:
It will delight PM Modi.

It will delight Modi Bhakts too.

Girl gets a tattoo, depicting Modi and Trump, done on her back in preparation of Navratri, in Ahmedabad, on Tuesday.

Retweet. pic.twitter.com/ooyKDzGtov

— Indur Chhugani (@IndurChhugani) September 25, 2019
Use of Freedom of Expression?
Freedom of expression !

— जटायु का द्रष्टिकोण (@Jatayuview) September 29, 2019
Latest Trends
New Trends this year.

— Indiangirl🙋 (@TrulyIndiangirl) September 29, 2019
Innovation!
That's nice and innovative.

— Jaitreya (@Jaitreya23) September 29, 2019
These are really innovative tattoos that have grabbed even the internet's fancy. The pictures have close to 2,000 likes already. Such tattoos would definitely make heads turn. Each year the tattoo trends keep changing and the latest happenings seem to be giving some inspiration this time.