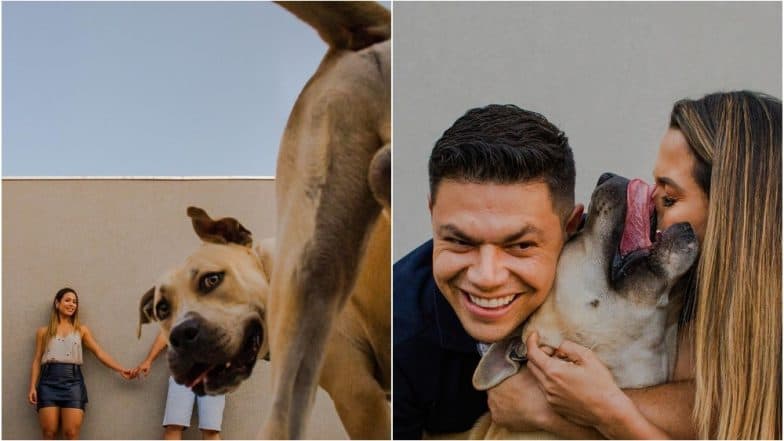 Engagement photoshoot of a couple is going viral after their dog photobombed it. Pictures of the animal hilariously blocking the couple by standing in front of the camera have left the internet laughing. Joyce Sabino Greffe and Alfredo Garcia da Silva of Campo Grande from Brazil wanted their nine-month-old dog to be a part of their photoshoot. They wanted their special day to be a memorable one, but never thought it would go viral leaving the internet in splits. And their nine-month-old dog, Thor, who was clearly overexcited had better plans. Best Wedding Proposal Picture: Cute Otters Photobomb UK Couple's Precious Moment, See Viral Photo!
The cute one ran all over the place, giving them a tough time in getting the perfect shot. However, the final result came out to be much more than memorable with the incident making it to headline. Thor jumped all over its humans making them giggle and pictures came out more than perfect. Thor also knocked off the camera and jumped on Joyce showing off his backside to the camera. It seems their photographer Nícolas Carrelo had a great time shooting the family. Shortly after Nícolas posted the pictures on Facebook it went viral making social media users go awww. The Facebook post collected more than 60,000 likes, 69,000 comments and 1,25,000 shares. Monkey Photobombs Family's Vacation Picture in Bali And Gives Them a Middle Finger (Watch Hilarious Video)
Check Out The Pictures Below:
Nícolas told INSIDER, "It was a hilarious photo session with this hyperactive dog. Yes, it was challenging. But it all worked out." There have been multiple instances in the past, when pets, mostly dogs photobombed their humans' photoshoot. Now we are excited to see if Thor impresses us at the couple's wedding.