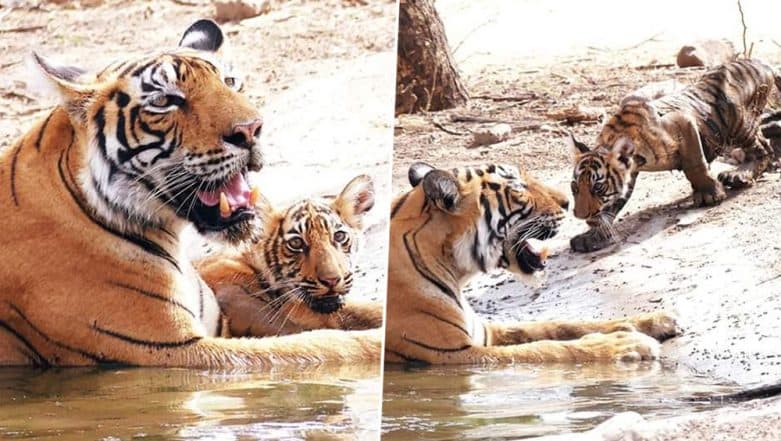 It is a time to rejoice for wildlife lovers, as one of the famous national parks in the country has three new tiger members. Tigress T-73 from Ranthambore National Park has given birth to three cubs. The mother was spotted with her cubs who are now about 4 months old. This is the second time T-73 has given birth. Wildlife officials first spotted the cubs in the trap cameras which are installed in the non-tourist zone. Pictures of the cubs have also been shared online. Tigress 'Collarwali' in Madhya Pradesh's Pench Reserve Sets Record by Giving Birth to 30 Cubs Over 10 Years!
The forest officials have already started taking safety measures around the area where the tigress was spotted with her cubs. This is to ensure that no harm is caused to the cubs. Mukesh Saini, divisional forest officer (DFO), RNP said, "This is good news for tiger population in RNP. Few days back we had received information that there were new cubs in the reserve but could not authenticate it. Few pugmarks were seen but it was not certain that they were of the new cubs." 21 Tiger Death Recorded in 2018, Number of Big Cats Died in Maharashtra Same As of 2017.
Check Pics of Tigress T-73 With Her Cubs:
Rajasthan: Tigress T-73 has given birth to three cubs at the Ranthambore Tiger Reserve. pic.twitter.com/7NwgdRH5Lw

— ANI (@ANI) June 25, 2019
The Tigress T-73 is quite famous among the tourists visiting this National Park and she is known to be a shy animal. She resides in zone 5 of the park. The sightings of cubs are important because of the reducing numbers of wild cats. It gives hope to the conservationists who work hard to increase the population of the country's national animal. Just a fortnight ago, a 7-year-old tiger from Sariska Tiger Reserve in Alwar passed away because of heatstroke.