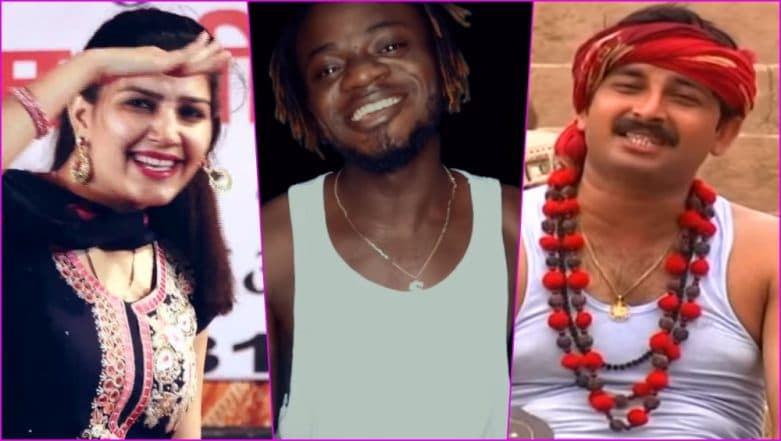 If you're one social media and not know about "Rinkiya Ke Papa" and "Teri Aakhya Ka Yo Kajal" songs, are you really on social media? These two regional songs, Bhojpuri's "Rinkiya Ke Papa" sung by Manoj Tiwari and Haryanvi's "Tere Aakhya Ka Yo Kajal" by Sapna Choudhary is a rage in the country. In fact, there's another person who shares a similar love for these quirky musical videos. He is Samuel Singh, a singer from Nigeria. He recently sang the cover of Bhojpuri song, whose lyrics go,"Chat Deni Maar Deli Khich Ke Tamacha, Hihi Hihi Hans Delen, Rinkiya Ke Papa Hihi Hihi Hans Delen" and obviously, the internet has lost its calm. Rinkiya Ke Papa WWE Version Video Will Make You Thank Manoj Tiwari for This Wonderful Meme Material Song!
Samuel who loves India so much that he adopted 'Singh' (an Indian surname) surname to his name. A huge fan of Indian music, Samuel sings covers for latest Bollywood and hit regional chartbusters. "Rinkiya Ke Papa," a song from Manoj Tiwari's 2002 music album, Uparwali Ke Chakkar Mein became an online sensation, thanks to its peppy beat and quirky lyrics. The song has been a part of several mashup videos and recreated covers. Cashing on the madness for the song, Samuel too sung his version of the hit video and it did pay off very well. In a week's time, Samuel Singh's "Rinkiya Ke Papa" version has garnered almost 2 million views on YouTube! No Sapna Choudhary's Teri Aakhya Ka Yo Kajal Song in Bar Leaves Man So Angry That He Breaks a Bottle on Waiter's Head!
Watch Video of Rinkiya ke Papa (EDM Cover) by Samuel Singh
Coming to "Teri Aakhya Ka Yo Kajal," a popular Haryanvi song by Sapna Choudhary, Samuel has done another awesome job with his version that blends the music with EDM and Afro beats.
Watch Video of Samuel Singh's "Teri Aakhya Ka Yo Kajal" Cover
Samuel has also sung covers for hits such as "Lagalu Jab Lipstick," "Daru Badnaam" among others. Trust us, you are going to enjoy his work as much as the original versions.