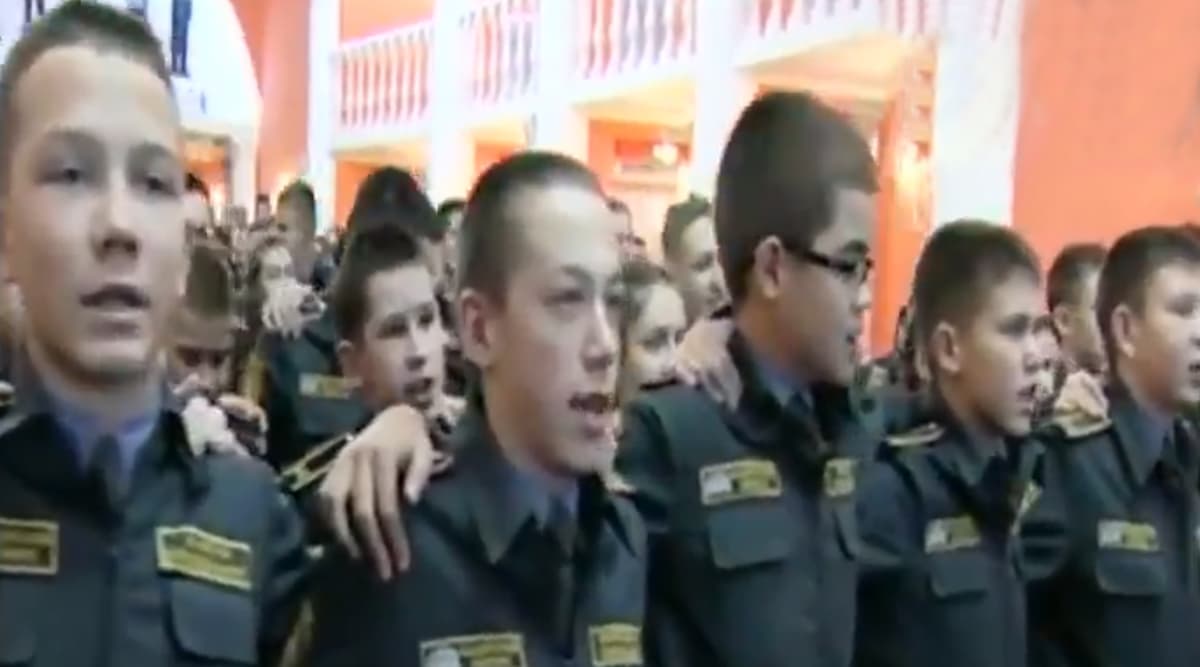 Remember the patriotic song "Aye watan, aye watan, hamko teri Kasam?" It is one of the most famous patriotic songs dedicated to the country which we have recited in schools and colleges. Even today, if we see or hear the song, we start crooning the lines. A beautiful video has been shared by the Indian Army which shows military cadets from Russia singing the same song! The cadets along with the officers are seen singing the song at an event and the video is undoubtedly going viral on social media. Jan Gan Man, Indian National Anthem, Played by US Army Band During Exercise Yudh Abhyas 2019; Watch Video.
The ties between the two nations have been strengthened recently after the meeting between PM Narendra Modi and Russian President Vladimir Putin. The video was shared on Twitter this morning and people are loving it. The video also has Brig Rajesh Pushkar, Military Advisor at the Indian Embassy in Moscow. Soon as the video came up online it is going viral with people leaving lovely comments and expressing pride. The video also highlights the essence of friendship between Russia and India. Exercise Yudh Abhyas 2019: US Soldiers Join Indian Army in Singing And Dancing on Assam Regiment's Marching Song, Watch Video.
Watch Video of Russian Military Cadets Singing "Ae Watan" Song:
#WATCH Russian military cadets sing- "Ae watan, Humko Teri Kasam," song at an event in #Moscow (Source: Indian Army) pic.twitter.com/cjNGZblLeg

— ANI (@ANI) November 30, 2019
Check How Some of the People Reacted:
Long Live This Friendship
Long live INDIA-RUSSIA friendship! Jai Hind! 🙏🇮🇳🇷🇺 pic.twitter.com/pj4oegLcno

— Rajesh B. Patel (@RajeshBPatel14) November 30, 2019
Moment of Pride
क्या बात है...!! गर्व से सीना चौड़ा कर दिया..!!

— Vishnu Chomwal (@VChomwal) November 30, 2019
Feeling Proud 😎

— हिंदुस्तानी ।। 💯 FB (@modiondemand) November 30, 2019
Really Impactful 
This is really so tearful 😢even to listen to this song!

And when it's coming from the mouths of these young cadets, even though they are Russians, its impact becomes million times!

— D. Pd. (@Diwakar22242464) November 30, 2019
The song sung by Mohammad Rafi is from the movie Shaheed, released in 1965. It stricks the patriotic chord among all of us even when we listen to it anytime. Seeing military students of another country mouthing the lyrics of it, only gives us a feeling of pride.