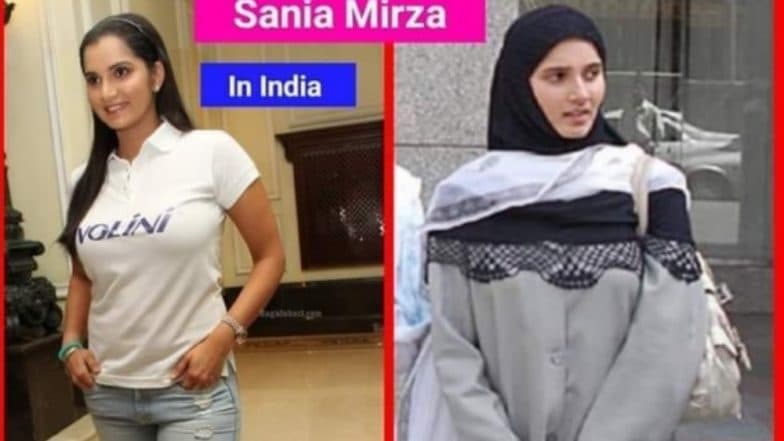 Sania Mirza has always been in the eye of the storm. There are have been many occasions when the netizens get on to the wrong side of the tennis star by posting nasty comments. The tennis star also gives it back like a boss. However, with the passage of time, the instances have lessened but, haven't stopped completely. Once again the tennis star is in the eye of the storm. A snap of the tennis star has gone viral where it claims that Sania dresses up in western outfits when in Indian. But, when Sania visits Pakistan, her attire changes to a burka. Sania Mirza Celebrates Makar Sankranti 2019 by Flying Kites; Enjoys Family Time With Baby Izhaan (See Pics).
The snap was shared on a fan page and at the time of writing the article, the snap had more than 8000 shares. However, here's the truth. The snap is quite an old one and is from the time when the tennis star had been to Saudi Arabia for Haj. The snap was clicked in 2006 and many media houses had carried the picture. The netizens who did not know the truth about the snap started slamming the tennis star. Check out the snap first.
Here are a few reactions:
1 - sania mirza in India

2 - sania mirza in pakistan.

Still, India is the intolerant one 😡@MirzaSania pic.twitter.com/rEIuOtW7CJ

— 💜💜 Leher 💜💜 (@Leher56) January 19, 2019
Here's another snap.
Sania Mirza in Pakistan & in Hindustan 😐👇🏻 pic.twitter.com/RChjj5it38

— Jhumaru🐶 (@Aadya0103) January 18, 2019
A few Internet users knew about the snap and asked the fan page to verify the news before sharing it online.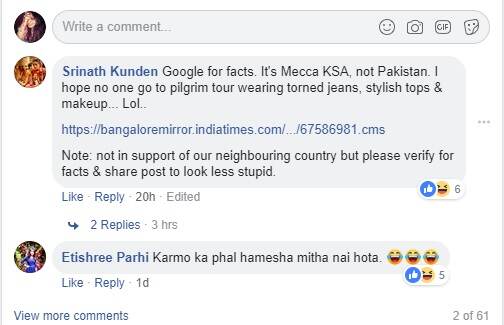 There have been many images of the tennis star in Pakistan where she is not seen wearing a burkha. So the news of Sania donning a burkha in Pakistan is fake and holds no water.