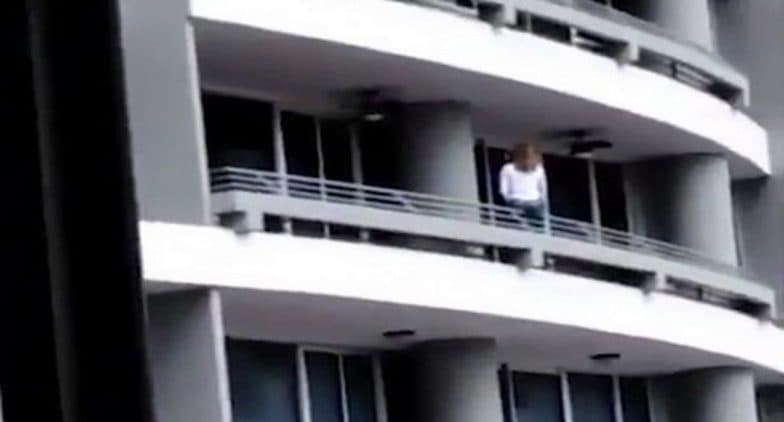 Panama, October 14: Shocking footages have emerged on social media of a woman falling from the 27th-floor of the balcony while she was trying to take a selfie. The woman has been identified as 27-year-old Sandra Manuela da Costa Macedo. Reports inform that the 27-year old woman was sitting on the railing of the balcony when she lost her balance and fell down from the Luxor Tower in Panama city in Central America. Selfie Kills! Indian Boy Falls Off to Death From a Tourist Spot in Australia.
Reports inform that the horrifying footage was recorded by a construction worker. The deceased was working as a teacher and a mother of two children and has recently shifted to Panama from Portuguese town of Vila das Aves, reported Portuguese newspaper O Minho. According to the police sources, she fell due to strong wind currents as she tried to take the perfect photo. The shocking incident is being investigated by cops.
Video of the horrifying incident:
The following video may be disturbing to some viewers. Viewers discretion is advised.
Esto es increíble.. acaba de pasar en la Ciudad de Panama. Una adolescente cayó 27 pisos por tomarse un selfie.. Hay que crear conciencia de lo que está pasando con el uso de las RRSS. @CMonteroOficial @soyfdelrincon @camilocnn pic.twitter.com/fTZ6NN0gFU

— FalconGreen (@AnezAez4) October 12, 2018
This incident shows that how people can go to any extent to click the perfect picture and even risk their lives. This is not the first time that a selfie has claimed a life. According to reports by All India Institute of Medical Sciences, around 259 people have lost their lives while taking a selfie between October 2011 and November 2017.