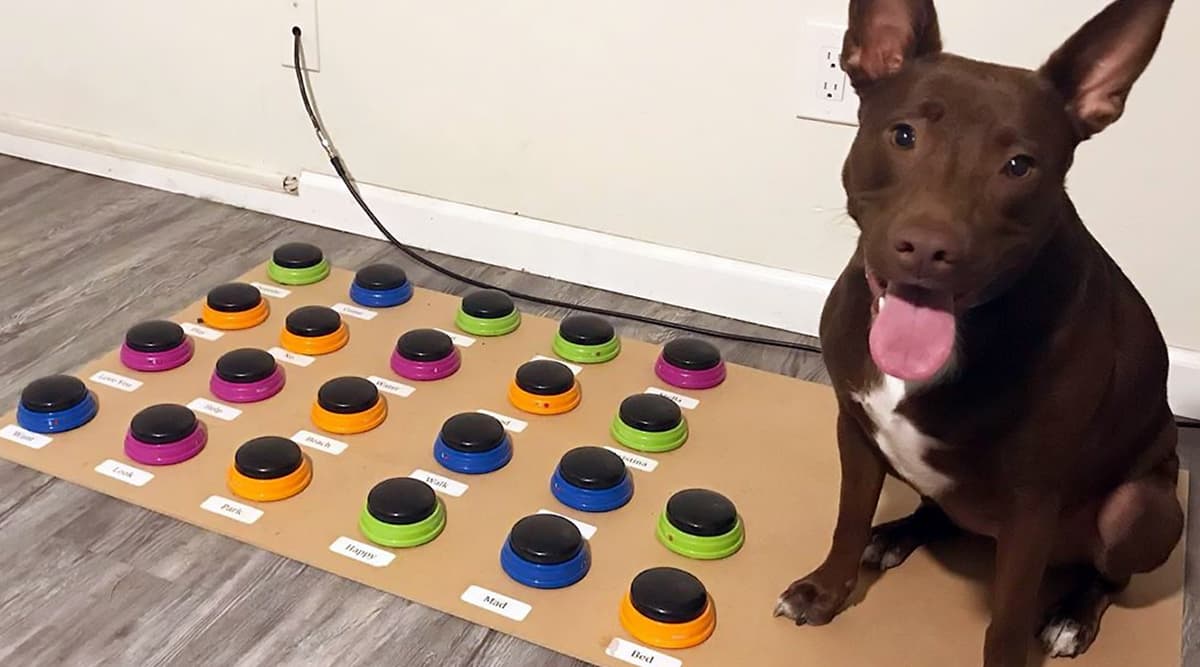 Dogs are clever, and they will never disappoint you. Although, it might seem like a challenge to find the genius in a species that will happily drink out of a toilet bowl, lick every wrapper in the trash or chase their own tail until they fall over. Amidst all these crazy behaviour, dogs are smarter than you think. And if you put an extra concentration, your pooches can even learn to communicate. Don't you believe us? Meet Stella, an 18-month-old Catahoula and Blue Heeler mix, which has developed the language skills just like a two-year-old toddler. The smart pet can incredibly talk in sentences using a custom keyboard and is already Instagram's favourite as pictures and videos of Stella is going viral. There is a Pup on This Dog's Ear! Check Unbelievable Viral Pics. 
Owner Christina Hunger runs an Instagram page called, 'hunger4words' where she has been uploading videos of her good pet, Stella and her progress. She is developing this incredible skill with the help of buttons which are attached to a large wooden panel. They are labelled with words like 'ball', 'food', and 'walk.' While tapping the buttons with her paw, Stella hears the word and expresses her emotion by constructing sentences to her owner. Dog With Super Long Nose Becomes Internet Sensation! View Pictures And Videos of Eris, a Borzoi Sighthound Going Viral on Social Media. 
As her videos went viral, the smart doggo was featured in international outlets. Christina is a speech pathologist from San Diego, who says Stella's language skills are similar to that of a two-year-old child. Stella can even express her sadness when she misses her loved ones. Nori the Dog With 'Human Face' Is Not the Only Pooch That Looks Like a Person! Meet Yogi. 
Watch Video of Stella Learning to Talk:
Concerned Doggo!
Christina further confirmed that Stella so far knows an astonishing 29 different words. The pet can even say when she is hungry, wants to go for a walk or even when she needs a belly rub. Basically, too many things!
Come, Play:
Instagram is in love with Stella, and so are we. It is not very often to see dogs expressing their emotions and impressing pet lovers with their presence of mind. Can your dog communicate too? With words, like Stella? How about using the same technique as Christina to develop the skill? It will surely be a fun experience to cherish!