Surgical strike 2, conducted today, 26th of February, in which 12 Mirage 2000 fighter jets strike dropped 1,000 kg laser-guided bombs on a major terror camp across the Line of Control has been taking us How's the Josh-chanting country by storm. India's happiness knows no bound that In 21 minutes bomb attack, the terror launch pads across the LoC in Balakot, Chakothi and Muzaffarabad sectors have been destructed completely along with Jaish-e-Mohammed (JeM) control rooms. The Indian Air Force (IAF) launched surgical strike-2 on the Jaish-e-Mohammed (JeM) camps in Pakistan and people in India cannot keep calm. Surgical Strike 2: India Celebrates IAF's Victorious Strikes on JeM Terror Camps Across LoC; Check Tweets.
How's the Josh GIFs:
Narendra Modi GIFs
Jai Hind GIFs
Twitter is absolutely high on Josh!
How's the josh? #IndianAirForce 🇮🇳🇮🇳#IndiaStrikesBack#PVR pic.twitter.com/TDiqey3VWQ

— PVRCinemas (@_PVRCinemas) February 26, 2019
The josh is never going down!
Guys How's the josh? High Sir.

My salute from heart to#indianairforce

Jai Hind... Jai Hind Ki Sena. 🇮🇳🙏

— Shankar Deora (@sdeora601) February 26, 2019
People are going crazy with How's the Josh chants and sharing GIFs and WhatsApp stickers to each other in celebration. Vicky Kaushal's URI- the surgical strike GIFs and Stickers are going viral.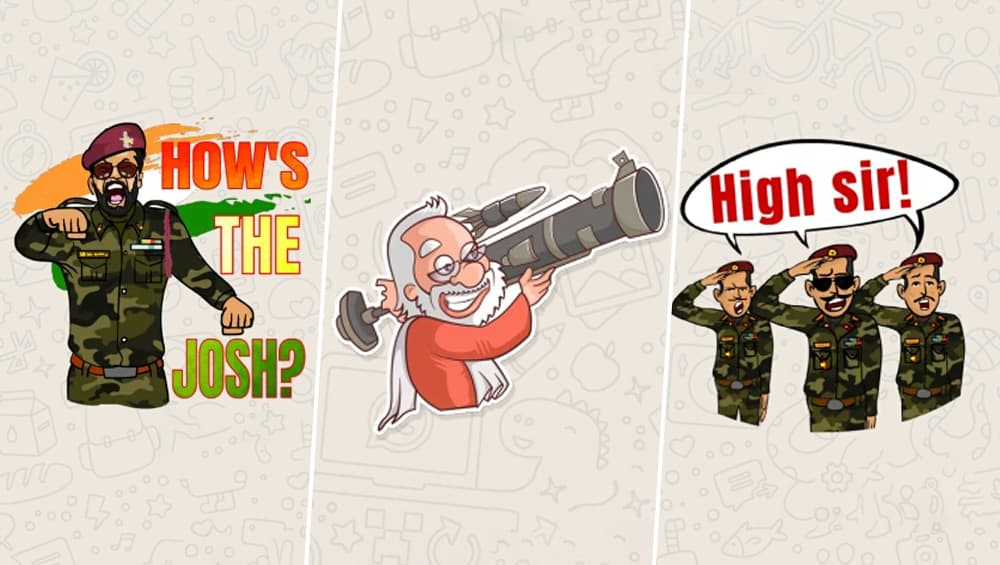 Link where you can download the How's the Josh and other such WhatsApp stickers on Google play store.
https://bit.ly/2H2TRAe
Click on the link to downloaHindidi stickers for WhatsApp-
https://bit.ly/2H1hPfj
How IAF Destroyed JeM Camps Across LoC and avenge Pulwama Attack?
The 21 minutes bombing conducted by Indian Airforce comes in two weeks after the cowardly Pulwama terrorist attack which killed over 40 soldiers of the Central Reserve Police Force (CRPF) after a suicide bomber of the Jaish-e-Mohammed led by Masood Azhar exploded a car full of bombs next to a security convoy on February 14.
(The above story first appeared on LatestLY on Feb 26, 2019 11:55 AM IST. For more news and updates on politics, world, sports, entertainment and lifestyle, log on to our website latestly.com).