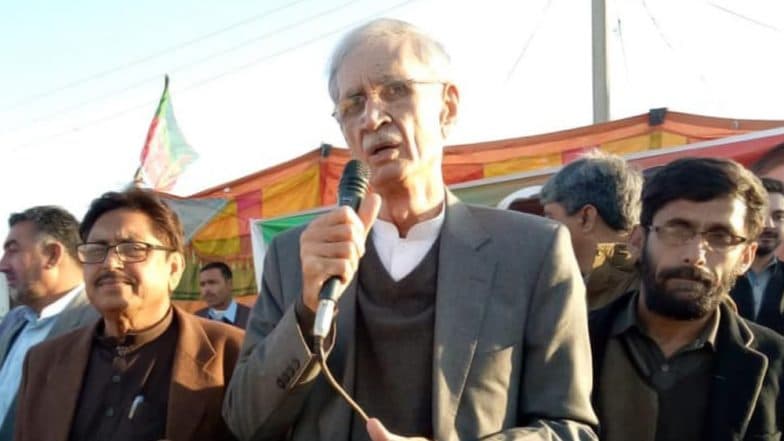 The day of February 26 was an important one for all Indians as the Indian Air Force carried out a preemptive attack on Jaish-e-Mohammed terror camp at Balakot in Pakistan. While all Indians were celebrating the success of this attack calling it a Surgical Strike 2, Pakistan was giving contradictory claims. Pakistan Defence Minister Pervez Khattak's statement was the most shocking one when he said that the Pakistan Air Force was ready but because it was dark in the night, they could not retaliate. He said so during a press conference and it was just a matter of time before he was trolled on social media. Such a statement coming from a higher authority on a serious issue was indeed funny! Pakistani Tweet About 'PAF Being Awake' Gets Brutally Trolled on Social Media After India's Surgical Strike 2, Check Funny Tweets.
A statement from the Defence Minister was much awaited. A press conference was held later to address the role of PAF during the attack. A video of the press conference was shared online. Khatak explained, "Our air force was ready but since it was dark in the night, they could not assess the damage done. So they waited and now there is clear direction..." Shah Mahmood Qureshi, their foreign minister added that if there is any other similar attack they are ready to deal with it, mentioning that PAF was air-bound. As soon as the video was shared online, memes and trolling followed at such a claim from Pakistan's authorities. 'How's The Jaish? F****d Sir!': Twitter Gives it Back to Pak Sympathisers After IAF Strikes JeM Camps Across LoC.
Watch Video of Pakistan's Press Conference Post IAF Strike 
This is the Defence minister of Naya Pakistan: "Our air force was ready but it was dark.." Guys, ghabrana nahi hai. #okbye

— Naila Inayat नायला इनायत (@nailainayat) February 26, 2019
The video quickly went viral and got a lot of funny reactions. Some even commented on his way of speaking and that he needs to be given glucose water. Check how some of the users reacted trolling Pervez Khattak's statement.
Glucose, please?
Is he your defence minister...give him some glucose water please...he need it...😂😂

— इक़बाल-Iqbal-اقبال-ਇਕਬਾਲ-Икбал (@iqbalintouch) February 26, 2019
Night Blindness Cure Needed
Night Blindness ki treatment Karwa lete Balakote se 😆

— Madhu Mazumder (@Mad_Maz22) February 26, 2019
Really? How?
Pak Defence Min response : " Our Air Force were ready but it was DARK". Hahahahhahahahahhaha seriously ? This is defence minister ? And they want to attack India. #IndiaStrikesBack #PulwanaRevenge

— Abhijeet Srivastava (@Abhijeet_92) February 26, 2019
Inspired by Natwarlal
When asked what happened, the Pak Defense recited a few words from an Amitabh song from Mr Natwarlal:

"Ghadi thi, andhera magar sakt tha."#IndiaStrikesPakistan #AirSurgicalStrikes

— 𝕽𝖆𝖏𝖊𝖘𝖍 𝕭𝖎𝖏𝖑𝖆𝖓𝖎 (@bijlanirajesh) February 26, 2019
Too precise?
It was dark and all we could do was shit in our pants..

— Deepu .C.B 🇮🇳 (@jan787) February 26, 2019
It is indeed a shameful statement to come from a Defence Minister of the country and that too at a time of such high political tensions. Meanwhile, the Twitterati found fodder to make new jokes.