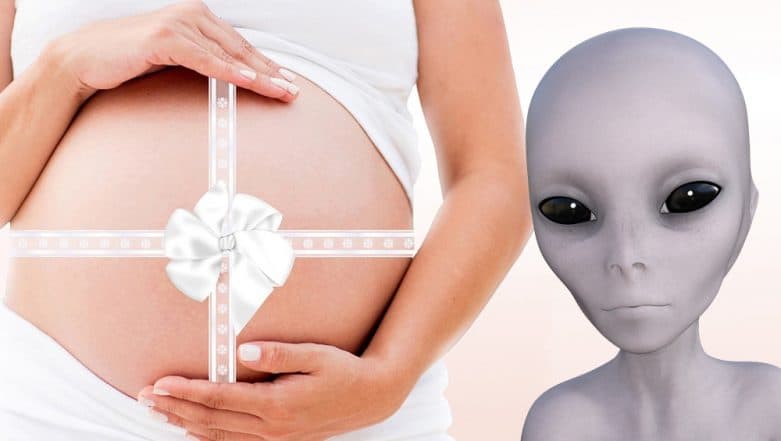 There have been numerous claims in the past about aliens having sex with humans. There are also some humans who have spoken about their sexual encounters with extra-terrestrials before. Now adding to that is a self-proclaimed time-traveller female who has revealed that she is pregnant with an alien offspring! An anonymous woman's sexual encounter story has been revealed in a YouTube video of Apex TV. She claims that is carrying an alien baby from the year 3500. The video of the bizarre statements is now going viral with over 70,000 views. Sex With Aliens? People Have Had Strangest Encounters With Extra-Terrestrials, From Losing Virginity to Abduction by Them.
The woman in the video is seen perched on a chair with her face blurred out. She reveals about the technique of time travelling, adding that five months later she will deliver a baby, a mix of human and an alien. She starts with her journey when she was 18 and studying Chemistry at a university in Paris. She was offered a job by one of the lab professors. She then claimed that she entered a forbidden room where she discovered the 'iron mass.' After working as an assistant on the time travel machine, she decided to try it out and was sent to the year 3500! Aliens Are Having Sex With Humans to Create Hybrid Species to Save Our Planet, Says Oxford Professor!
Watch Video of Time Traveller Claiming to Be Pregnant With Alien Child:
She mentions how she was a part of the post-apocalyptic world and could not come back to the present. Her partner, the alien who impregnated her is from the Andromeda Galaxy. She says, "I don't know what to do, I can't even imagine the solution to this. I won't go into details because the pain, humiliation, and torture we went through was inhumane." She just mentions that she magically came to the present and was the only alive member of the 20 people squad. While she talked about her pregnancy she also claimed that she does not know what solution to find to this. Well, we cannot say if any of it is true but this is definitely not the first time a human has claimed about have sex with aliens.