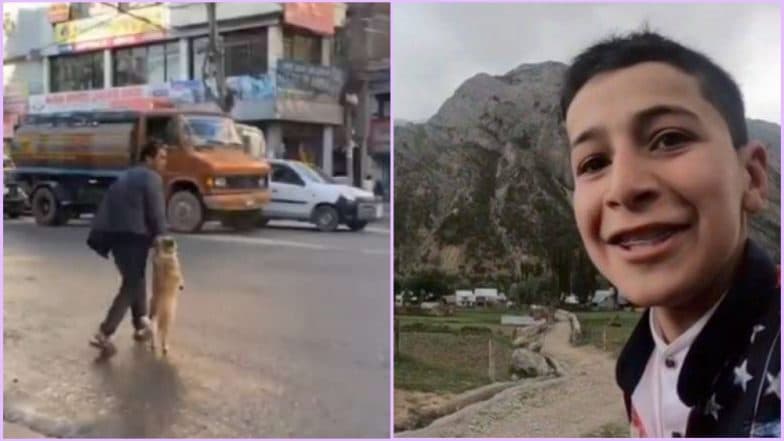 We have completed another challenging week, and we enter our favourite weekend again. On March 8, all the individuals celebrated International Women's Day, and there were so many videos and pictures surfaced on the internet with female achievements across. After celebrating our heart out on March 8, it is time to rejoice our Saturday nights. But before that, there was some insane number of clips this week surfacing everywhere on the internet. Some were funny, heartfelt, brutal, while others just schooled the people online like the correct way to eat a pineapple that apparently, we all were eating in a wrong way. Like every weekend, let us take a look back to all the viral videos that kept the netizens captivated and did not make it a dull week. From the cutest dogs holding his owner's hand while crossing Nepal's street to people throwing their sneakers, to #SayNoToWar, here the list of all trending videos you got to see this week. First Cousins in Love With Each Other Wish to Get Married, File Petition in Utah Court. 
1. Dog Holding His Owner's Hand While Crossing Nepal's Street
The most surprising 15 seconds of my life by far pic.twitter.com/5nukg2RxvW

— Natalie B. Compton (@NatBCo) March 1, 2019
Yes, I know what you are thinking! We see many dogs, strays and all other pets crossing across roads with their four legs. But this one has its own charm! The owner holds his paw and the two crosses the street like a human child with their parent. This short video was captured by a journalist in Nepal named Natalie and netizens were all surprised by it. It gathered millions of views and shares, and the count is still on!
2. Cashier Punches Down a Drunk Man
I don't condone violence.

With that said, this woman is a SHERO ✊🏽 pic.twitter.com/7iSeJrIsFP

— StanceGrounded (@_SJPeace_) March 2, 2019
This is indeed was the most powerful one that resurfaced ahead of International Women's Day 2019. It was originally recorded in 2016 on surveillance came of an unidentified liquor store, but resurfaced online recently, with people calling the badass woman a "SHERO". When one drunk man began to create a ruckus in her store, she came out and started to punch and kick the bully and knocked him down. Boy, you talk about girl power! People on Twitter went crazy looking at the throwback and were in praises for the cashier.
3. Cheesing Challenge
Thankfully he likes cheese pic.twitter.com/5cE4SrgaR3

— shelbyjane (@shelbslord) February 28, 2019
This was the cheesiest of the challenges so far, also called, Cheesed Challenge. Parents were seen making videos of them throwing cheese slices at the baby's faces, because apparently, it is cute! Internet was divided with opinions over the viral videos with only a few finding it amusing and majorly agreeing on child cruelty. Some of the videos were hidden by being labelled as "sensitive content." Although, the kids were seen laughing, giggling or smiling when a piece of cheese is hurled at their face, netizens were not impressed by the stunt.
4. #SayNoToWar Kashmir Video
Tensions between India and Pakistan is making the headlines recently on both sides of the border with speculations that the countries would go for a war. After the deadly attack on the Central Reserve Police Force (CRPF) convoy in Jammu and Kashmir's Pulwama on February 14, hate is seen growing among the people in both countries. In between all the war-mongering on both sides, #SayNoToWar began to trend on Twitter with people urging keep their calm. A 23-year-old Indian student, Srishti Tehri made a video featuring locals of Kashmir reminding how war can turn them upside down.
5. People Throwing Van Sneakers Up in Air
Did you know it doesn't matter how you throw your vans they will land facing up pic.twitter.com/nKVJCncW4H

— lana m!sses tøp (@Ibelievthehype) March 2, 2019
This is among those strange challenges that social media offers very often. In this, people were seen throwing their Vans sneakers in the air just to see which way they land, that Twitter claimed always end up falling right up. #VansChallenge were everywhere on social media with people testing the same with their Vans.
6. South American Camelid Alfie
These farms bred animals are not seen too often, and Instagram has featured one adorable alpaca in their weekly feature, called the #WeeklyFluff. Alpaca named Alfie, is an Instagram celebrity with over 1,34,000 followers (still counting) who was adopted by a family after it saved from a slaughterhouse. Alfie's videos and photos shared on the photo-sharing app is melting hearts, and people cannot stop getting enough.
7. 'Correct' Way to Eat A Pineapple
Im sorry but what the actual fuck 😨 pic.twitter.com/DYaDoGMe7i

— lewis mccluskey (@lewismccluskey) March 4, 2019
This video which is going viral reveals that we have been eating pineapple in the wrong way. Just pull at the skin towards the centre and the pyramid-shaped pieces would come out, all fresh and ready to eat. As juicy as the tropical fruit it, we all know how much pain it is, when you need to slice the Pineapple. This easy hack, blown Twitter and the reactions were pretty hilarious. One of the Twitterati later explained the reason why the pineapple chunks break off easily. The juicy fruit grows as a bundle of berries, so when you take out a hunk, it is like eating an individual grape.
That was all for this week. Honestly, there were a lot of other clips too, but the above ones were insanely surfaced on the internet, they belong in the top seven list. As dangerous sometimes, the internet could be, it is also amazing for such creative, fun and informative moments to be shared. Happy weekend everyone!